Photos: Tears and Laughter As South and North Korean Families Reunite After Decades Apart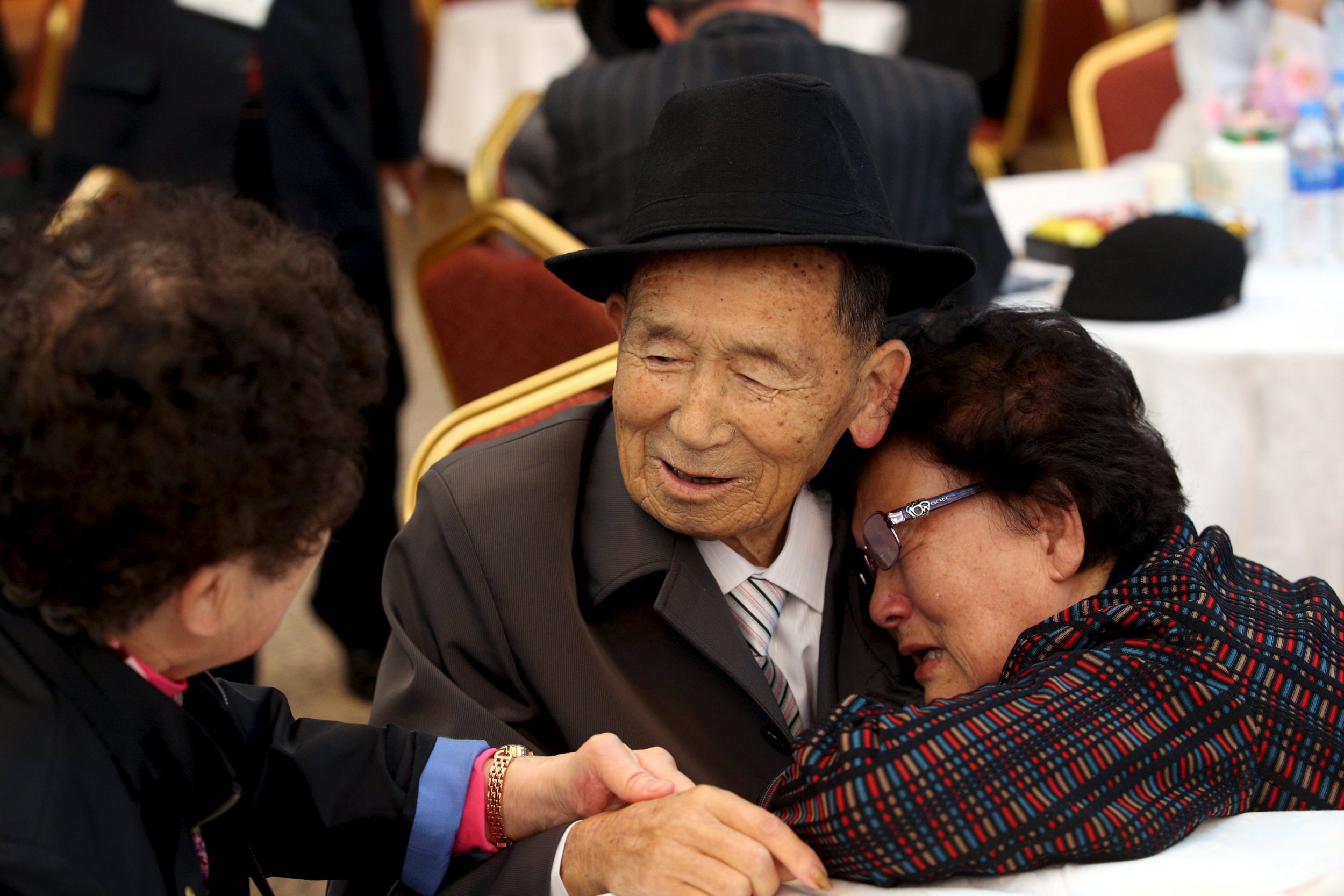 Hundreds of South Koreans were transported into North Korea on Tuesday to be reunited with family members they hadn't seen since the end of the Korean War six decades ago.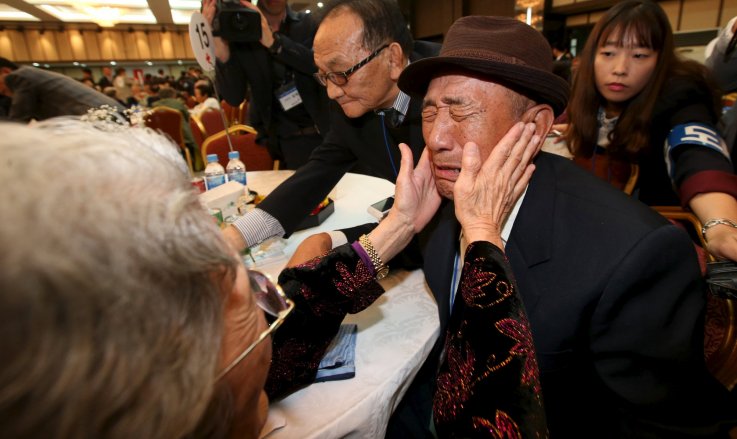 Nearly 400 South Koreans, some in their late 80s, traveled to the North Korean resort of Mount Kumgang, where they met with parents, siblings and children in emotional and jubilant scenes. Among those participating in the reunion were South Korean Chae Hee-yang, 65, and his North Korean father, Chae Hoon-sik, 88, who hadn't seen his son since he was 1, Reuters reported.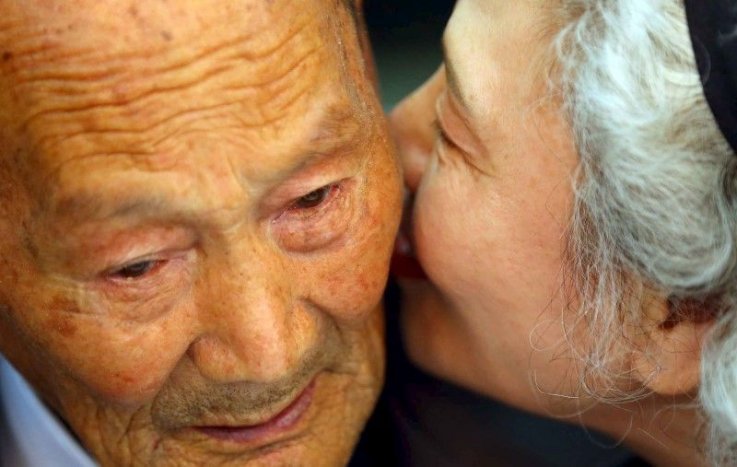 The last reunion arranged between the two countries occurred in February 2014. This week's will take place over two rounds, according to Reuters with the first three-day event reuniting 96 North Koreans and their families with 390 South Koreans, and the second, slated to start Saturday, according to Mashable, gathering 190 North Koreans to meet with 90 South Koreans and their families. South Koreans are chosen to attend the reunions by a lottery system but it's unclear how the North chooses its participants.
Families will get two hours of time together, but they are advised by officials to avoid topics like the living standards and politics of the North. Meetings occur under the watchful eyes of North Korean officials for the majority of people's time together.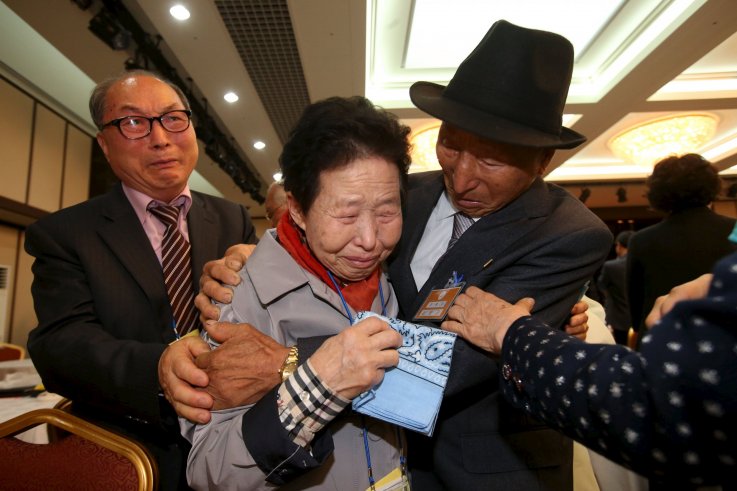 Korea was split in two following the end of the Korean War in 1953, in which more than 1 million civilians and hundreds of thousands of troops died. It has remained in a technical state of war since then, with the isolated North regularly threatening military action against the South, although all-out war has been avoided. Family members separated by the war have no way of contacting each other and know very little about each other's lives.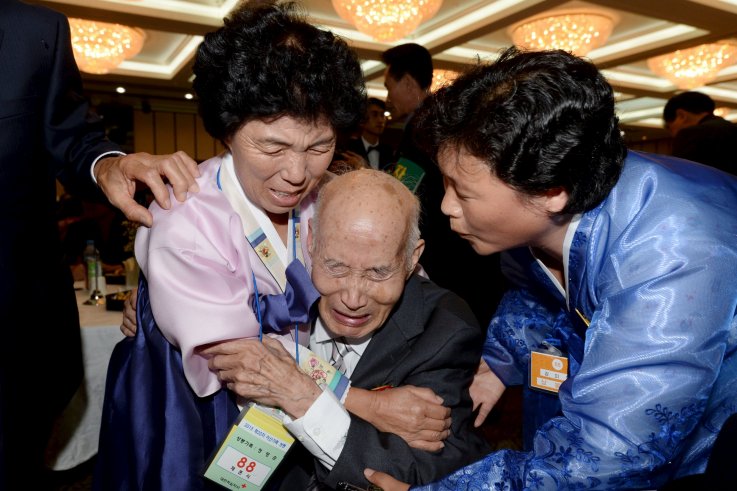 Since 1988, 130,000 South Koreans have applied to be reunited with family members in North Korea, but only about 1,900 of them have been afforded the opportunity, Bloomberg Business reported. Around half of those who have applied since 1988 have since died, and only 19 organized reunions have taken place.
The meetings are often hostage to the ebbs and flows of relations between the two countries and the North has been known to cancel reunification meetings as an expression of anger toward the South. The latest series of reunions were allowed to take place following an August agreement.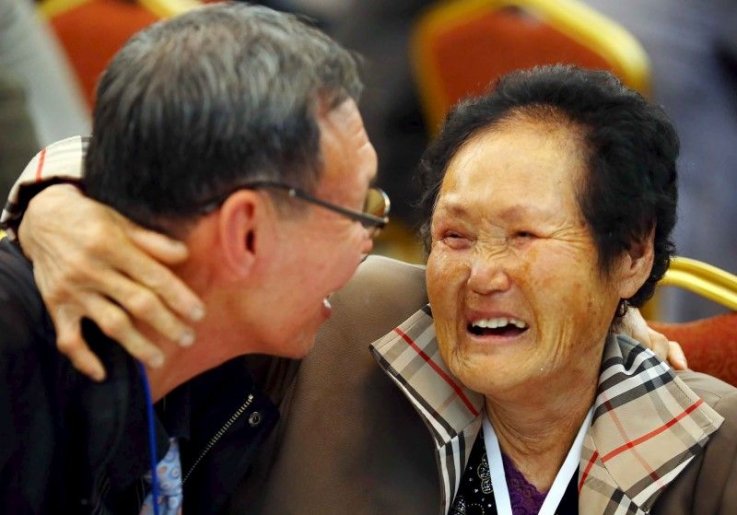 After Thursday, most family members are unlikely to see each other again. Communication between North and South is banned and none of the nearly 2,000 people who have met with loved ones since 1988 have had the chance to attend a second reunion, Mashable reported.
Photos: Tears and Laughter As South and North Korean Families Reunite After Decades Apart | World