Photos of Suspects Released in Rapper Young Dolph's Murder
A news outlet has confirmed that photos circulating social media showing two armed individuals are suspects wanted in connection with the killing of rapper Young Dolph.
Memphis news station Fox 13 reported Thursday that it confirmed the validity of the photos with three law enforcement sources. The images show two people aiming guns, and according to the station, in one of the photos, a vehicle that belonged to the rapper can be seen.
"These are pictures surfing the internet. I have gotten confirmation on the legitimacy of these photos from three separate law enforcement sources showing the gunmen responsible for killing Memphis rapper Young Dolph. In one photo you see the vehicle belonging to Young Dolph," FOX 13 reporter Jeremy Pierre wrote on Twitter Thursday morning.
Law enforcement officials said Wednesday that Young Dolph was fatally shot at a bakery in Memphis, Tennessee.
The Memphis Police Department announced Wednesday evening that it had responded to the scene of a shooting.
"One male victim was located and was pronounced dead. No suspect info is available at this time. The victim will be identified once the next of kin notification has been completed," the department wrote on Twitter.
Maurice Hill, who owns Makeda's Butter Cookies, where the shooting took place, told Fox 13 that Young Dolph entered the store Wednesday and then was shot by someone who drove up outside the business.
In a statement following the shooting, Makeda's said that it would be closing for the day because of the "senseless tragedy."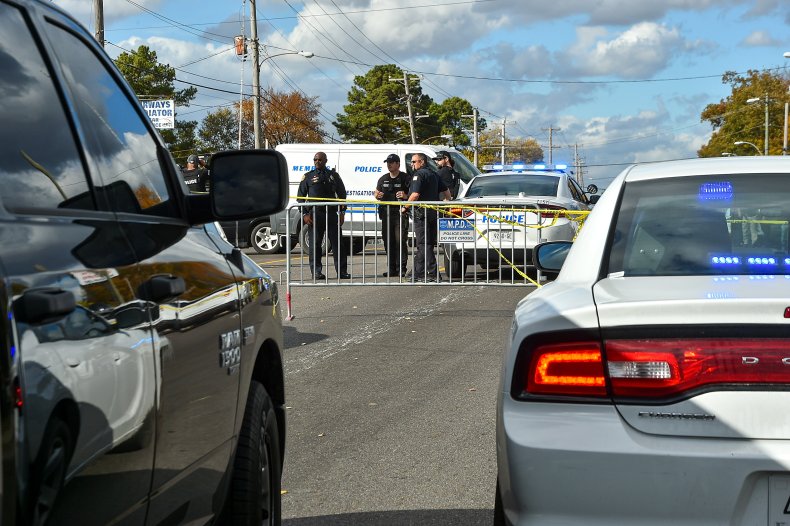 "We are heartbroken and saddened by the passing of Young Dolph. He was a regular customer and loved Makeda's Cookies. Our hearts and condolences go out to his family," the business wrote on Facebook.
Young Dolph, whose real name is Adolph Robert Thornton, Jr., is a native of Memphis and his 2016 debut album was titled King of Memphis.
On Wednesday just before 6 p.m., Memphis Police Department Chief CJ Davis said in a statement that preliminary information indicated Thornton was the victim.
"This shooting is another example of the senseless gun violence we are experiencing locally and nationwide," Davis said.
"Our hearts go out to the Thornton family and all who are affected by this horrific act of violence," he added.
Newsweek has reached out to police in Memphis for comment about the photos but did not hear back in time for publication on Thursday morning.
Following his death on Wednesday, tributes poured in for the rapper.
"God bless Dolph," Chance the Rapper wrote on Twitter Wednesday afternoon.
"Real independent Memphis rapper born in Chicago. loved by millions of ppl. Always showed love everytime I seen him this is tragic God bless his family man," he added.