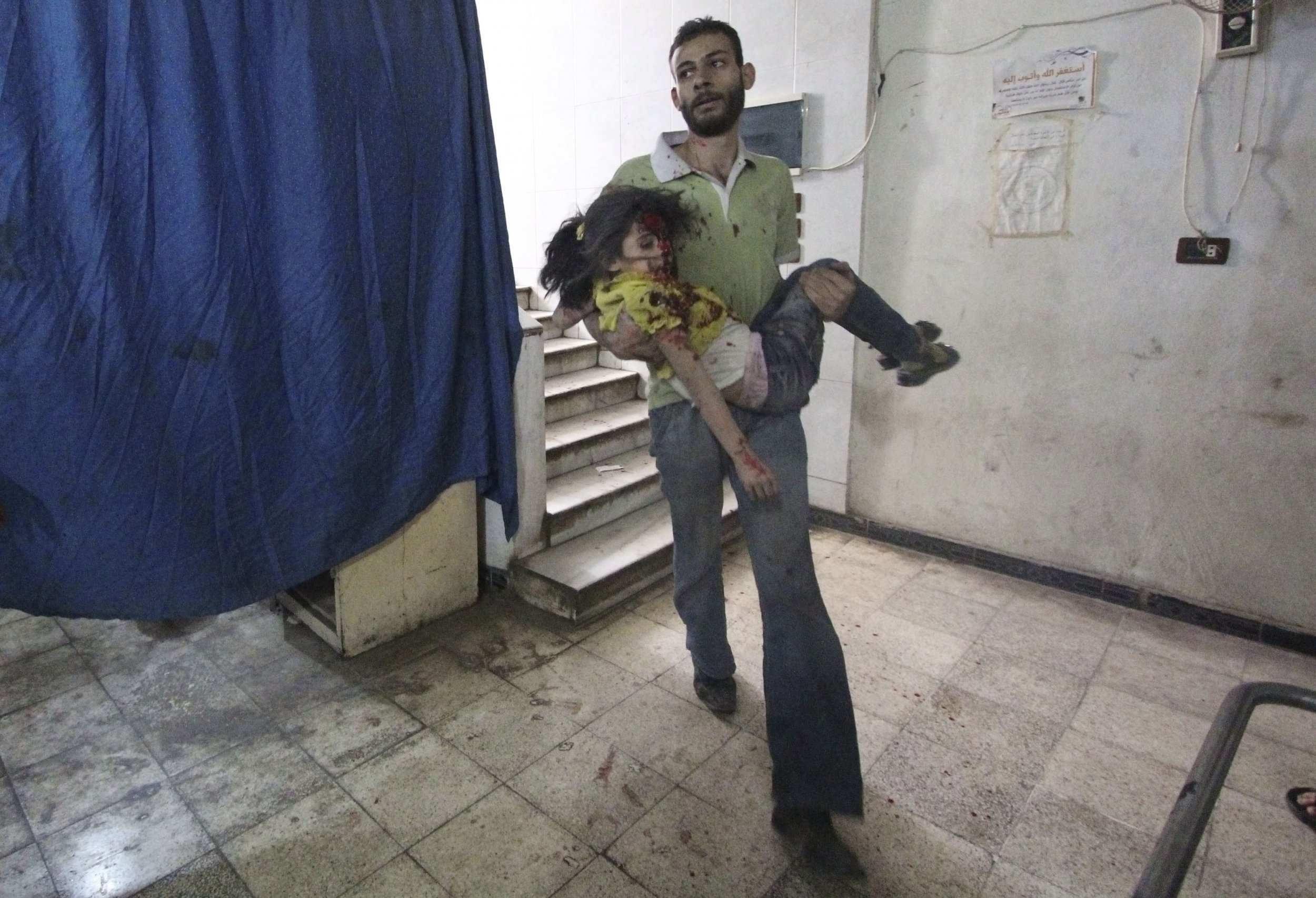 Warning: Please be aware before scrolling that this post contains three examples of the explicit images allegedly smuggled from Syria of dead and tortured detainees (photos appear at the end of the text).
Caesar's first visit to Washington, D.C., this past July was to the U.S. Holocaust Memorial Museum, an austere building on the National Mall which opened in 1993 as a living memorial to the victims of the Holocaust, as well as a place to discuss moral questions raised by genocide.
With a hoodie pulled tight over a baseball cap and sunglasses, the former military police photographer for Syrian President Bashar Assad's regime told a small group from the museum in an off-the-record briefing why he had fled his home, a country that has been embroiled in civil war since 2011.
Caesar—who goes by a code name for fear that he or his family will be targeted—whispered the story into his translator's ear, who then related it to those in attendance. The group never heard his voice. When it was time for the photo presentation, he left the room. He could not look at the pictures he had brought to show the group.
The museum's leadership believes the public should bear witness to what Caesar says he saw and recorded. A handful of the 55,000 photos Caesar smuggled out of Syria on flash drives went on public display for the first time at the museum and on its website on October 15.
"They were more extreme than anything we show in our museum," said Cameron Hudson, the director of the museum's Center for Prevention of Genocide who described the July meeting with Caesar to Newsweek.
These are pictures "that really demonstrate the scale of the killing, a room with 50 bodies or stacked three on top of each other," Hudson says, "in what appears to be a warehouse space. It seems very industrial, seems well organized." Almost all of them are annotated in some way, he explains, with a tag or an index card accompanying the corpse that includes reference numbers and other information, indicating assiduous record keeping.
Other photographs bring the viewer much closer up, he says. "You can't escape the very visible signs of torture—electroshock electrodes still attached, eyes gouged out, arms or fingers or genitalia removed, just total brutality."
For many years prior to the Syrian civil war, Caesar says his role with the military police had been to photograph crime scenes. But after the uprising by forces opposed to Assad's regime began in the spring of 2011, he was called to a military hospital in Damascus and asked to photograph prisoners who had been tortured to death, Mouaz Moustafa, a member of the team that has helped Caesar bring his story to the U.S., tells Newsweek. Moustafa heads the Syrian Emergency Task Force and works with United for a Free Syria, organizations which promote freedom and democracy for Syrians.
At first, Caesar took photos of individual bodies or a handful, Moustafa says, but by late 2012 and 2013, he was documenting dozens of corpses at a time.
Caesar had contacted a relative outside of Syria about defecting early on, and he finally fled more than two years after the civil war started. He later secured asylum in a European country, Moustafa says, and his family followed. Further details about Caesar's life and defection have been guarded to keep him and his family safe.
He saw the "brutality becoming more and more acute," says Hudson, and "began to fear for his own life in the regime as the civil war grew and as the bodies sort of piled up."
In April of this year, Caesar's photos were presented to the U.N. Security Council. In July, Caesar visited the U.S. where he spoke with officials at the Holocaust Memorial Museum and testified at a closed-door session of the House Foreign Affairs Committee.
An August 2014 report commissioned by the Office of the United Nations High Commissioner for Human Rights documented 191,369 conflict-related deaths in Syria between March 2011 and April 2014. These include only deaths where a name, date and location of death was known, based on data the U.N. collected from organizations such as the Syrian Center for Statistics and Research, the Syrian Network for Human Rights, the Violations Documentation Centre. In cases where this information was missing, deaths were excluded from the count, pointing to the possibility that the true death toll may be higher.
According to Hudson, Caesar told the museum that he believes there might be at least an equal number of people who are detained or whose status is unknown, though the information cannot be confirmed.
Allegations that the Assad's regime tortures people and kills are not new, Andrew Tabler—a senior fellow at the Washington Institute tells Newsweek. "What was unknown is the systematic brutality," says Tabler, who is the co-founder and former editor-in-chief of the English-language magazine Syria Today and served as a consultant on U.S.-Syria relations for the International Crisis Group while living in the Middle East.
At least one set of legal and forensic experts has analyzed Caesar's story and the photos. An inquiry team that included former United Nations war crimes prosecutors Desmond de Silva and David Crane, who both served as prosecutors for the Special Court for Sierra Leone; Geoffrey Nice, former lead prosecutor of ex-president Slobodan Milosevic of Yugoslavia at The Hague; as well as a forensic pathologist, forensic anthropologist, and a forensic imaging expert, were tasked with determining Caesar's credibility and that of his photos.
"The inquiry team found him, for its part, to be a truthful and credible witness," they wrote in the January report saying Caesar's photos—which show roughly 11,000 dead detainees—were "clear evidence, capable of being believed by a tribunal of fact in a court of law, of systematic torture and killing of detained persons by the agents of the Syrian government."
The only entity refuting the photos, Hudson tells Newsweek, is the Assad regime, which questioned their authenticity and the fact that the inquiry team's report was commissioned by Qatar, which has supported rebel groups in Syria.
The photos were ordered, Caesar told the inquiry team in an interview, to allow for death certificates to be produced without a family member seeing the body, and as proof to higher ups that orders to execute certain individuals had been carried out.
Now, according to the museum, a portion of the photos are also under review with the FBI.
FBI spokesman Paul Bresson confirmed that Caesar's photos were being reviewed, as did a State Department spokesman, who told Newsweek that "officials have seen hundreds of gruesome photos of evidence that Caesar has smuggled out." However neither the FBI nor the State Department could confirm who exactly was responsible for analysis of the photos.
But, speaking to the State Department's reaction to the public display of the photos at a daily press briefing last Wednesday, spokeswoman Jen Psaki said she wanted to "remind everyone that the State Department initiated the process to bring Caesar to the United States so that senior administration officials, members of Congress, and the American public could hear directly from him about the horrific abuses committed by the Assad regime," she said.
The photos could be used, according to the inquiry team's report, to support findings of war crimes and crimes against humanity against the current Syrian regime.
"This is some of the strongest evidence we've seen in the area of proof of the commission of mass atrocities," Stephen Rapp, the U.S. ambassador-at-large for war crimes, told Yahoo News.
The photos are "extremely grim and very disturbing. It's clear that many of the victims have been tortured and starved. It's just a terrible thing to see photos like that again," Norman Naimark, a professor of Eastern European history at Stanford University and author ofFires of Hatred: Ethnic Cleansing in Twentieth Century Europe, tells Newsweek.
"If one is sure about the provenance of these photographs and who they're of, it's pretty clear that they fit into a pretty long history of crimes against humanity and genocide in which people are tortured and killed," Naimark said. "This gratuitous violence breaks your heart about humanity."
Putting Caesar's photos up at the Holocaust Museum prompts comparisons to the Holocaust and other instances of genocide, and raises questions about awareness and action on the part of the international community. The museum has often prepared exhibits and held events on cases other than the Holocaust, including the 1994 Rwandan genocide, the Darfur genocide over decades of conflict after World War II through 2005, and mass killings in Cambodia between 1975-1979 and in Bosnia from 1992-1995.
"The horrific atrocities in Syria demand a response by the international community. There must be justice for the victims and for the Syrian people," a State Department official said in a statement provided to Newsweek. "The United States stands with the Syrian people and is committed to working to ensure justice for these heinous crimes.… All those responsible, up and down the chain, need to know that there must be accountability for the atrocities they are committing in Syria."
According to the statement, the U.S. has supported efforts of Syrian activists documenting atrocities and engage them to discuss tools for transitional justice, helping to establish the Syria Justice and Accountability Center and the work of the Syrian Commission for Justice and Accountability.
The efforts to defeat the Islamic State, the group more commonly known as ISIS, with coalition airstrikes in Iraq and Syria and support for Arab and regional partners, which President Barack Obama announced on September 10, are separate from the atrocities committed by the Assad regime, whose legitimacy the State Department does not recognize, Psaki said. The focus, she said, is on a political solution in which Assad does not remain in power.
Tabler, the Washington Institute expert on Syria, predicts that the horrific killing in Syria will go on for some time, describing the Obama administration's approach to the region as an "Iraq-centric, ISIS-only strategy." The administration has also been criticized for its lack of assertiveness dealing with Assad's use of chemical weapons in 2013, having called such actions a "red line," and then opting not to use force when evidence emerged that Assad may have crossed it.
The United Nation's Responsibility to Protect, a document drafted in 2005, says that states have a responsibility to protect their populations from genocide, war crimes, crimes against humanity, ethnic cleansing and incitement of such acts. It also says that the international community has a responsibility to "use appropriate diplomatic, humanitarian and other means to protect populations from these crimes" and that it "must be prepared to take collective action to protect populations."
However, part of that responsibility, Naimark says, is that the international community has the ability to protect populations without causing more damage. The U.S. government "must have decided there is no way to enforce the responsibility to protect" in Syria, he says, based on "the fact that nobody is doing very much."
"When one says 'Never again,' it has to mean something broader than Hitler will never again put Jews in ovens in Auschwitz, never again will we be as unconscious or passive or resigned as people were during the Nazi genocide of the Jews," Christopher Browning, a professor emeritus of history at the University of North Carolina, Chapel Hill, whose work focuses on Nazi Germany and the Holocaust, tells Newsweek. "Tragically, we're reaching the limits of power," he says, likening the situation to playing a hand of poker against Assad's regime and ISIS with only a pair of twos.
Browning says the museum has become a "place where issues of conscience are seen to have real power to shape world opinion." By showing a subset of Caesar's photographs, the museum is using its "visibility to increase consciousness about something happening in the world that they consider relevant to their mission," and potentially remind people that 'Never again' means little if it remains in the past.
Moustafa says the decision to show the photos first to the U.S. Holocaust Memorial Museum first was a conscious and symbolic one.
"'From memory to action,' it said on some of the walls," he recalled, hoping that showing Caesar's photographs within those walls of the museum would inspire pressure to action. The venue "memorializes the memory of people whose innocent lives have been lost."
And those lives do not just belong in Nazi-occupied Europe, Hudson says. "These crimes you can only imagine in black and white are happening again in color."