Photos: Syrian Refugees Hit by Rare Snowstorm in Lebanon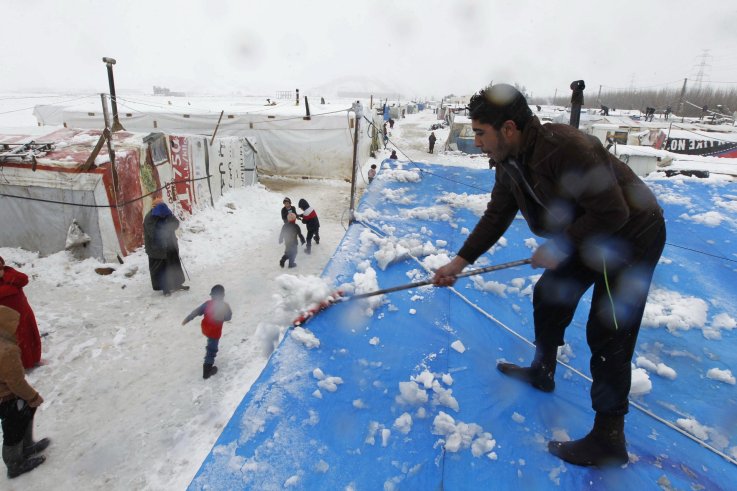 An unexpected and rare snowstorm that hit Lebanon Tuesday has killed four Syrian refugees and forced hundreds of thousands of displaced Syrians across the region to endure freezing winter conditions.
Many of the refugees are entering their fourth winter in settlements.
Storm Zina began on Tuesday and dumped heavy snowfall over Lebanon, including the Bekaa Valley, where more than 408,000 Syrian refugees are registered with the United Nations and live in camps in shelters ranging from tents to abandoned buildings. In The Washington Post, Eric Holthaus said the storm was caused by a funnel of cold air that swept down from southern Scandinavia and Russia into the Middle East.
The United Nations's refugee agency provided 80,000 refugee families fuel coupons and cash before the storm hit, but gaps in provisions remain, The Guardian reports.
Among the dead was a 3-month-old baby girl who died at the Masnaa border crossing between Lebanon and Syria, and two men and a 6-year-old boy who were part of a group crossing into southern Lebanon from Syria, Al-Jazeera reports. Many children in the country's refugee camps are reportedly suffering from hypothermia.
Lebanon has the world's highest number of Syrian refugees, with 1.1 million; 1 in every 5 people is a Syrian refugee in a country of roughly 4.5 million. Overwhelmed by the number of fleeing people, and with the country's essential services stretched to their limit, Lebanon on Monday began restricting the number of Syrians entering the country, requiring them to obtain a visa at the border. Ninety-five percent of Syrian refugees live in five countries, Syria's neighbors Lebanon, Jordan, Egypt, Iraq and Turkey.
More than 12 million Syrians are in need of humanitarian assistance, with 7.6 million internally displaced by Syria's ongoing civil war and 3.2 million refugees fleeing the violence, according to the United Nations Office for the Coordination of Humanitarian Affairs.