Photos Taken in Secret of Baby Archie Published in German Magazine
Photos of Meghan Markle and Prince Harry's baby in their private garden were published by a magazine a week before the couple sued the paparazzi, Newsweek has learned.
Bunte, a German mass-market celebrity gossip weekly, ran the photo of Meghan's mother Doria Ragland pushing 14-month-old Archie Mountbatten-Windsor on a plastic toy car.
His face is clearly visible under a beige hat in the image, which appeared on the cover of the July 16 edition.
The surrounding text asks: "How powerful is her mother?"
Inside, a similar photo was accompanied by a caption describing how Archie and his grandmother were playing in front of Tyler Perry's villa, where Meghan and Harry have been staying.
Just a week later the Duke and Duchess of Sussex launched legal action against unknown paparazzi photographers over intrusive drone activity at the Hollywood producer's $18 million mansion in Beverly Hills, Los Angeles.
Their court filing, seen by Newsweek, reads: "This action arises out of the relentless and quite frankly shocking efforts of the tabloid media to profit from serial intrusions on the privacy of a 14-month-old child in his own home, and the desire and responsibility of any parent to do what is necessary to protect their children from this manufactured feeding frenzy."
Bunte claims to be "Germany's most successful celebrity magazine," with a weekly circulation of 400,000 copies in 2019.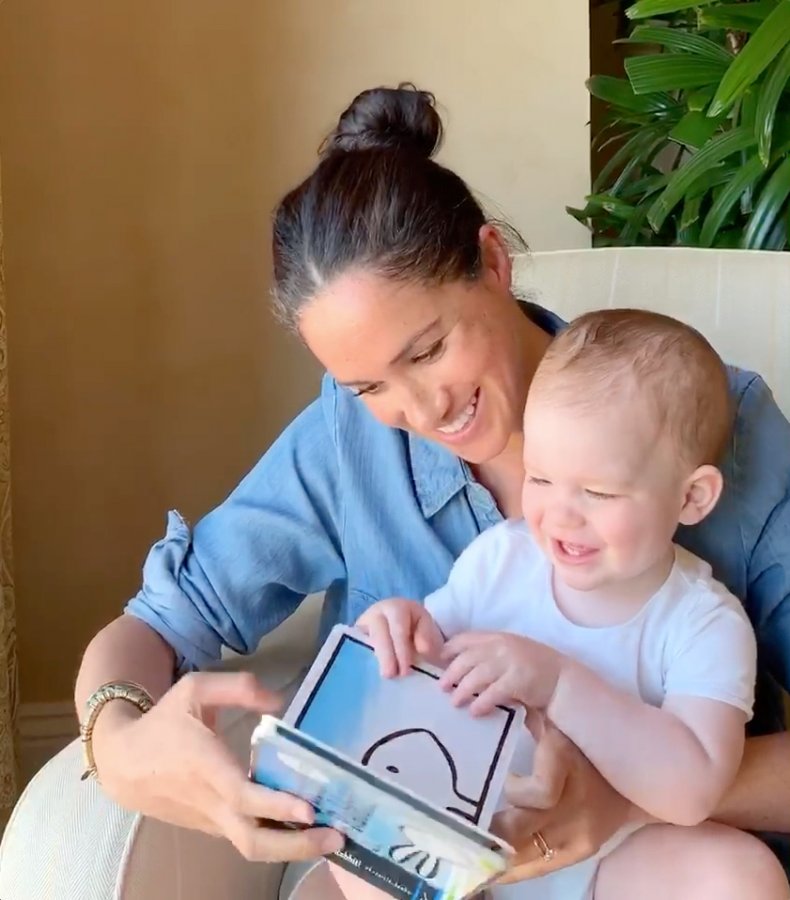 Parent company Hubert Burda Media is the German publisher of globally famous magazines such as Harper's Bazaar and Elle as well as children's magazines including Lego Star Wars.
In the following week's edition, Bunte printed a photograph of Prince Harry playing with pet labrador, Oz, by Tyler Perry's swimming pool.
The caption describes how the picture was taken in the garden of the TV mogul's villa.
It was published on July 23, the same day Prince Harry and Meghan Markle launched their lawsuit in Los Angeles.
Meghan and Harry's court filing reads: "The family has tried to ignore these physical and constructive trespasses as best they can and go about their daily routine in these unique times.
"But [Meghan and Harry] recently learned that certain paparazzi and their enablers have crossed a red line for any parent.
"In particular, the couple recently learned that someone is shopping photographs of their 14-month-old son, Archie, falsely claiming to have taken them on a 'recent' public outing 'in Malibu.'
"But Archie has not been in public, let alone in Malibu, since the family arrived here.
"It is clear from a description of the photographs being shopped that they were taken of activities in the backyard of the residence."
Unlike the photographers mentioned in the court papers, Bunte made no effort to hide where the images were taken in their coverage, referencing Tyler Perry's villa in their captions.
Amber Melville-Brown, head of the media and reputation practice at law firm Withers, said the incident echoed French magazine Closer's decision to publish long lens photos of Kate Middleton sunbathing topless by a private swimming pool in 2012.
She told Newsweek: "I immediately think of Closer and the Duchess of Cambridge and the topless photographs.
"There is an expectation of privacy here, definitely.
"Here we've got a young child, a photograph of him engaged in private family activity in a private garden, surreptitiously, without the consent of the parents.
"Is there any public interest justification? No. It's for celebrity tittle tattle.
"This publication is sailing very close to the wind. I think that's unlawful the same way as the closer photographs of Kate were."
Closer was fined in the French courts over the images after The Duke and Duchess of Cambridge complained.
Article 8 of the European Convention on Human Rights guarantees the "right to respect for private and family life."
Paul Weller has previously used it to sue Mail Online over photos of his children taken in public, even though the images did not breach local Californian laws which focus on protecting private places.
Newsweek has approached the Duke and Duchess of Sussex for comment. Bunte declined to comment.