Photos: Thousands Protest Massacre and Government in Mexico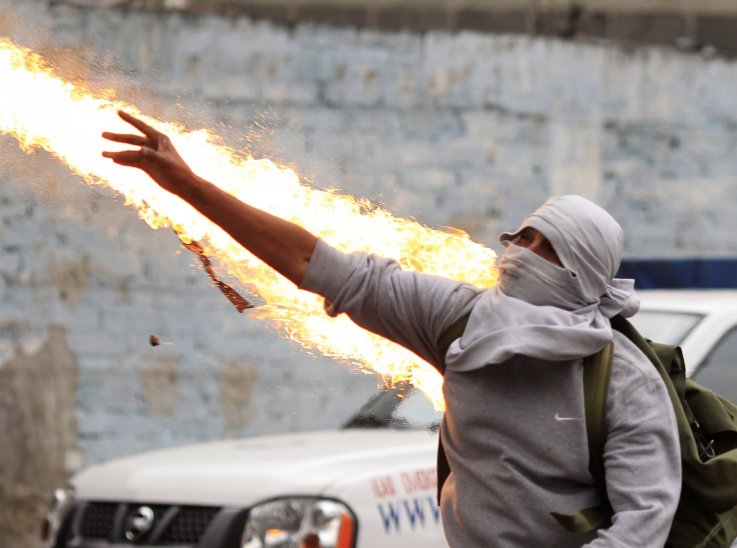 Thousands of protesters flooded the streets in Mexico City on Thursday and gathered at other locations around the country to express anger at the government's handling of the disappearance and likely massacre of 43 student teachers in September.
"People are realizing that the government is rotten," Alicia Mercado told The Guardian. "They are seeing that the entire political class is rotten too."
The charged but mostly peaceful march in Mexico City took a turn when some protesters clashed with police in Zócalo plaza, The Guardian reports. There, demonstrators incinerated an effigy of their president, Enrique Peña Nieto, who has come under intense scrutiny for his response to the probable massacre as well as a recent scandal over a rail contract. Protesters counted in unison from one to 43 and chanted "Justicia," "It was the state" and "Get out Peña."
Earlier in the day, protesters threw Molotov cocktails and fireworks at the airport in Mexico City. The demonstrations were held on the 104th anniversary of Mexico's 1910 revolution.
"Mexicans are ready to explode," Homero Aridjis, a Mexican poet and social activist, told the Los Angeles Times. "Corruption has touched bottom, people are poor, suffering violence. They are fed up and desperate."
Correction: Due to an editing error, an early version of this article incorrectly stated that the demonstrations were held on the 114th anniversary of Mexico's 1910 revolution. It was the 104th anniversary.