Photos: Ukrainians Struggle to Live a Normal Life in Warzone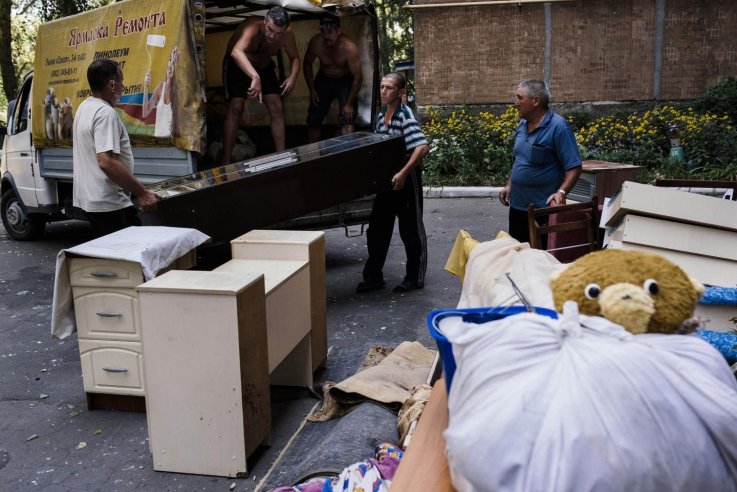 After Russian military vehicles escorting a convoy of trucks they claimed contained humanitarian aid crossed the border into Ukraine overnight, Ukraine's President Petro Poroshenko confirmed that artillery destroyed a "significant" part of the armored column, Reuters reports.
Several governments including the United States and France have expressed concern that the "humanitarian aid" mission was a cover for Russian military invasion. Russia has consistently denied arming pro-Russian rebels in Ukraine's eastern region.
Meanwhile, as the fate of the convoy hangs in the balance, Ukrainians in the embattled rebel-held regions of Donetsk and Luhansk are living in a live warzone. As the trucks approached the Ukrainian border again on Thursday, shelling in the Donetsk killed one person and triggered an evacuation warning.
It's not clear whether pro-Russian separatists or Ukrainian government forces are to blame for the shell fire. More than 2,000 have been killed since fighting began four months ago and more than half have died in the past two weeks, the United Nations reports.
The ongoing crisis in Ukraine has displaced more than 117,000 within the country and more than 1,000 Ukrainians are leaving combat areas every day, the United Nations High Commissioner for Refugees, also known as the United Nations Refugee Agency (UNHCR), said. Russian officials say the "aid" inside the Russian trucks is intended for those living inside Luhansk and Donetsk who, they say, are suffering from water and food shortages. However, journalists following the convoy report finding many of them half empty.