Alabama Tornado Photos, Videos Show Widespread Destruction in Fultondale
A tornado ripped through central Alabama late Monday night, leaving widespread destruction and chaos in its wake.
Hardest hit was the city of Fultondale where multiple injuries and damage to homes, businesses and powerlines were reported.
The National Weather Service in neighboring Birmingham confirmed a tornado was on the ground in north Jefferson County near Fultondale around 10:45 p.m. on Monday.
The agency said they received reports of widespread damage in the Fultondale area and issued a tornado watch 4 until 6 a.m. Tuesday for 15 Alabama counties.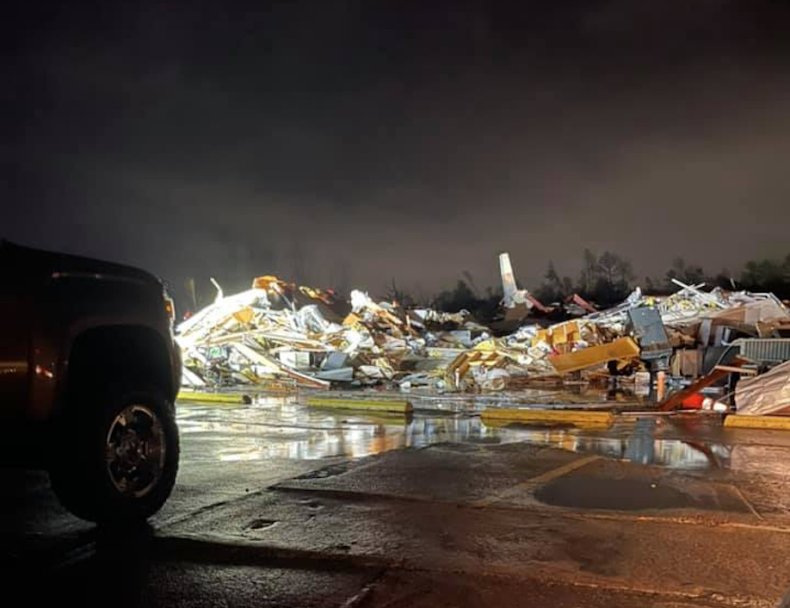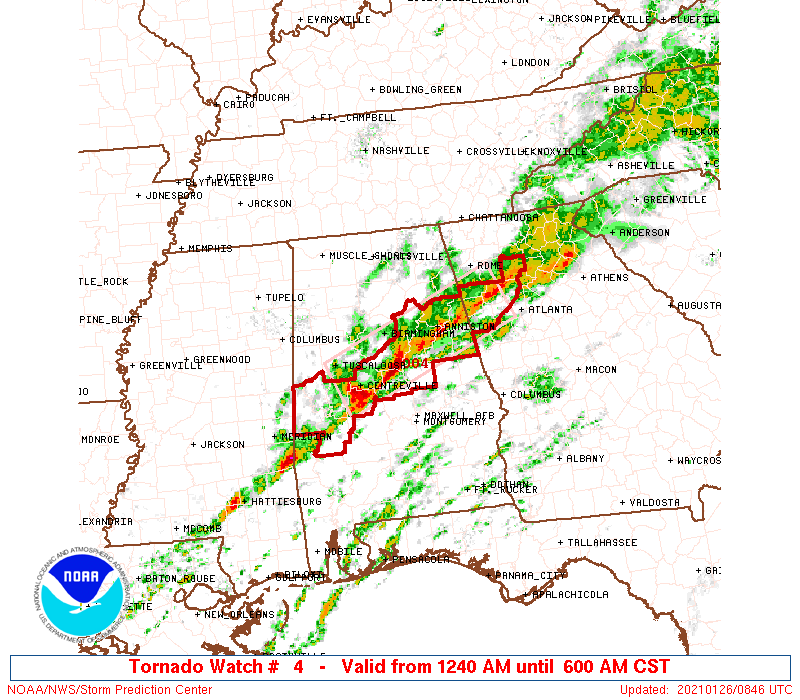 The Jefferson County Emergency Management Agency urged residents in surrounding areas to "seek shelter now" in a tweet just after 11 p.m. local time.
Photos shared across social media showed significant damage to houses where walls and roofs had been entirely ripped off, leaving behind just the shaky internal foundations of some homes.
In some areas, piles of rubble were the only remains of buildings to be seen as fallen trees blocked roads and caused traffic chaos.
One hotel, the Hampton Inn on Fulton Road, sustained major damage, with guests now forced to find a new place to stay.
Rescue units from county fire departments are currently on the scene, according to the Jefferson County emergency management agency.
Fultondale Police Chief D.P. Smith told al.com at least five people had been taken to hospital, several of them critically injured as crews are working to locate those who are injured and trapped in houses and collapsed buildings. The website also reported a death shortly after 3 a.m.
Mayor Larry Holcomb confirmed there have been around 20 reports of minor injuries with no current known fatalities as of 1 a.m. Tuesday.
"There are still people trapped in their homes that we are trying to access at this time," he told CBS42.
Holcomb said the storm cut a quarter mile wide path after touching down near I-65 before moving northeast to Fultondale High School, where there is substantial damage.
Reports from those on the ground poured in over Twitter.
"Got my wife and baby out of bedroom about 10 minutes b4 this happened. We r in Darlene Estates in Fultondale," Adam Sessums tweeted alongside a snap of his bedroom where a wooden beam had fallen after tearing through the wall.
Dave Moerbe, senior pastor at Good Shepherd Lutheran Church in Gardendale, described the scene at Georgetown Lane near Black Creek Park as "devastating."
"There are 45 homes in this community and all of them have some damage. ... Debris is everywhere,'' he told al.com. "We pulled one lady out of a back window because she couldn't get out."
His son Sam, 18, said the area "looks like a bomb went off," with 80 percent of houses enduring roof damage and 20 percent of homes collapsing entirely.
The Fultondale Fire Department has warned everyone to stay out of Fultondale so that first responders could work to assess the damage and respond to calls for help.
The counties of Bibb, Calhoun, Cherokee, Chilton, Clay, Coosa, Etowah, Hale, Jefferson, St. Clair, Shelby, Talladega and Tuscaloosa remain under a Tornado Watch until 6 a.m.
Newsweek has contacted the Fultondale police department for comment.