'Photos, Videos Show Scenes at Kabul Airport After the Deadly ISIS Blast
Warning: this story contains graphic images and videos that readers may find distressing.
Photos and videos obtained from Nasser Waziri, an Afghani senior security advisor, show scenes from the Thursday blast at Hamid Karzai International airport in Kabul, Afghanistan.
Twelve U.S. service members died and 15 others were injured after the bombing attack as of Thursday afternoon, the Pentagon said.
"A number of Afghan civilians were also killed and injured in the attack," General Kenneth McKenzie, commander of the United States Central Command, said. Afghan civilians have been taken to hospitals for treatment.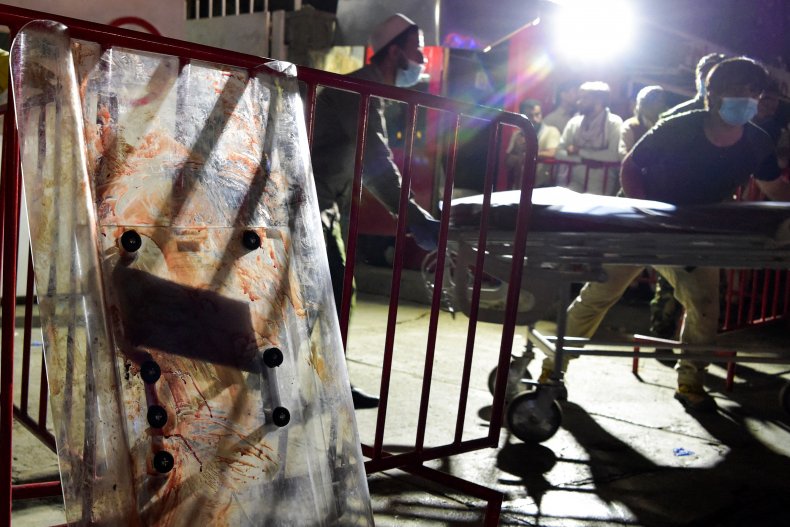 Waziri told Newsweek that his colleagues are monitoring the situation on the ground and estimate that around 80 people died during the attack, but it has been hard to confirm a casualty count.
The Russian Foreign Ministry was the first to report the casualty count, including 13 dead and 15 injured, the Associated Press reported. An Italian charity called Emergency, which runs hospitals in Afghanistan, reported that it received 60 injured patients and 10 who were dead when they came in.
"There's nobody to care about the bodies, families are showing up to pick up the bodies [of people they know], and this is how it is going to be for the whole night," Waziri said.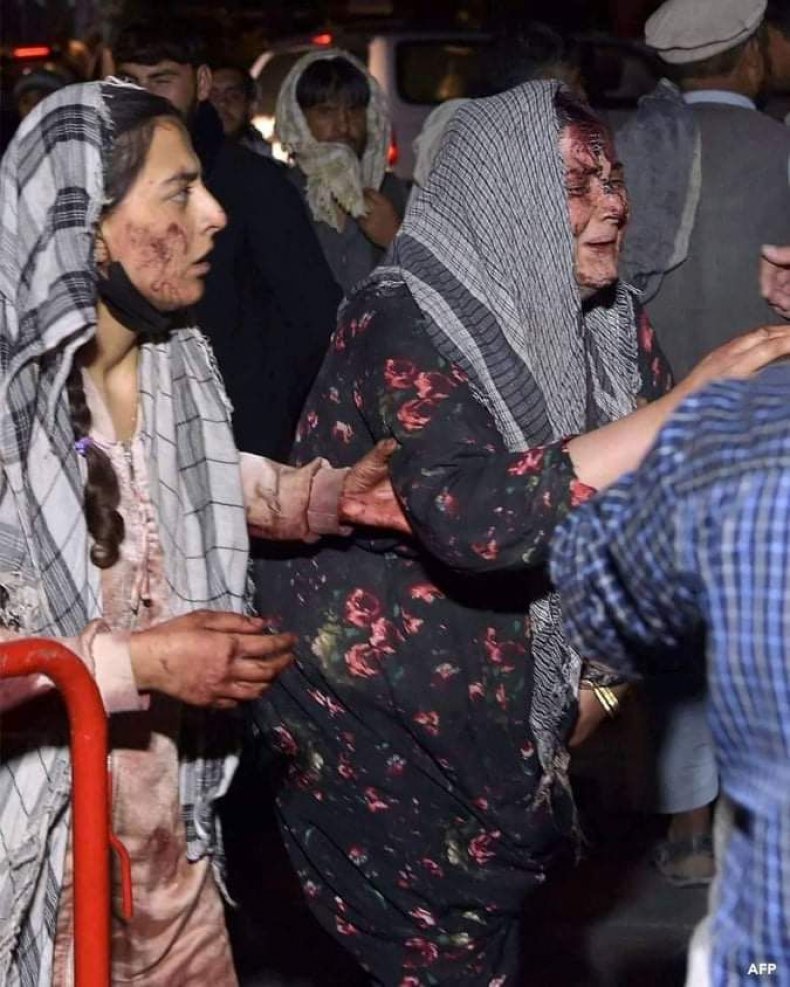 One video posted by Waziri shows a number of corpses on the ground surrounded by scattered belongings, including plastic bags, backpacks, and shoes. Another photo shared with Newsweek shows a woman with an injured head standing among a crowd of people after the attack.
"I hope those politicians, who said that Taliban co-founder Mullah Abdul Ghani Baradar is a nice guy, are happy now. The real face of Mullah Baradar is exposed!" Waziri said.
The Islamic State militant group (ISIS) took responsibility for the attack later on Thursday. Through its official news outlet, the group announced that it is behind the fatal blasts at Kabul airport.
ISIS' Amaq News Agency said that "around 160 killed and wounded from the American forces and those collaborating with them in a martyrdom attack of the Islamic State near Kabul airport."
Waziri said that this is what happens when groups of Al-Qaeda, ISIS, and the Taliban are on the same ground, adding, "you can't put lions in one cage who'll beat each other. Unfortunately, innocent people including women and children will mostly pay the price."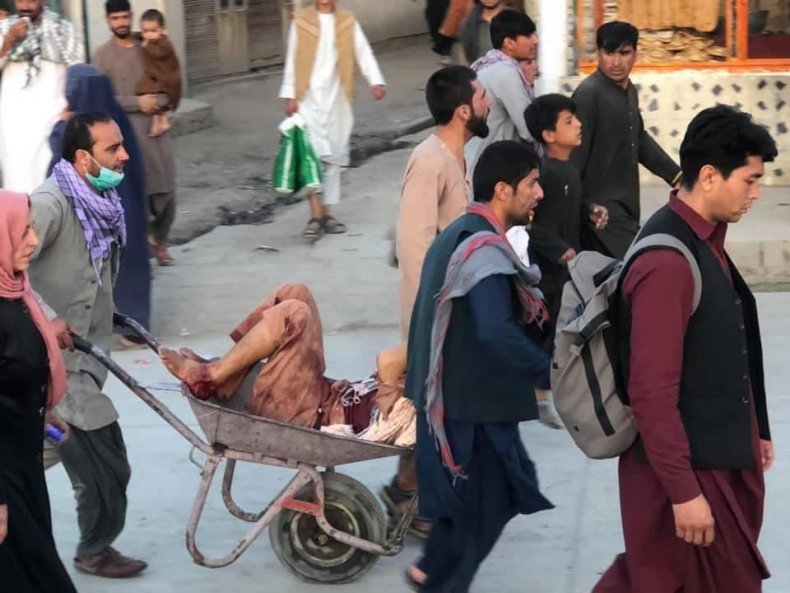 The Amaq News Agency said that an ISIS fighter was able to go through all security defenses set by the U.S. forces and the Taliban around Kabul. The fighter reportedly was able to reach large crowds of translators and collaborators with the American army around "Baran Camp" near the airport and then detonated an explosive belt.
The explosion came in the midst of the Biden administration's efforts to evacuate tens of thousands of U.S. citizens and Afghan allies.
The White House said that around 13,400 people were evacuated from Afghanistan between Wednesday and Thursday. The figure includes 17 U.S. military flights evacuating about 5,100 people and 74 coalition aircraft evacuating about 8,300 people from Kabul.