Photos, Videos of Texas Flooding in Beaumont and Winnie Show Damage From Tropical Depression Imelda
Tropical Depression Imelda brought widespread flooding to Texas on Thursday, particularly in Beaumont and Winnie. Imelda, which is no longer considered a tropical storm, has passed, leaving behind damage and dangerous conditions.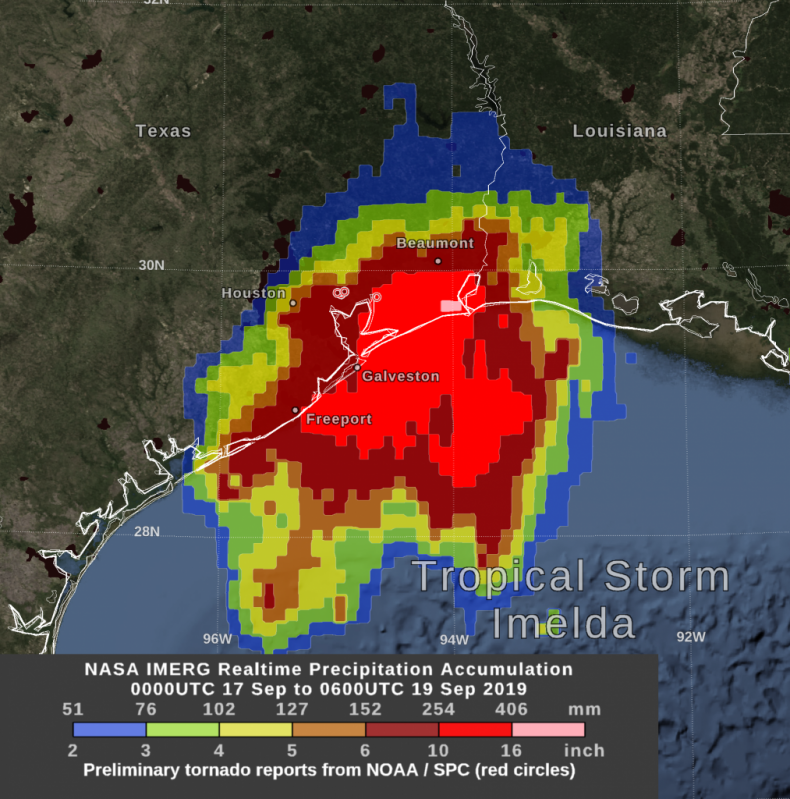 Residents and reporters shared photos and videos of the flooding on social media on Thursday, showing high water and blocked off areas. The photos showed some citizens even abandoned their cars in the floodwater.
Other images and video footage showed the interior of buildings full of water. One video, posted by CBS Evening News, showed a hotel hallway covered with ankle-deep water.
Some posted footage of intense rainfall early Thursday morning. Because of the rapid rain, cars were abandoned throughout some of the areas of Texas that were affected worst.
Some reporters also shared photo and video of the extreme flooding on Instagram, including one video of a treacherous drive. The street's water level is so high that waves are visible.
A flash flood warning was issued late Wednesday evening for Chambers, Liberty and Jefferson counties, KTRK-TV reported. At the time, the estimated rainfall was six to nine inches.
The worst flooding continued to occur on Thursday north and east of Houston, Texas. First responders said they've received hundreds of calls for rescue services from those areas, according to CNN. Most roads in the area are completely flooded.
"It's bad. Homes that did not flood in Harvey are flooding now," Jefferson County Judge Jeff Branick told the Beaumont Enterprise.
The National Weather Service in Houston made it clear that Imelda's potential flooding would be life-threatening in a statement released to USA Today Thursday.
Hurricane Harvey hit Texas in 2017. Harvey inflicted $125 billion in damages and killed 68 people. It's tied with Hurricane Katrina for the costliest hurricane in American history. Hurricane Katrina inflicted intense damage in Florida and Louisiana. It also racked up $125 billion in damages.
The flooding makes traveling between Beaumont and Winnie nearly impossible, and KTRK-TV advises residents stay inside and do not drive.
Texas citizens affected are sharing their experiences in written statements on Twitter, too. Some claimed they're stranded as the floodwaters block their ability to get home. One user, @RiveraSavanna, questioned if she'd be able to get home from work.
Others advised those avoiding flood waters by taking shelter on higher levels of buildings should be prepared for anything. "IF YOU ARE TRAPPED AND NEED RESCUE, PLEASE DO NOT GO INTO YOUR ATTIC UNLESS YOU HAVE A SAW, HAMMER OR A WAY TO GET OUT!!" wrote @AmySarahx3. "GET ON THE ROOF!! Use a white sheet if you can grab it So rescuers can see you!!"
Different conversations saw locals questioning what can be done to improve water drainage to prevent future disasters.