Sports Photos of the Year: 50 of the Most Sensational Images of 2018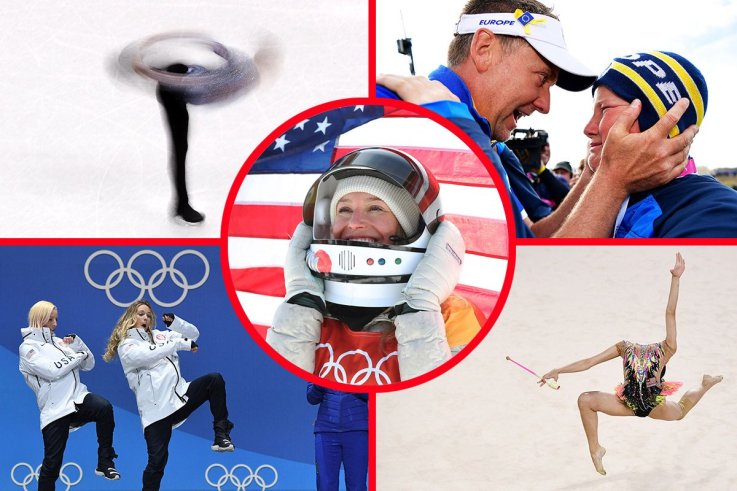 The Philadelphia Eagles' first Super Bowl victory. Croatia's breakout performance at the World Cup. Serena Williams's much-debated outburst at the U.S. Open final. And the athletes and cheerleaders who defied the president's condemnation to take a knee. 2018 was a bumper year for sports stories, and left us with some mesmerizing photography to remember it by.
As a recent viral Tweet pointed out, the newsworthy year means that it's easy to forget the fact that there were actual Olympic games in February. And although the U.S. didn't do as well as expected, there was a sure victory in the form of breakout star Adam Rippon, who charmed the world with his gorgeous ice-skating performances and off-rink charm.
There was big hockey news in June when the Washington Capitals won the Stanley Cup for the first time in 43 seasons. The team beat the Vegas Golden Knights, with Lars Eller scoring the winning goal with under eight minutes left to go.
That same month World Cup drama was heating up, with soccer fans converging on Russia to cheer on their various countries. France emerged as this year's champions, beating Croatia, who had emerged seemingly out of nowhere to clinch a spot in the finals by knocking England out of the tournament.
July was dominated by the epic Tour de France. The race was beset with drama from the start, with last year's champion Chris Froome almost banned from the race following a questionable drugs test result. During the race, riders were immobilized by lingering tear gas that French police had used to disperse protesting farmers. Among the weeping cyclists was British cyclist Geraint Thomas of Team Sky, who would go on to win the race.
The U.S. Open thrilled tennis fans in September, with Novak Djokovic winning the men's trophy, and Naomi Osaka beating Serena Williams to clinch the women's. Her victory was marred with controversy—Williams' on-court fight with the umpire seemed to grab more headlines than Osaka's victory, even though she had become the first Japanese player to win a Grand Slam.
The same month, Europe beat the USA to win the Ryder Cup, despite Tiger Woods and world No.1 Dustin Johnson bolstering Team USA's chances.
Now the year is winding down, people are already speculating about 2019's schedule, which includes the Rugby World Cup and soccer's Copa América. As a final goodbye to 2018, we've selected 50 photos that capture a dizzying, exciting—and sometimes strange—year in sport.