Piano Man Billy Joel Plays His Way Into 2015 With Gershwin Prize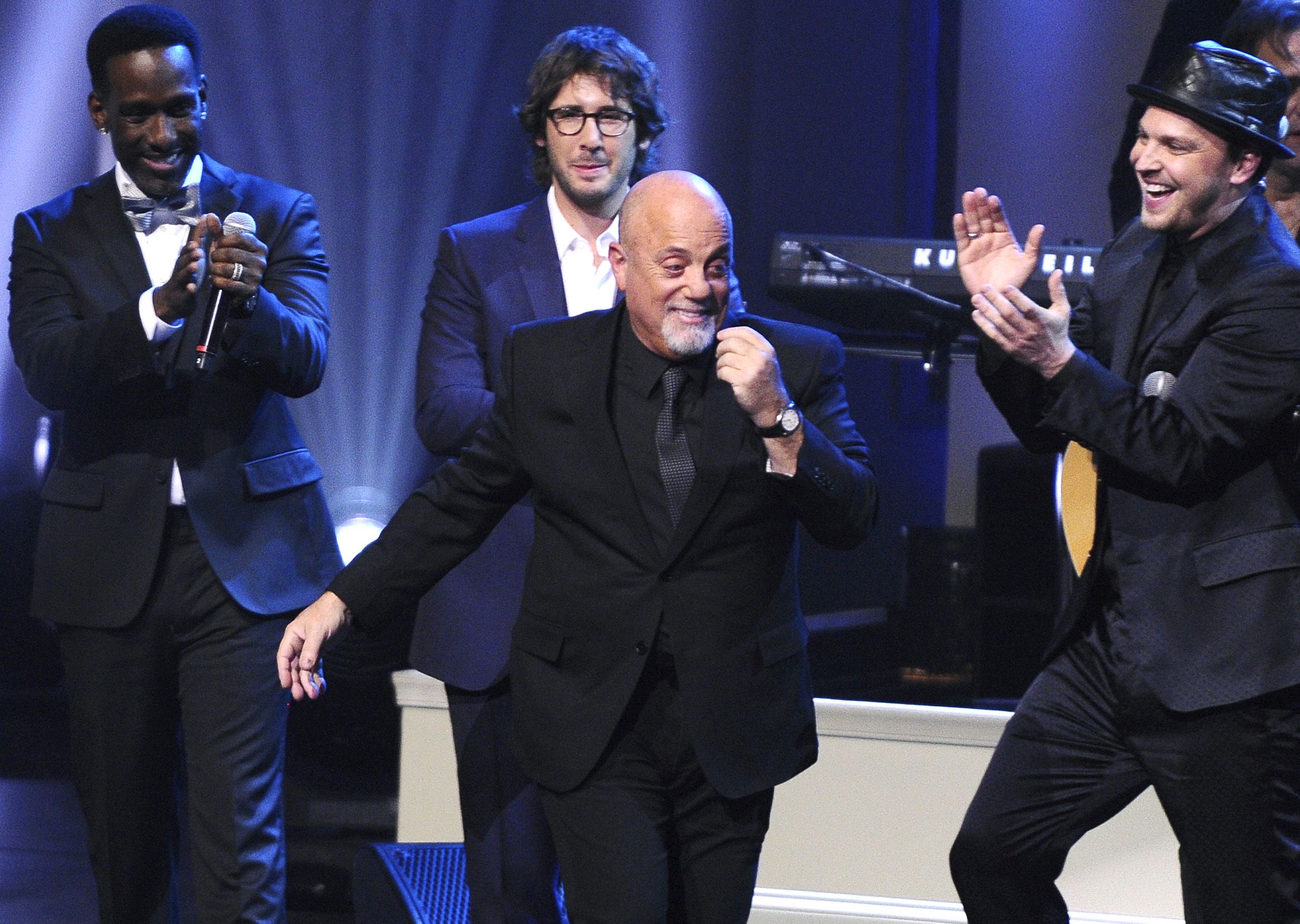 Billy Joel says he will never forget the moment he realized music was something he could do for a living. In an interview for the Library of Congress, Joel recalled playing at a church in his hometown of Hicksville, on New York's Long Island, as a teenager, looking out at the dancing crowd and catching the eye of a girl he had a crush on.
"I thought, This is really cool. I'd like to do this, but you know, I don't know how I'm going to pay my bills," Joel said. That is, until the priest came over at the end of the night and gave each band member $15. "And I thought—I hadn't even thought of this—You mean, you get paid for doing this? I was just doing it for fun."
Joel has come a long way since that church gig in the 1960s. Now a household name, the singer-songwriter was honored with the Library of Congress's 2014 Gershwin Prize for Popular Song, with a celebratory program hosted by Kevin Spacey in November. The event will air Friday evening on PBS member stations.
Joel spoke about some of his career highlights from his home in Long Island, against the scenic backdrop of Oyster Bay where he once worked on an oyster boat. Excerpts from the video will be published online Friday and preserved in the library's archives
As a teenager, Joel began playing with local cover bands and released albums with the Long Island-based groups the Hassles and Attila. A turning point was the first check he received that was big enough to cover his rent, food and bills and came solely from music, he said.
Joel released his first solo album,Cold Spring Harbor, in 1971, before going off to play at piano bars on the West Coast under a pseudonym. His second album, 1973's Piano Man, was a hit, with its eponymous single that would embed itself in Americans' consciousness.
Joel's remarkable career has spanned more than four decades and includes 33 top 40 hits, 23 Grammy nominations and six wins, a Tony Award and honors from the Rock and Roll Hall of Fame, Billboard, the Kennedy Center and the American Society of Composers, Authors and Publishers.
Attendees at the Washington, D.C., event, which celebrated Joel's "remarkable American songbook," as Spacey put it, included more than 30 members of the George and Ira Gershwin families, ASCAP board chairman Paul Williams, Meg Ryan, John Mellencamp and politicians including Nancy Pelosi and Rand Paul. U.S. Supreme Court Justice Sonia Sotomayor read the award citation. Barbra Streisand, James Taylor and Paul McCartney were not present but sent video congratulations.
"Well, I think even a man like Frank Underwood would be excited about a night like tonight," Spacey quipped in a nod to the power-player politician he portrays on the Netflix series House of Cards.
The tribute saw a revolving door of stars who sang their takes on Joel's hits, from Natalie Maines of the Dixie Chicks to an iconic singer of pop and jazz standards, Tony Bennett. R&B group Boyz II Men kicked off the playlist with a rendition of "The Longest Time" from Joel's 1983 album An Innocent Man, followed by LeAnn Rimes performing "Lullabye (Goodnight, My Angel)" from River of Dreams (1993) and singer-songwriter Gavin DeGraw with "It's Still Rock and Roll to Me" from Glass Houses (1980).
"He wrote about real life," about things "everybody could relate to," Rimes told Newsweek after the event. "I think that's why people were so drawn to his music."
Rimes said she can't remember a time when Joel's music wasn't part of her parents' record collection and playing around the house. The country singer recalled that she had just released her album Blue, which topped Billboard's country chart for more than three months in 1996, when she saw Joel perform for the first time. She was 16 or 17, she said, when went to see Joel play with Elton John in Los Angeles, and she heard the song "Lullabye" for the first time. "Goodnight, my angel/Time to close your eyes," it starts.
I promised I would never leave you
And you should always know
Wherever you may go
No matter where you are
I never will be far away
"He said he wrote it for his daughter," said Rimes, who was going through a lawsuit with her father at the time. "That song truly, truly touched me. I was a blubbering fool sitting in the audience."
More than a decade later, when the producers approached her to sing at the Gershwin Prize event, she reached back to the bittersweet memory of that concert to choose her song. Joel has since asked Rimes to record her cover of "Lullabye," a song he has never let anyone else record, for an upcoming tribute album.
The Gershwin Prize is given not only on the basis of artistic merit, said Suzanne Hogan, special assistant to the Librarian of Congress. The advisers also look for artists who have promoted song as musical expression, entertained and informed audiences, and inspired new generations of composers and interpreters. The award has been presented to Paul Simon, Stevie Wonder, Paul McCartney, Burt Bacharach and Hal David, and Carole King since its inception in 2006.
"We have a cultural imperative to capture what they have given the world," Hogan said of the award recipients, artists who have enjoyed prolific careers and left their marks on American society and culture.
Joel is a remarkable storyteller, Hogan said. He "has a narrative soul to each one of songs," she added. "By the time you finish listening to an album, [you] come to know the folks that he's talking about." Joel's journey from modest blue-collar roots to stardom has inspired young artists, she said.
DeGraw said he was one such young artist, recalling how his older brother begged their aunt for a Billy Joel cassette tape. He later listened to Joel's music for hours on end.
Joel's music was what kept DeGraw interested in the piano and helped him study songwriting from a young age, he said. "His music has really become part of my DNA as a person, as a musician. Even if he never knew it, it was a mentor of mine. He was mentoring me as I was listening to his albums."
DeGraw said he chose "It's Still Rock and Roll to Me" to highlight Joel's skills as a songwriter capable of moving from ballads to rock songs that evoke a working-class feel.
Joel's ability to transcend styles of music is one of his greatest qualities, DeGraw said. At the same time, "there's a level of palatability mixed with a level of sophistication most songwriters aren't capable of," he adds. "I think what blows me away most of all is that he's like a regular guy with a great gift.... People really relate to him."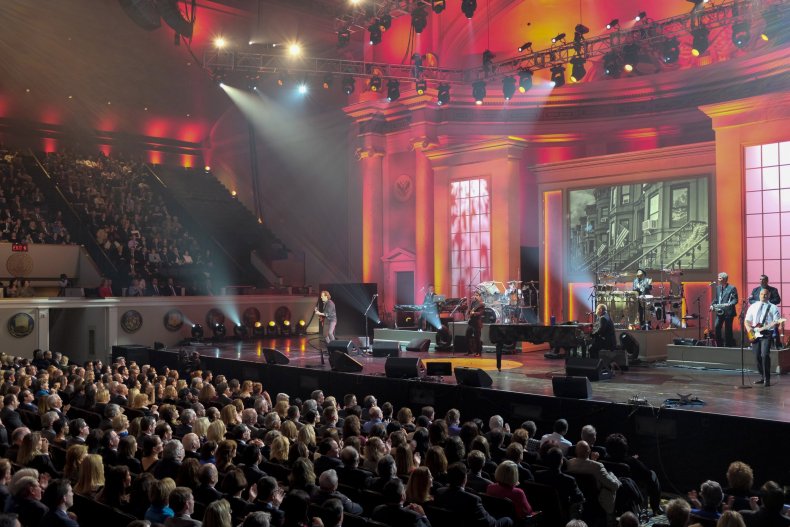 DeGraw's performance at the tribute concert was followed by appearances by Josh Groban, performing "She's Always a Woman"; Natalie Maines with "She's Got a Way"; an acoustic version of "Allentown" by John Mellencamp; and Tony Bennett crooning "New York State of Mind."
Sandwiched in between the vocal performances was a duet danced to Joel's "Shameless," created by choreographer Twyla Tharp, whose work also opened the evening with a medley adapted from the 2002 Broadway show Movin' Out. Tharp—who has created works for her own company as well as for other major dance companies, television and film—collaborated with Joel on Movin' Out, which garnered them both Tony Awards.
Tharp said Joel's work is an integral part of American culture and "musical tradition of our time." She called Joel a storyteller who has a talent for melody, rhythm and orchestration.
He has "the capacity to take universal material and make it very personal," she said, before explaining how she interpreted the themes and narratives in his work through dance.
"From 'Italian Restaurant' I got a generation of American men who fought for their country. From 'Good Night Saigon' I had the story, the legend and the truth of warriors and the bond that will always connect them. From 'Shameless' there was the suggestion of what our warriors and our veterans survived, and coming back to reunite with their families and to rejoin their loved ones," Tharp said.
Joel's Gershwin Prize program was the first to include dance. "You cannot tell Billy Joel's story authentically without including Twyla Tharp," Hogan said.
The evening's performances were interspersed with footage from Joel's four-decade career. Clips came from "The Last Play at Shea," when Joel played alongside his friend (and previous Gershwin Prize winner) Paul McCartney at the last concert in Shea Stadium, and from Joel's 1987 Soviet Union tour, "The Bridge to Russia," which was the first fully equipped rock tour in USSR history.
Finally, the guest of honor himself made his way to the stage to accept his award and take his seat at a piano, where it all began, to play "Movin' Out," "Vienna," "Miami 2017 (I've Seen the Lights Go Out on Broadway)" and "You May Be Right."
When Joel finished his fourth song, Spacey walked over to the singer. "I took a poll backstage, and there is a general consensus that you left one song out," Spacey said.
Spacey picked up a harmonica and wowed the crowd as he sang and played the opening of Joel's classic song "Piano Man." The evening's performers joined in with Spacey and Joel for a full-cast finale.
Hogan said you could see members of "the U.S. Senate tapping their toes and mouthing the words to 'Piano Man,' sharing a common moment and common experience," whatever their political inclinations and personal backgrounds might be.