The Pianos That Invaded New York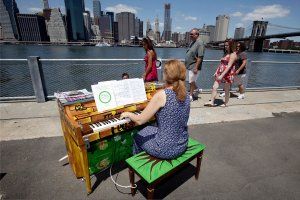 I almost spent a night in jail when I was 10—for playing a grand piano in a shopping mall. The piano was just sitting there, in the atrium between the shoe store and the book shop, so I just skipped up to it and started banging out a clumsy rendition of "Ode to Joy." When the mall cop came up and shook his finger at me, my heart stopped. I was in trouble…with a policeman!
Fortunately, I didn't get arrested (can mall cops even do that?), and neither will the thousands of people who will decide, on a whim, to play pianos on street corners and in parks in New York City in the coming fortnight. In fact, they're being encouraged to tinker around on 60 decorated uprights that were unveiled throughout the five boroughs yesterday for anyone to play.
"Play Me, I'm Yours" is an installation by the British artist Luke Jerram, sponsored in New York by the nonprofit arts group "Sing for Hope." Jerram's project has been touring the world since 2008, when it debuted in the U.K. Since then, street pianos have popped up in eight cities worldwide. The current installation, which will stay in New York until July 5, is the first in the United States, though Cincinnati, San Jose, and Grand Rapids can expect to see street pianos later this year.
Jerram has called the pianos "a blank slate for everyone's creativity" —a phrase that rings true in more ways than one. Each host city gets brand-new pianos that are painted by local students and artists, and after the installation shuts down, the pianos are donated to schools and community centers. Each instrument, then, is visually unique, turning pianos into public sculptures. On Monday morning, most of these "sculptures" were still silent, as New Yorkers bustled past them on their way to work, juggling coffee cups and briefcases, and tourists stood outside the Today show.
But, by mid-afternoon Monday, people started noticing the new guys in town. At one brightly painted instrument near Lincoln Center, a young woman carrying a Zabar's shopping bag stopped to play some Rachmaninoff. Her apparent technical skill caused a few passersby to stop and stare in amazement. Just across the street in front of Alice Tully Hall, a little boy in a sky-blue shirt was no less impressively performing some simple Bach variations.
A family of four (mom, dad, boy, girl) sat watching the blue-shirted boy while eating ice-cream cones on the nearby stone steps. The mother told her young son, "you should go up and play!" "Am I allowed to?" he asked sheepishly. After some more encouragement, he jumped up and headed straight for the piano. "Wait!" yelled his older sister. "Wait for the other boy to finish."
The boy in blue took a bow as he left, and two women passing by on the sidewalk grinned at each other before stopping to clap. The new boy stepped up and took his turn, slowly and shyly playing "Old MacDonald."
It isn't always easy to hear the music over the general din of car horns and braking buses, but, then again, the music isn't really the point. Sing for Hope is billing "Play Me, I'm Yours" as a social good, "bringing live art to our urban centers, democratizing the arts, and renewing our civic spirit." Jerram says that the idea came from visits to his local laundromat, where he realized that he always saw the same people and yet none of them ever talked to each other. He hopes that the pianos will serve as "a catalyst for conversation" that will in turn wake up "invisible communities."
"Play Me, I'm Yours" is the perfect example of contemporary art's latest "ism," a movement called "relational aesthetics." The term was coined in 1998 by the French critic Nicolas Bourriaud (because that's how French art critics talk) to define works of contemporary art that promote the spontaneous formation of relationships among viewers.
The problem is that all too often these relationships are not spontaneous—in fact, the relations "created" by relational art have frequently been there all along. Consider an untitled 1992 project by Argentinian-American Rirkrit Tiravanija, which Bourriaud himself championed. The artist installed a makeshift kitchen in the office of a SoHo gallery and cooked Thai curry, which visitors to the gallery could eat for free. The idea was that gallery-goers would stop and talk to the artist and to each other, and a new "community" would form. Unfortunately, SoHo is a small world after all. Many visitors to the gallery—artists, critics, collectors—already knew each other, because they belonged to that small sphere of people who spend their Saturdays at contemporary-art shows.
More recently, viewers were invited to interact with the artist in a performance piece by Marina Abramovic at a Museum of Modern Art retrospective of her work. Abramovic's audience was both larger and more diverse than Tiravanija's, sprinkled with tourists checking the MoMA box on their vacation itinerary and locals who wanted to see the season's "talk of the town" exhibit. Even so, visitors had to actively seek Abramovic out (and pay MoMA's $20 admission fee), turning the "relational" aspect of the art into a premeditated and deliberate act. Even when the installation involves staring at naked people, it's hard to make people interact in surprising and unexpected ways if they have to come to a specific place at a specific time with a singular intention.
"Play Me, I'm Yours" avoids this problem with an easy but brilliant trick: hiding in plain sight. True, the group of New Yorkers who cross Greeley Square on their way to work is the same herd of working stiffs every day, but they are almost never acknowledged as members of the same, small community. By existing in New York's outdoor "common rooms," Jerram's pianos encourage interactions among unsuspecting passersby, ensuring that the relationships formed are actually spontaneous. In a way, the pianos seek out the crowds (in parks, churches, at the Metropolitan Museum and near galleries in Chelsea). All the crowds have to do is play.
Placing pianos in public areas has other artistic benefits as well. "Play Me, I'm Yours" challenges notions of public space and ownership. The pianos are for anyone to play—but they are held down with cinder blocks so that they don't get stolen (ah, New York!). You can sit down and play any time, but the songbook placed on the music stand by Sing for Hope includes instructions to limit your playing time to 10 minutes if others are waiting.
"Play Me, I'm Yours," says the piano, but it's not just yours. It also belongs to that obnoxious small child skipping toward you, desperately wanting to bang out "Ode to Joy," and you have to take your fingers off the keys and let her. In that moment—when you make eye contact with the girl and smile (or wince) at her shrill cry of glee—that's when the art happens.