How Picking Mike Pence Puts Donald Trump in Ideological Bind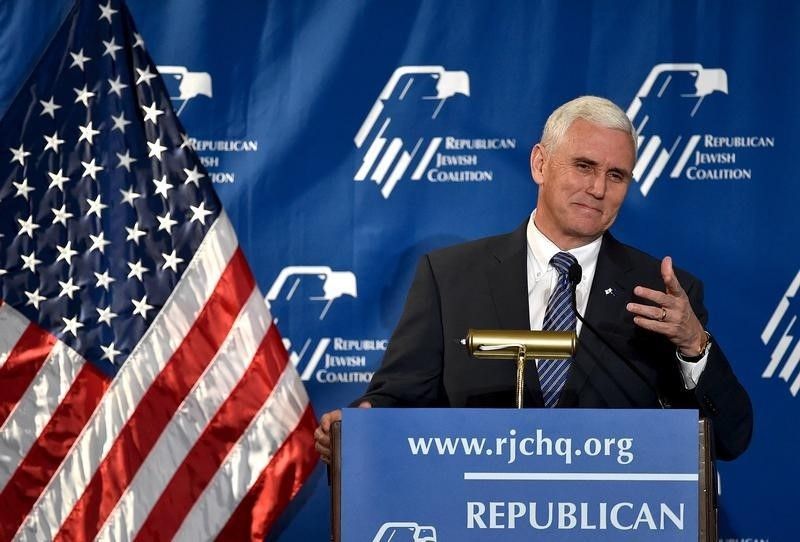 Updated | Donald Trump's selection of Indiana Governor Mike Pence to be his running mate will go far toward reassuring conservative Republicans about his presidential campaign, but it may hamper the mogul's efforts to blur ideological lines in trying to appeal to a wider segment of the electorate.
The 57-year-old Pence is as ideologically predictable as Trump is erratic. A longtime member of Congress before being elected governor, Pence ascended the ranks during the era of Reps. Dennis Hastert and Tom DeLay and President George W. Bush, ending up as chairman of the House Republican Conference. His unyielding, hardcore conservative positions have made him a favorite with religious and economic activists. Pence, a former talk show host, has close ties to the Koch brothers as well as to religious groups that have cheered his fierce opposition to legal abortion and gay rights.
This is a dramatically different arc than that taken by Trump, who has long donated to Democrats; welcomes Bernie Sanders supporters with open arms; would let Caitlyn Jenner use whatever bathroom she wants at Trump Tower; and ran on a set of issues aimed at appealing to independents and Democrats.
Start with trade. Trump's opposition to free trade agreements puts him on the side of unions and in opposition to most Republican elected officials—certainly the vast majority of presidential candidates this year as well as Pence, who championed the North American Free Trade Agreement and the Trans Pacific Partnership.
Consider entitlements. Trump was one of the few GOP presidential candidates to steadfastly oppose any changes in entitlement programs like Social Security and Medicare. By contrast, Pence, who used to work for a free-market think tank, was a booster of Bush's aborted 2005 plan to partially privatize Social Security. In every presidential campaign since the 1980s, Democrats have charged that Republicans plan to "cut" or "weaken" Social Security. While often exaggerated, even demagogic, this line of attack had often proved potent. But Trump was different than his predecessors, such as Mitt Romney and Bush. He has fervently argued for leaving the program as it is, and might have been able to prevent Hillary Clinton from even making the familiar Democratic Party charge. With Pence on the ticket, count on entitlements to come back as an issue.
Health care is another area where Trump has showed he's beyond left-and-right politics. Although he's a hardcore opponent of Obamacare, he has shown interest in keeping Obamacare's prohibition on insurance companies denying care to those with preexisting conditions. "We're not going to let people die," he said. Pence hasn't shown the same flexibility.
On other issues, Trump has moved left while Pence marched right. Trump called himself a vehement opponent of the Iraq War, although no evidence exists that he opposed it before it was launched in 2003. (He was on the record opposing it a few months after it began.) Pence backed the war wholeheartedly.
While Trump now says he's anti-abortion and favors a cutoff of federal funds to Planned Parenthood, he continues to hail the nationwide family planning group for its "wonderful" work—the kind of words Pence would never utter. Trump also has repeatedly attacked special interest campaign donations; Pence, a prodigious fundraiser in Congress and in Indiana, has never made campaign reform an issue.
Trump has made overtures to the LGBT community—arguing most recently after the Orlando shooting that he was a better friend to gays than Clinton. Roger Stone and Ann Coulter are co-sponsoring a gay fundraiser for Trump, to be held next week in Cleveland, but don't count on Pence attending. As governor, Pence was embroiled in controversy when he signed a bill that would have allowed businesses in the state to deny services to gays based on religious grounds. The outcry that ensued included a torrent of protests from businesses, including the NCAA, which threatened to boycott the Hoosier State. It led Pence to sign legislation amending the law.
The choice of an establishment Republican like Pence, one who doesn't possess the volcanic temper of a Chris Christie or the towering ego of a Newt Gingrich, is cheering many in the party who worried that Trump would seek someone as combustible as himself. While Pence has a background as a conservative talk show host—which means in some sense that Trump is favoring a fellow entertainer—the choice of the Indianan demonstrates that Trump was willing to look beyond his own outsized personality to someone with a gentler, humbler temperament. That decision alone may calm some voters who worry that Trump is too erratic and mercurial to be commander in chief.
Ultimately, though, the choice of Pence signals that Trump is dialing back on the kind of ideology-busting, innovative approach that got him this close to the GOP nomination. He's gone from being a purple candidate to a red one.
This story was amended to reflect Mike Pence's selection as Donald Trump's running mate.