'Rick and Morty' Pringles: When Will the Pickle Rick-Flavored Chips Be Available?
Pringles has announced that it will launch Rick and Morty-inspired Pickle Rick-flavored chips in 2020.
The Pringles launch comes with a 30-second commercial that will air in the second quarter of the Super Bowl 2020.
The Super Bowl will take place on Sunday, February 2, and although no official launch date for the Pickle Rick Pringles has been announced just yet, it is expected that they will become available around the time of the Super Bowl.
In the third episode of the third season of the award-winning series by Adult Swim, Rick transforms into a pickle to avoid attending a family therapy session. In his pickle form, Rick's adventure takes him through the sewer, to a foreign government agency, and eventually... to the family therapy session.
Gareth Maguire, senior director of marketing for Pringles, said in a statement: "We want to do something completely new for the brand for the 2020 Big Game and are thrilled to be partnering with Adult Swim and Rick and Morty, a show which continues to grow in popularity year after year and enjoys a cult fan following.
"We hope the new special edition Pickle Rick flavor will be a hit with the show's fans."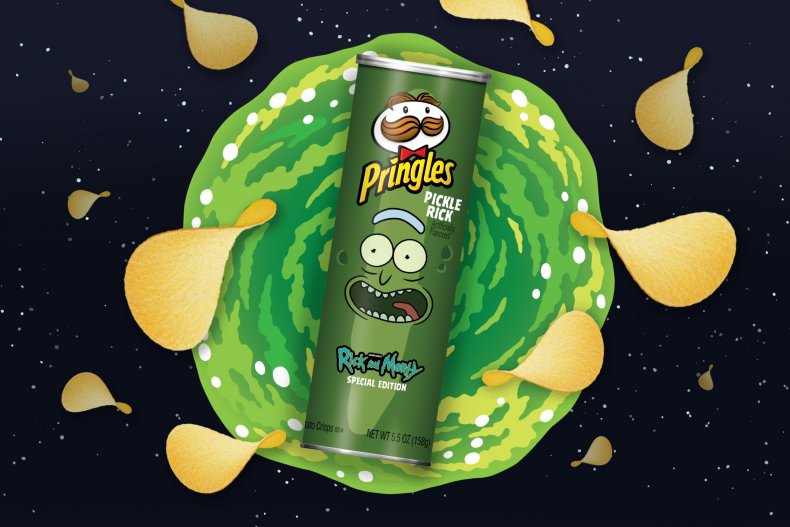 Additionally, Pickle Rick Pringles is unlikely to be the only product that Pringles and Rick and Morty collaboratively launch next year. Jill King, senior vice president, marketing and partnerships, at Adult Swim, said in a statement: "We're very thoughtful about who we partner with around Rick and Morty and we couldn't be more pleased with our new relationship with Pringles.
"Not only are the Rick and Morty show creators making a hilarious spot for the Big Game, we're extending this partnership in really exciting ways, all year long. Rick and Morty fans are going to be given amazing new opportunities to illustrate their love for this iconic show, thanks to Pringles."
The Pringles flavor isn't the only Rick and Morty-themed food product to hit the shelves this year.
Funko launched a Pickle Rick cereal in September, which was made of green multigrain rings and came with a Pickle Rick Toy. The cereal is currently on sale at $9.99 down from $14.99 at FYE. Plus, FYE is also selling Meeseeks cereal, which is made from blue multigrain hoops and comes with a Meeseeks toy for $3 down $14.99.
Or you can try the Rick and Morty-inspired Eyeholes chocolate truffles, which are on sale for $14.99 down from $19.99 at FYE. Finally, you can also buy a Pickle Rick Pickle in a Pouch. A pack of 12 is on sale for $19.99 down from $39.99.
Newsweek has affiliate partnerships. If you make a purchase using our links, we may earn a share of the sale.