Ancient Skeleton Found in Cave 1,400 Years After 'Brutal' Death May Have Been Royal
A man who suffered a "brutal death" 1,400 years ago in modern-day Scotland may have been an ancient royal, researchers have discovered.
The man's skeleton was discovered in a cave in the Black Isle in the Highlands back in 2016. He was found in a cross-legged position, with stones holding his limbs in place.
The man's unusual placement led scientists with the Rosemarkie Caves Project to believe his burial was somehow special. Further investigations have found other clues to support this idea, including evidence he enjoyed a high-protein diet, news agency PA Media reported Tuesday.
Simon Gunn, founder of the project, told PA Media: "It's rather peculiar that he had a very high-protein diet throughout his life, to the extent that it's as if he had been eating nothing but suckling pigs.
"He was a bit special, that could be royalty or a chieftain.
"Obviously he had a rather brutal death, but he was buried quite carefully in that cave."
Researchers previously dated the remains to between 430 CE and 630 CE. The man, who is thought to have died around the age of 30, was Pictish. The Picts lived in the east and north of Scotland from the Late British Iron Age to the Early Medieval period.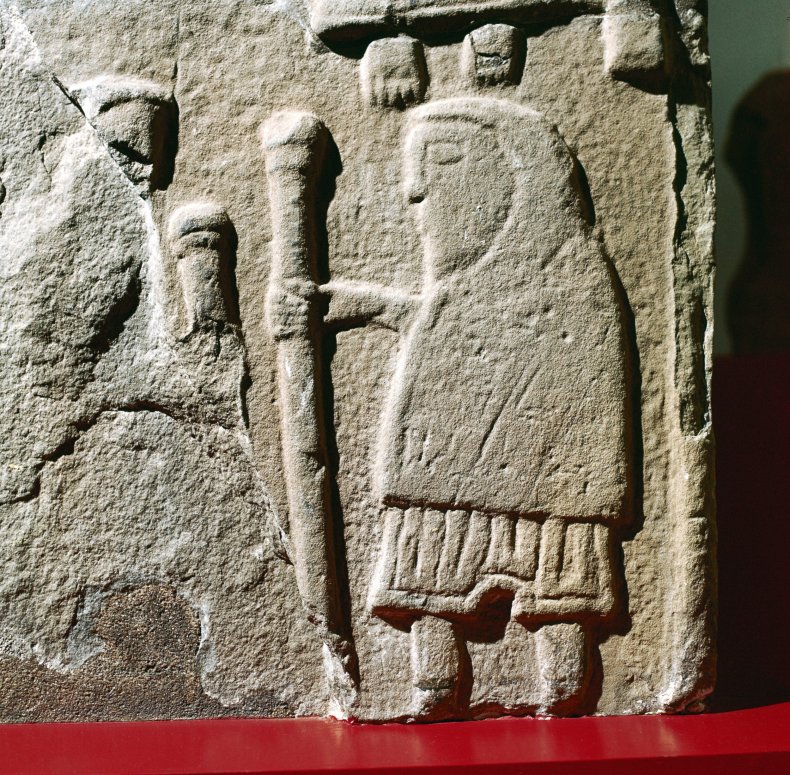 The man, who Gunn said was "built like a rugby player," had serious injuries to his head, but nowhere else. Researchers think that means he probably didn't perform labor-intensive work or fight in battles.
The cave he was buried in may represent an "entrance to the underworld," Gunn added. Piles of bones found near his body suggest there was some kind of feast after his death.
In 2017, researchers revealed a digital reconstruction of the Pictish man's face. Their investigations revealed the extent of his injuries.
Forensic anthropologist Dame Sue Black, who studied the remains, said in a statement previously released by the University of Dundee: "From studying his remains, we learned a little about his short life but much more about his violent death...he was a striking young man, but he met a very brutal end, suffering a minimum of five severe injuries to his head."
Black's team believe the man suffered blows that injured his teeth, jaw and the back of his head. She added: "The fourth impact was intended to end his life as probably the same weapon was driven through his skull from one side and out the other as he lay on the ground."