Pictures Show Disgusting Cockroach in Plane Meal That Forced Airline to Offer Apology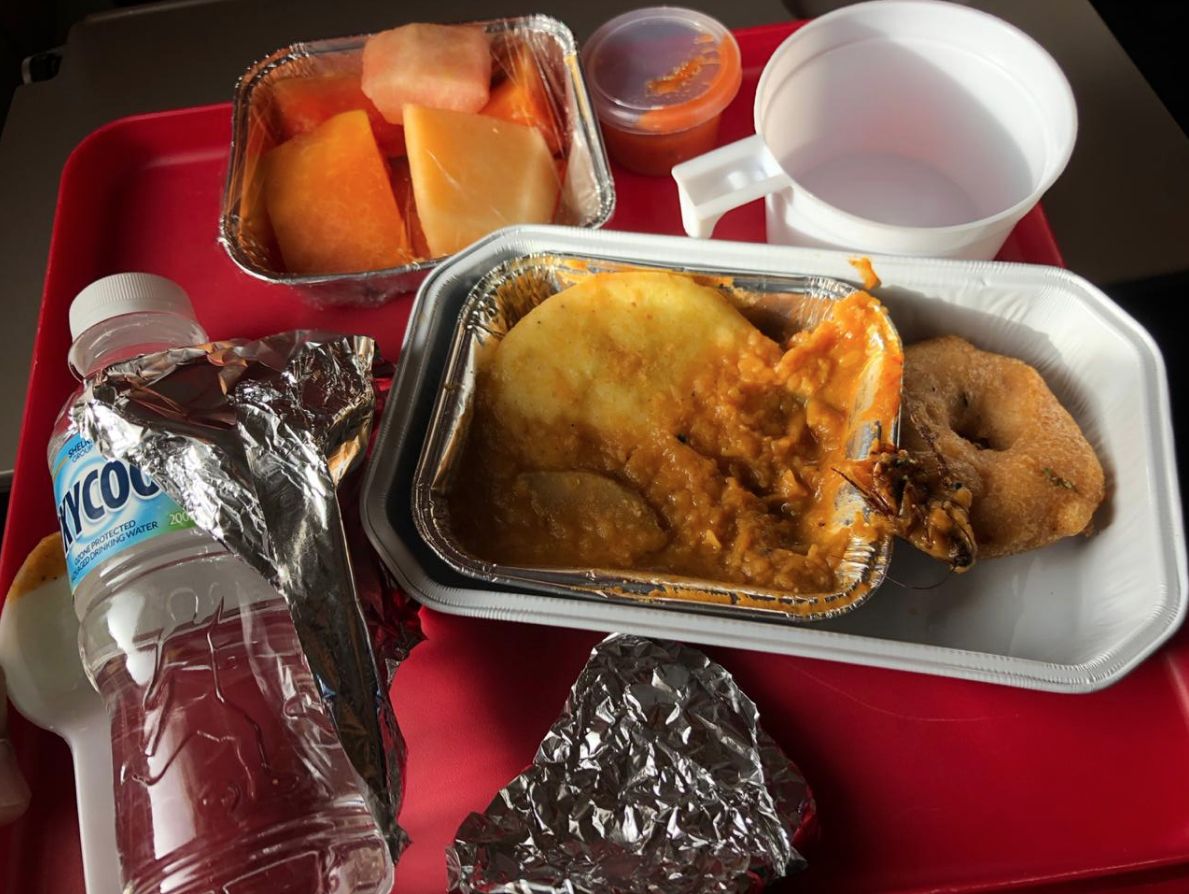 An airline in India has been forced into an embarrassing apology after one of its passengers found a dead cockroach in his in-flight meal and tweeted it to hundreds of followers.
Rohit Raj Singh Chauhan allegedly found the cockroach in a curry breakfast meal served on an internal Indian flight, Air India flight AI-634, from Bhopal to Mumbai, and alerted officials.
"It was found in the Sambar served in the aircraft. I informed the Air India crew but they ignored me," Chauhan told the Times of India, referring to a lentil based vegetable broth, popular in southern India. "Since the crew members were not listening I returned it to them. I even objected to their serving food to others but to no avail," he said.
Frustrated by the lack of a response onboard the flight, Chauhan took to Twitter, tweeting four pictures of the offending cockroach when the plane landed on Tuesday. It appears the insect was embedded deeply in the food, its legs encrusted in the gooey lentil mix.
"Cockroach in food served at Air India," Chauhan tweeted alongside the pictures, adding the handles of a number of Indian news outlets into the message.
Air India was forced to apologize for the incident following the lacklustre response of its staff. Chauhan also tweeted their apology.
"We sincerely apologize for the incident where our valued [passenger] had a disappointing experience with the meal served onboard our Bhopal Mumbai flight. Air India always endeavors to ensure our [passengers] enjoy our services," the airline said in a statement.
"We have taken serious note of the incident and immediately issued a strong notice to the caterer concerned. Air India has a zero tolerance policy in this respect and have initiated corrective action internally. Our senior officials are in touch with the aggrieved passenger," Air India said.
This is not the first time an Air India passenger has discovered a cockroach in their meal. In November 2016, in a similar incident, passenger Rahul Raghuvanshi tweeted images when he discovered one of the insects in his onboard meal.
The Times of India reported that Raghuvanshi discovered the curled-up cockroach in the bottom of his dish as he flew from Hyderabad to Chicago via New Delhi. Air India "now serves cockroach for vegetarian meals on AI127," the engineer tweeted, adding the hashtags #SickToMyStomach, #traumatized and #CockroachInFood.
Using language strikingly similar to its most recent apology, Air India said in a statement that it "took serious note of the incident and issued notice to the caterer concerned immediately."