In Pictures: Huge Earthquake Strikes Off Mexican Coast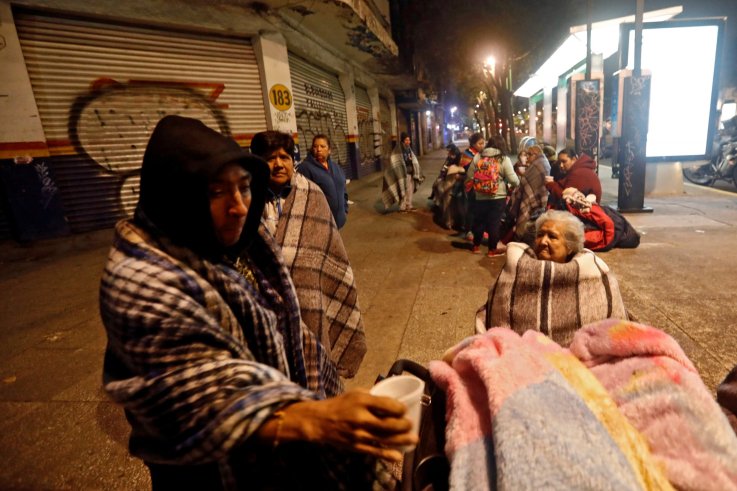 An earthquake struck off the coast of Mexico Thursday night, shaking buildings hundreds of miles away and killing at least 15 people.
The quake was of 8.2 magnitude, with its epicenter about 87km (54 miles) southwest of the town of Pijijiapan, in Chiapas state.
Mexico's President Enrique Peña Nieto said on Twitter that morning school was being suspended across large swathes of the affected area in order to determine whether the school buildings were safe to return to.
He added that 1.85 million people had faced disruption to their electricity; 74 percent of them had already recovered service by Friday morning, when Nieto sent the tweet.
According to the president, the quake is the "most intense" faced by the country in nearly a century. He expressed his "deepest condolences" to the families of those killed.
He also warned Mexicans to pay attention to official updates in case of aftershocks or further quakes.
"The national emergency committee will remain active to assess damage and coordinate actions of care for the population," said Nieto.
Luis Felipe Puente, Mexico's civil defense chief, said Friday that the death toll was at least 15. At least 10 people died in Oaxaca state, three in Chiapas state and two in Tabasco state.
In the capital, Mexico City—located 1,000 miles away from the quake's epicenter—the effects were strong enough to shake buildings and send concerned residents scattering into the streets.
The damage comes as Mexico is bracing itself for another, unrelated, natural disaster. Hurricane Katia is expected to make landfall on the Gulf Coast at the weekend and could bring winds of up to 111 miles per hour, driving rain, flash floods, mudslides and sea-level surges of between 5 and 7 feet.