In Pictures: Mexico Border Patrol Agents Step Up Illegal Immigrant Arrests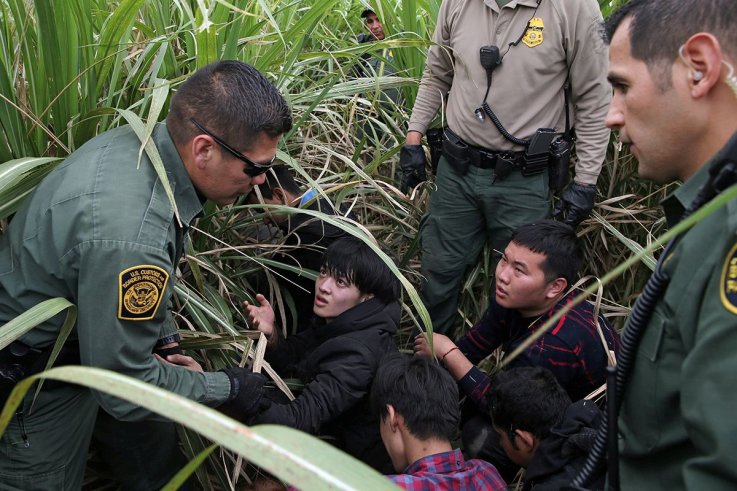 The Rio Grande Valley is one of the busiest crossing points for migrants attempting to enter the United States illegally.
These photos show Border and Customs agents tracking and arresting migrants and suspected drug smugglers as they crossed into Texas.
President Donald Trump has recently escalated the anti-immigrant rhetoric that helped him get elected. The Texas National Guard has begun deploying troops to help secure the state's southern border with Mexico, after Trump directed Defense Secretary James Mattis to request the use of National Guard personnel to help the Department of Homeland Security secure the border in four southwestern U.S. states, including Texas.
The Texas Army National Guard said 250 guardsmen along with aircraft, vehicles and surveillance equipment were to be deployed along the state's border with Mexico. In Arizona, some 150 National Guard members will be sent to the border, Governor Doug Ducey said in a Tweet. New Mexico said it supports the call for National Guard reinforcements but has not announced plans yet.
California's Democratic governor Jerry Brown has so far not made any public comments on the matter.
In the months after Trump took office, the number of migrants caught along the border fell dramatically, hitting a low of about 15,700 in April, from more than 42,400 in January 2017, according to U.S. Customs and Border Protection data. Arrests have crept back up since, and in the first months of 2018 have reached levels at, or near, those seen during the last year of his predecessor, President Barack Obama.
Trump has sent furious tweets criticizing the "caravan" of impoverished Central American migrants heading north through Mexico. However, in doing so he showered it in far more publicity than its organizers, U.S-based advocacy group Pueblo Sin Fronteras, ever expected. Trump had said they were marching toward the U.S. border, though that was never the organizers' plan.
The caravan, which set off from Mexico's southern border on March 25, aims to raise awareness about the plight of migrants, and has been running annually since 2010. Some members of the caravan made it to Mexico City on Saturday (April 7), where they protested Trump's immigration policies outside the U.S. Embassy.
— Reuters contributed to this report.