In Pictures: The Most Diverse Congress in U.S. History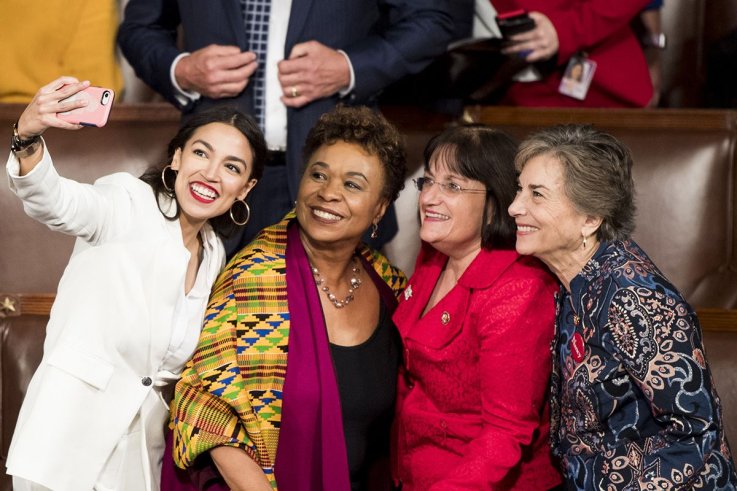 On January 3, the 116th Congress arrived at the Capitol Building for its first meeting of their two-year term. New candidates were sworn in, a speaker was elected and the year's political wrangling began afresh.
Not much has changed at the 200-year-old-plus institution, except for one noticeable difference—Congress now looks more like the public it represents than ever before.
The new Congress is the most diverse in American history. Women make up around 24 percent of all seats, with 106 female Democrats and 21 female Republicans serving. Some 42 of these women are newcomers to Congress, although just four of the newcomers are Republican women.
This congress isn't just a victory for women; it has an avalanche of historic firsts for intersectional representation. After years of marginalization, two Native American women became the first to take Congressional seats. Democrats Sharice Davids and Deb Haaland were victors in what was a historic election for Native American candidates, at a time when President Donald Trump's history of disparaging remarks towards indigenous Americans is widely known.
The first two Muslim women in Congress also took their seats. Michigan Democrat Rashida Tlaib was sworn in wearing a traditional Palestinian dress. Ilhan Omar has become the first Somali-American elected to Congress, and the first woman of color to represent Minnesota.
Alexandria Ocasio-Cortez, 29, has become the youngest woman ever elected to Congress. She's joined by fellow Democrat Lauren Underwood, 32, who has become the youngest black woman to serve. Underwood will be representing the 14th Congressional District in Illinois, and will be both the first woman and the first black person to ever do so.
Democrat Kyrsten Sinema brought religious diversity and LGBTQ representation to Congress, becoming the first openly bisexual person ever elected to the Senate. She's also the only Congress member who identifies as religiously unaffiliated, and was sworn in using a copy of the Constitution rather than a Bible. On top of that, she's the first woman ever to represent Arizona.
These are a selection of some of the new Congressional faces sworn in this week, who are helping to make government more representative of the American people. The photos in this gallery show the changing face of Congress.