Pictures Showing Python Covered With 500 Ticks Go Viral: 'It Felt Like 'Holding A Bag of Marbles'
Images of a rare tick infestation on a python rescued in Australia have gone viral, showing the snake covered from top to tail in over 500 of the parasites.
The carpet python, which has been named 'Nike' was found lying in a swimming pool on Queensland's Gold coast.
Read more: Venomous snakes could be on the loose in south Carolina after Hurricane Florence flooding
Tony Harrison, 51, a local pest controller who rescued the snake told Newsweek the animal was close to dying by the time he reached it. "It had been that way for a number of months," he said. "It wouldn't have lasted much longer if we hadn't found it then."
The number of ticks on Nike, eventually found to be over 500, was unlike anything Harrison had ever seen. He described picking up the snake as like "holding a bag of marbles. It was like all the ticks were little balls moving in my hands."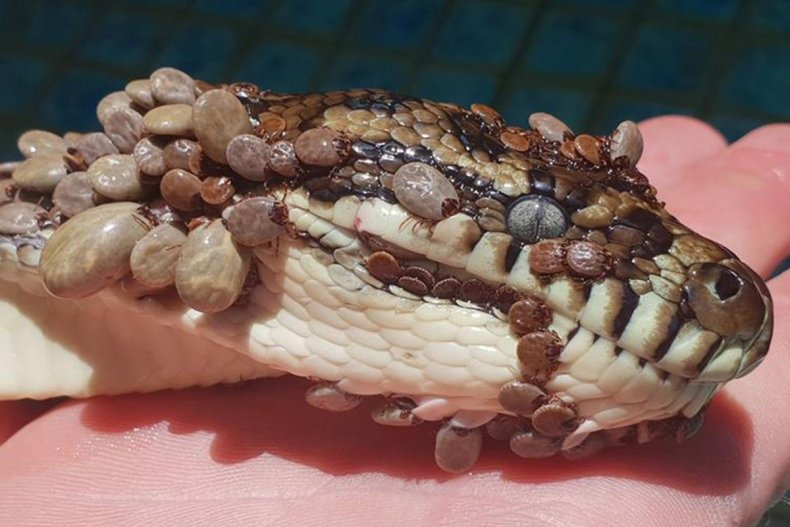 While he regularly finds snakes with ticks, the parasites are not usually life threatening and the experienced animal handler would never usually look for veterinarians to intervene. "It's mother nature's way," Harrison explained.
In this case, however, treatment for the python at a wildlife clinic was crucial. Harrison said he could see there were "multiple generations of ticks" on the snake and an underlying illness could have allowed the parasites to overwhelm Nike. This suspicion was later confirmed by the clinicians who found the reptile had an infection.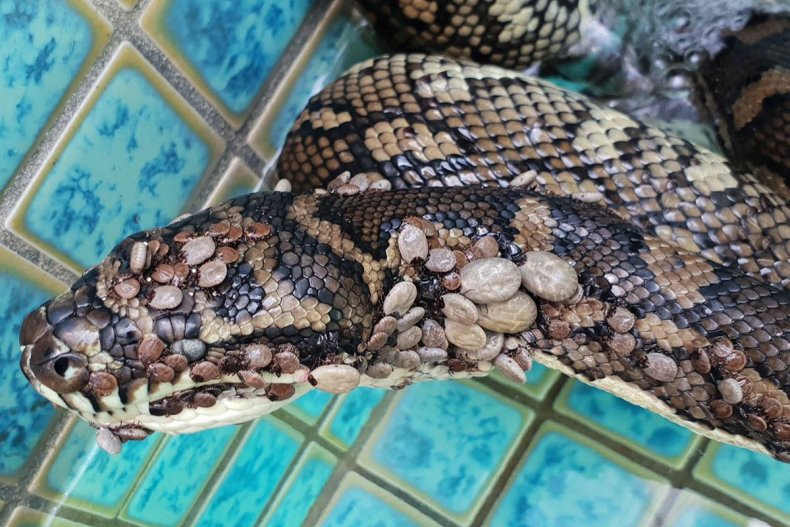 Since the snake's rescue, concerned individuals have tracked its recovery on social media. It took the veterinarians treating Nike hours to remove the total of 511 ticks. That amount is only the number of ticks they could see. Other smaller ticks that lie beneath the scales will have to be killed off with drug treatment.
Snake expert Associate Prof Bryan Fry from the University of Queensland told the BBC that snakes often pick up small numbers of ticks and similar parasites in the wild. He added, however, that in normal circumstances the animals' natural defences should protect them.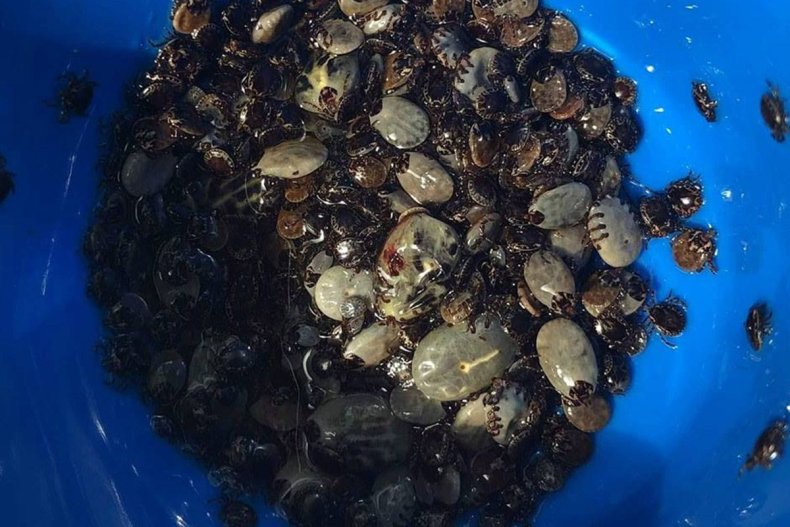 "Clearly it was a seriously unwell animal to have had its natural defences so broken down," Associate Professor Fry said. He agreed that Nike would likely have perished without treatment.
Since the snake's rescue, Thursday the animal has been recovering well. With the ticks removed, swelling around its face has visibly reduced.
Nike has been looking more and more energetic, Harrison said but added that the snake was still had to undergo a great deal more treatment and recovery before its release.
Pictures Showing Python Covered With 500 Ticks Go Viral: 'It Felt Like 'Holding A Bag of Marbles' | World