In Pictures: Tallest U.S. Presidents in History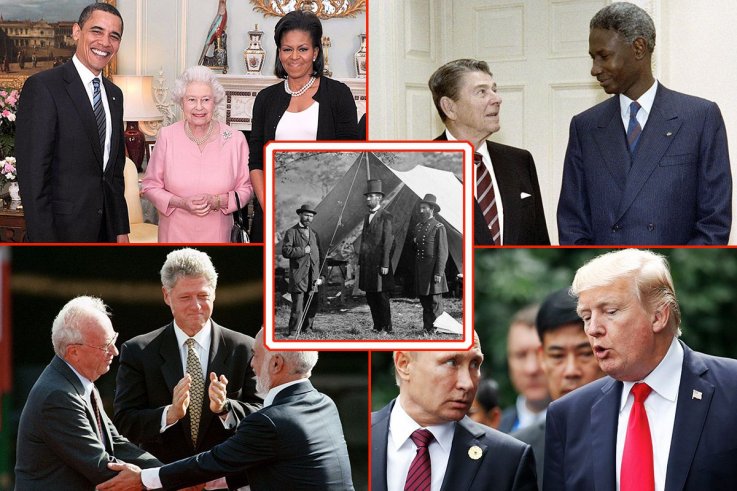 United States presidents have grown taller over time, but who stands tallest among the commanders-in-chief?
The distinction of tallest American president goes to the sixteenth president Abraham Lincoln, who, at 6 feet 4 inches—not counting his top hat—was taller than most of his peers. Lyndon B. Johnson, the second tallest president, came in at around 6 feet 3 inches. Lincoln, Johnson, Bill Clinton, Thomas Jefferson and Franklin Roosevelt comprise the five tallest presidents in United States history.
The shortest president, James Madison, was a full foot shorter than Lincoln, at 5 feet 4 inches. Martin Van Buren, while not quite as short as Madison, earned the moniker "Little Magician" in part due to his height, which was about 5 feet 6 inches.
The average height for a president in the U.S. is about 5 feet 11 inches. With that, the two most recent presidents have been taller than average: Former President Barack Obama is about 6 feet 1 inch, while President Donald Trump is about 6 feet 3 inches. Richard Nixon, George W. Bush, Woodrow Wilson and Grover Cleveland fall somewhere around average height for a president. From the first president to president day, however, United States presidents have gotten taller, according to a linear trend estimation graph.
There is some evidence suggesting that the American public is more likely to vote for the taller of two main presidential candidates. In the 28 elections between 1900 and 2011, the taller candidate has won 18 times, while the shorter has won just eight (in two elections, the candidates were the same height). On average, the winner was one inch taller than his opponent.
In this gallery, Newsweek took a look at the 20 tallest U.S. presidents in history (there are actually 22, due to a three-way tie for 20th position).