In Pictures: U.S. Embassy Move to Jerusalem Sparks Violent Clashes Between Israeli Troops and Palestinian Protesters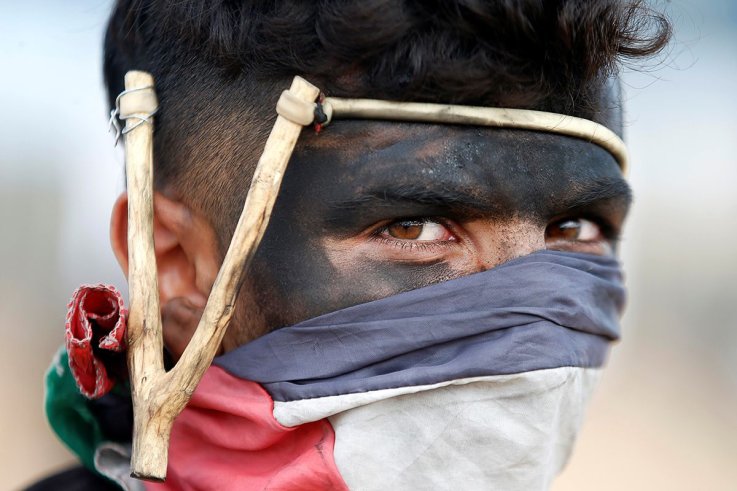 Palestinian protesters were killed as Israeli troops clashed with demonstrators along the Gaza border, on the day the United States prepared to open its embassy in Jerusalem.
Violent protests intensified on the 70th anniversary of Israel's founding, with loudspeakers on Gaza mosques urging Palestinians to join a "Great March of Return." Black smoke from tires burned by demonstrators rose into the air at the border.
Israeli troops killed at least 41 Palestinians, including five minors—one of them a girl—and a man in a wheelchair, the Palestinian health ministry said. Hundreds of protesters were injured, at least 450 by live bullets, health officials said. The man in the wheelchair had been pictured on social media using a slingshot.
The latest casualties raised the Palestinian death toll to 86 since the protests began on March 30. No Israeli casualties have been reported.
The killings have drawn international criticism, but the United States, which has angered the Palestinians and Arab powers by relocating its embassy to Jerusalem from Tel Aviv, has echoed Israel in accusing Gaza's ruling Hamas movement of instigating violence, an allegation it denies.
Palestinians, who want their own future state with its capital in East Jerusalem, have been outraged by Trump's shift from previous administrations' preference for keeping the U.S. Embassy in Tel Aviv pending progress in peace efforts.
Read more: Ivanka Trump and Jared Kushner Blessed by Rabbi Who Compared Black People to Monkeys in Jerusalem
Those talks have been frozen since 2014. Other international powers worry that the U.S. move could also inflame Palestinian unrest in the occupied West Bank, which Israel captured along with East Jerusalem in the 1967 Middle East war.
The protests are scheduled to culminate on Tuesday (May 15), the day Palestinians mourn as the "Nakba" or "Catastrophe" when, in 1948, hundreds of thousands of them were driven out of their homes or fled the fighting around Israel's creation.
— Reuters contributed to this report.