Pictures of the Week: St. Patrick's Day, Northern Lights, School Walkout and More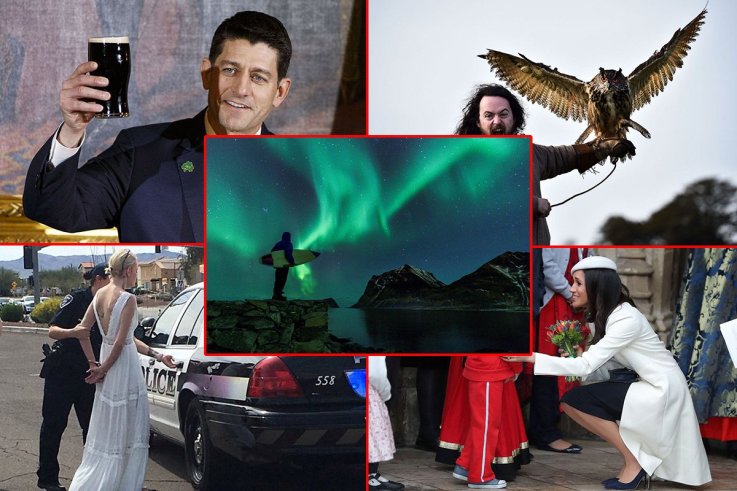 The most powerful, most beautiful and most unusual photos of the week, spanned a breadth of subject matter—and the globe. From surfers under the Northern Lights to St. Patrick's Day celebrations, via the Winter Paralympics, the National School Walkout, and the endgame in Syria's Eastern Ghouta, these images will stop you in your tracks.
Many of this week's most powerful photos come from St. Patrick's Day celebrations. The holiday commemorates the death of St. Patrick, who is known as the patron saint of Ireland. Celebrations often include parades and, of course, wearing the color green. The images here depict re-enactments of St. Patrick's first landing in Ireland from Downpatrick, Northern Ireland, and other snapshots from the event. But the celebrations also took place in the U.S.: House Speaker Paul Ryan appeared at the Friends of Ireland luncheon in D.C., while a smiling President Donald Trump and First Lady Melania Trump received a bowl of shamrocks from Ireland's visiting Prime Minister, Taoiseach Leo Varadkar.
Trump was also in California this week, promoting his controversial border wall in San Diego, where he was photographed with a prototype. He spoke at the Marine Corps Air Station Miramar during the trip as well.
Powerful photos of war also make it to this week's top list. The regime of Syrian president Bashar al-Assad carried out strikes on a rebel enclave in the Damascus suburbs this week. Neighboring Iraq continues to be devastated by destruction left behind by ISIS. Meanwhile, in Washington, D.C., activists spoke out against gun violence by laying out shoes in front of the capitol building, with each pair signifying a child lost to gun violence since the Sandy Hook massacre. Students also rallied on Capitol Hill during the National Schools Walkout to advocate for gun control.