Piers Morgan Asks if Chrissy Teigen Will Cancel Herself Amid Courtney Stodden Apology
Piers Morgan has waded into the Chrissy Teigen and Courtney Stodden drama, labeling Teigen "canceller-in-chief."
The former Good Morning Britain host and Daily Mail columnist is famously a critic of so-called "cancel culture" but has now asked whether Teigen herself should be canceled after she was condemned this week for harassing the then-teenage model and telling them to kill themselves back in 2011.
"Does Ms Teigen, the Canceller-in-Chief of celebrity cancel culture, now get cancelled herself then?" Morgan tweeted to his millions of followers on Wednesday night. "Or does she get a pass for her despicable conduct because she's a wokie?"
Morgan's comment came after Teigen issued an apology to Stodden on Wednesday and condemned her own past behavior as an "insecure, attention seeking troll."
"Not a lot of people are lucky enough to be held accountable for all their past bullshit in front of the entire world," Teigen said in a series of tweets published Wednesday. "I'm mortified and sad at who I used to be."
"I was an insecure, attention seeking troll," she continued. "I am ashamed and completely embarrassed at my behavior but that...is nothing compared to how I made Courtney feel."
The TV and social media personality said that she has tried to reach out to Stodden privately, but wanted to publicly apologize since her tweets directed at Stodden had been public as well.
"I'm so sorry, Courtney. I hope you can heal now knowing how deeply sorry I am," she continued.
However, Stodden has since responded to say that while they accept the apology, they have not heard from Teigen and are still blocked by her on Twitter.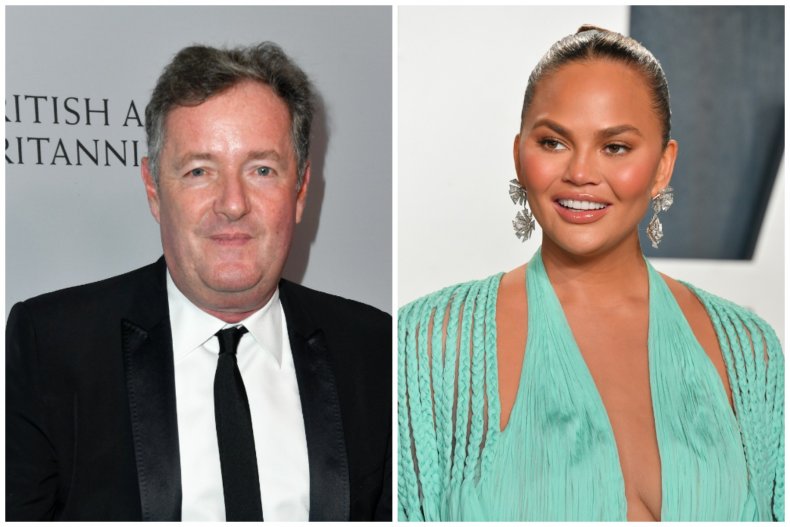 "I accept her apology and forgive her. But the truth remains the same, I have never heard from her or her camp in private. In fact, she blocked me on Twitter.
"All of me wants to believe this is a sincere apology, but it feels like a public attempt to save her partnerships with Target and other brands who are realizing her 'wokeness' is a broken record," Stodden wrote on Instagram.
The harassment occurred when, at 16, Stodden married 50-year-old actor Doug Hutchison and became a target for trolls online.
Many of Morgan's followers have been defending Teigen in his replies, acknowledging that she has made a public apology.
"Unlike @piersmorgan she apologizes, admits her mistakes, and promises to improve," reads one tweet.
While another person added: "She is apologizing and showing the world she has a sense of shame. When will you apologize for the damage you've done to others @piersmorgan?"
Morgan made headlines in March when he walked off his television job on-air over comments he made about Meghan Markle.