Piers Morgan Faces Backlash for Taking Swipe at Simone Biles' 'Mental Health Issues'
Piers Morgan, the former host of Good Morning Britain, faced backlash on Tuesday for comments believed to be about Team USA gymnast Simone Biles' decision to withdraw from the 2020 Tokyo Olympics gymnastics team final, citing a mental health issue.
On Monday night, USA Gymnastics said in a statement that Biles, "has withdrawn from the team final competition due to a medical issue." But shortly after, an unnamed Team USA coach said that her exit was due to a "mental issue she is having," according to an NBC broadcast.
Shortly after it was reported that her exit was because of a mental health issue, Morgan posted a tweet that said, "Are 'mental health issues' now the go-to excuse for any poor performance in elite sport? What a joke."
His tweet continued, "Just admit you did badly, made mistakes, and will strive to do better next time. Kids need strong role models not this nonsense."
Following his tweet, Morgan was met with backlash from many Twitter users.
Twitter user David Mc Daid responded to Morgan's tweet by saying, "No piers you are missing the point badly! No matter who you are or how big a 'star' in your field you are, you can too suffer this illness. It's sad that we rely on 'people' like you to promote and help with these issues."
Another Twitter user, Swifto, issued a similar response to Morgan, writing "What harm is there in assuming that someone who is in this position actually might need help. Can a role model not ask 4 help? Is asking for help a weakness? I don't think so. I think its a strength. & the harder it is to ask for help, the greater that request should be respected."
Several others quote-tweeted Morgan's post offering further criticism towards his stance on Biles' exit.
"Piers is saying this, when we don't even know the full story, but what I do know is if she is suffering from mental health issues, this type of tweet will make #SimoneBiles feel like crap and that no one believes her which ultimately makes the illness worse," Twitter user Jon Williams wrote.
Angela Ganote of WXIN News in Indianapolis tweeted: "True athletes, who want their team to succeed, are not selfish and know when they believe they are not going to perform up to their potential. They allow others to step up, take the spotlight and perform. I could argue that what @Simone_Biles did was very brave! Next woman up."
In addition to Morgan, Darren Rovell of the Action Sports Network posted a similar tweet regarding Biles' exit from the Olympic gymnastics team final.
"If it's mental health, the majority won't be sympathetic to Simone Biles," Rovell wrote. "The main reason being this: The Olympics creates pressure that athletes willingly agree to. Now five years to wait for a perfect moment. It's a willing pressure cooker. Doesn't mean it isn't less real."
On the other hand, there were several other social media users that expressed agreement with Morgan's stance.
Twitter user Goldstein wrote in response to Morgan, "I have to agree with you on this. Mental toughness is a huge part of being a champion. I have never heard of an Olympic athletes not being under extreme pressure We are building a society where no one takes responsibility for his/her downfall."
Similarly, Twitter user Aaron Gonzalez said that Morgan was "absolutely right."
"Not only in sports but almost in every single job/area/school - a lot of people are using 'Mental Health Issues' as an excuse to escape. Now I'm not saying everyone, because there are people who really struggle with it," Gonzalez's tweet said.
Twitter user Matt Walsh also issued a tweet similar to Morgan's saying, "We now have decorated Olympic athletes quitting in the middle of the competition because they're sad. What an absolute embarrassment. But in some ways an appropriate representation of a country that has gone soft."
During an interview with NBC's Today, Biles explained her decision to withdraw from the gymnastics team final, saying that while she feels in good shape, physically, "emotionally, that kind of varies on the time and moment."
"Coming here to the Olympics and being the head star isn't an easy feat, so we're just trying to take it one day at a time and we'll see," Biles said. "We're going to take it day by day, and we're just gonna see."
Newsweek reached out to the U.S. Olympic team for further comment but did not receive a response in time for publication.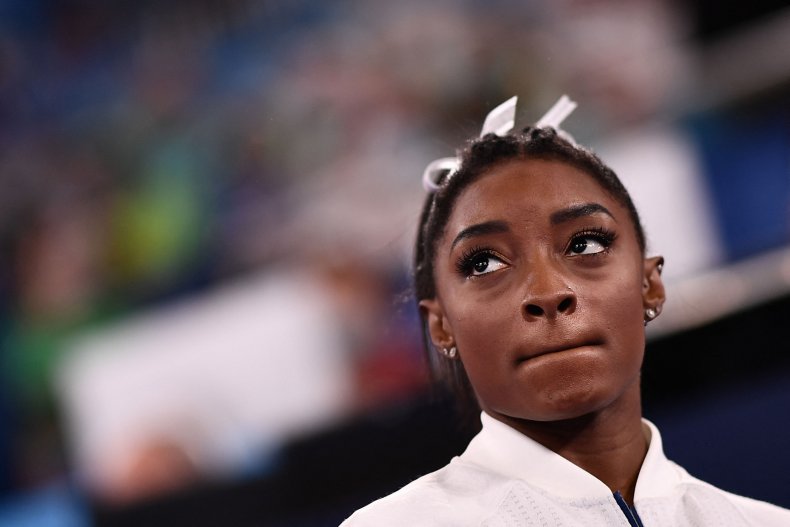 Updated 07/27/2021, 1:13 p.m. ET: This story's headline was updated to include mention of Simone Biles.
Updated 07/27/2021, 1:56 p.m. ET: This story was updated with additional responses to Morgan's tweet.