Piers Morgan Was Humiliated When He Tried Playing His Favorite Sport
Piers Morgan is facing criticism this week for taking a swipe at Simone Biles after the gymnast dropped out of an Olympic final for mental health reasons.
However, the former host of Good Morning Britain, who was never an elite athlete, has previously taken umbrage with inexperienced commentators taking a swipe at his own sporting struggles.
On the day 24-year-old Biles withdrew from the team final at the Tokyo 2020 Olympics, Morgan tweeted: "Are 'mental health issues' now the go-to excuse for any poor performance in elite sport? What a joke."
The British TV personality also said of Biles' decision: "Just admit you did badly, made mistakes, and will strive to do better next time. Kids need strong role models not this nonsense."
Despite his tough stance, Morgan appeared less than impressed with his own critics after he was pummeled while playing his favorite sport, cricket.
Morgan was taken apart by legendary Australian fast bowler Brett Lee in 2013 during an exhibition in practice nets in Melbourne.
Footage of the event circulated on social media earlier this year, prompting Morgan to defend himself from the mockery of his own showing.
"I'll only take mockery about this from other amateur cricketers prepared to face 6 balls from someone as quick & dangerous as @BrettLee_58 - because I'm the only one who's ever tried," he tweeted in March.
Speaking on Tuesday, Biles, who later withdrew from the individual all-around competition, spoke about her decision.
"After the performance I did, I just didn't want to go on. I have to focus on my mental health. I just think mental health is more prevalent in sports right now," she said to press.
"We have to protect our minds and our bodies and not just go out and do what the world wants us to do."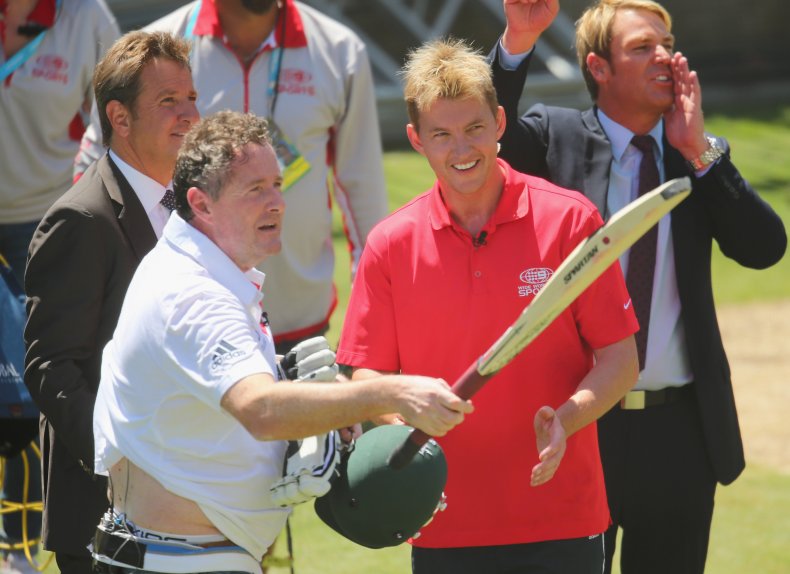 Morgan also wrote negatively about Biles in his column published in by the Daily Mail on Wednesday.
"You're not just at these Games for yourself, Simone," he wrote. "You are part of Team USA, representing the United States of America, and hundreds of millions of American people watching back home, not to mention all the sponsors who've paid huge sums to support you.
"And when you quit, you were performing as part of a gymnastics team, not yourself. It's also not supposed to just be about having fun."
He also said that he doesn't think Biles' decision is "remotely courageous, heroic or inspiring to quit."