Piers Morgan has branded Kim Kardashian "repulsively tone-deaf" over her remarks about the execution of Brandon Bernard. Meanwhile, others applaud Kardashian for trying to save Bernard.
The controversial television host lashed out at Kardashian after political commentator Van Jones shared a clip from his podcast Uncommon Ground that showed himself and the reality TV star discussing Bernard's death.
Bernard died by lethal injection at the federal penitentiary in Terre Haute, Indiana, in December 2020. He was 40 years old. He was sentenced to death connected to the 1999 kidnapping and killing of youth ministers Todd and Stacie Bagley.
At the time, Kardashian posted a series of appeals on Twitter urging then-president Donald Trump to grant him clemency.
"I was working on the Brandon Bernard case, and he was, in fact, executed, and I remember crying and feeling so helpless," Kardashian said in the new clip.
"It was his last phone call, and he was telling me, like, 'Don't cry, it's gonna be okay.' You know, hearing that he was worried that he'd be claustrophobic in the chair... and then on his last call when he was in the execution room, he said, 'Please tell Kim I'm not claustrophobic, it's okay.'"
The 41-year-old then described what she was doing on the day to try and prevent the execution from going ahead.
"I'm like hysterically crying, calling every governor that I could possibly imagine to try to stop someone's execution, and then I have to run into, you know, a SKIMS fitting, and I'm fitting and I'm crying and I can't really get my work done, and then I have to, you know—it was just such a whirlwind of a day," she recalled.
Kardashian's mention of her shapewear brand SKIMS during the discussion about Bernard's death sparked anger on Twitter as many felt it was inappropriate for her to plug her business during the conversation.
"Only Kim Kardashian could make a criminal's execution all about herself—and she even worked in a Skims promo," tweeted political commentator Jack Posobiec.
This prompted Morgan to retweet Posobiec's comment and add: "Repulsively tone-deaf."
Newsweek has contacted Kardashian's representatives for comment.
However, many people have stood up for Kardashian, with one fan commenting: "At least she was fighting to save a man's life."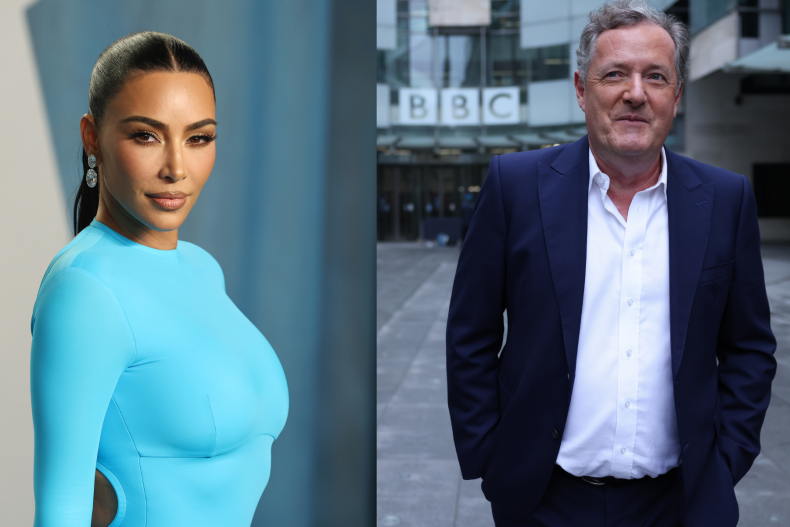 This is not the first time Morgan has publicly lashed out at Kardashian, with the former Good Morning Britain host targeting her on Twitter and in his op-eds several times.
In 2018 Morgan called Kardashian "pathetic" for taking part in photoshoots.
"I think it's pathetic. If I was in a room with Kim now, I'd say, 'Put it all away, you're a mum to three kids—it's embarrassing," he wrote in Closer magazine, per The Mirror.
And just last month he slammed "entitled imbeciles" Kardashian, Kanye West and Pete Davidson in his column for The Sun.