Piers Morgan Criticized for Targeting Meghan Markle With 'Unpleasant Surprise'
Piers Morgan is facing criticism for targeting Meghan Markle in his new column.
The former British TV host has said that the Duchess of Sussex is in for a "very unpleasant surprise" when he begins his new newspaper column almost a year after he left Good Morning Britain over comments he made about Markle following her explosive Oprah interview.
Morgan is due to start writing a new column for U.K. tabloid The Sun titled Uncensored and told the newspaper that he is looking forward to being "free to express my opinions."
Nine months ago, Morgan questioned Markle's claims about feeling suicidal while working as a member of the royal family. He was later cleared by British media watchdog Ofcom after they determined that he did not breach the broadcasting code.
"I don't believe a word she says," he said on air. "I wouldn't believe her if she read me a weather report, and the fact that she's fired up this onslaught against our royal family, I think is contemptible."
However, he has not returned to his long-standing role as co-host on Good Morning Britain.
"The column is called Uncensored because it does what it says on the tin," Morgan told The Sun on Friday.
"Effectively I was censored at my previous job and told to apologize to Meghan Markle for an honestly held opinion, which obviously I wasn't going to do."
The 56-year-old continued: "Pushy little Princess Pinocchio tried her utmost to cancel me, and she will be in for a very unpleasant surprise when I emerge, like Lazarus, from my den.
"It was a pretty bruising experience on Good Morning Britain but I'm now working somewhere where I'm free to express my opinions."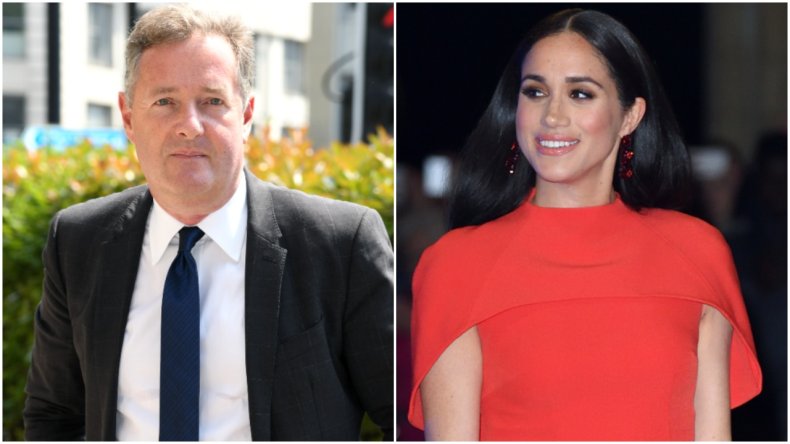 Morgan's comments are garnering some criticism on Twitter, with many people criticizing him for targeting Markle again.
"No Black presenter could get away with abuse/threats/harassment Piers Morgan gives Meghan Markle if she were White," author Dr. Shola Mos-Shogbamimu tweeted.
"This White Privileged self-entitled man is paid to be vicious to a Bi-racial woman of Black heritage & rewarded for his sick maliciously obsessive stalker behavior."
Mike Sington, formerly of NBC added: "Piers Morgan, who has a very odd fixation on Meghan Markle, is now threatening her."
Twitter user Christopher Bouzy tweeted: "So many fragile racists are threatened by a Black woman who is minding her business."
While another person said: "Piers Morgan is obsessed with Meghan Markle in the most stalker, vindictive, and hateful way. How he gets away with it is a mystery to me."
Newsweek has contacted Morgan's representatives for comment.