Piers Morgan accused Prince Harry and Meghan Markle of hijacking Queen Elizabeth II's nickname for their baby daughter.
The outspoken commentator criticised the couple's decision to call their second child Lilibet in a segment with Sean Hannity on Fox News.
And he added that the Duke and Duchess of Sussex should "take a little tip from the queen" and stay quiet.
Last week, a spokesperson stressed Prince Harry told Elizabeth of their plans to give their daughter her childhood nickname and said they would not have gone ahead had she not been supportive.
Morgan said: "I think its time those two gave up their titles, stopped whining 24/7 and try to take a leaf out of the book of the queen whose nickname Lilibet they've hijacked for their daughter, take a little tip from the queen—less is more.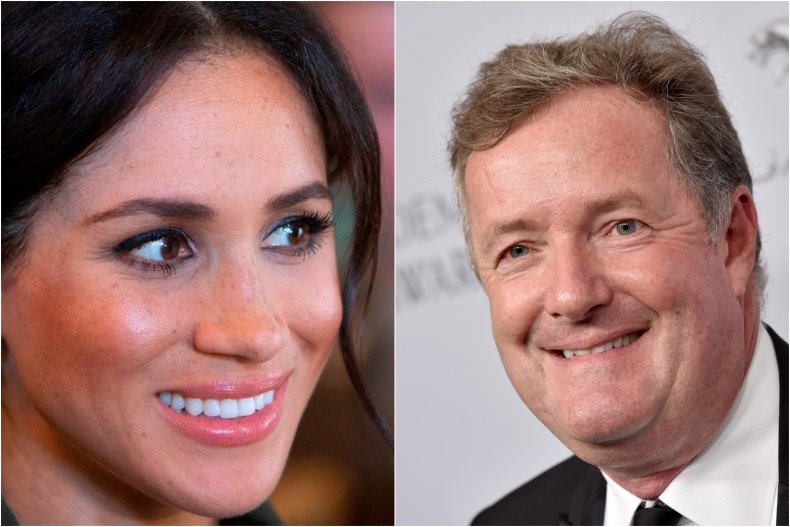 "If you want to be a member of the royal family, less is more.
"We're hearing too much of your yapping, too much of your whining, it's time to pipe down."
The comments mark the latest critical coverage of the duke and duchess on Fox News after Harry was previously condemned for calling the First Amendment "bonkers."
Morgan walked out of his job at Good Morning Britain after saying he did not believe Meghan's comments about being suicidal.
The duchess complained to network ITV and his outburst was also criticised by mental health charity Mind.
Within hours of the Oprah Winfrey interview, Morgan said on air: "I'm sorry, I don't believe a word she said, Meghan Markle. I wouldn't believe it if she read me a weather report."
Co-host Susanna Reid replied: "Well, that's a pathetic reaction to someone who has expressed those thoughts."
Charity Mind then released a statement saying: "We were disappointed and concerned to see Piers Morgan's comments on not believing Meghan's experiences about suicidal thoughts today."
The organization added: "It's vital that when people reach out for support or share their experiences of ill mental health that they are treated with dignity, respect and empathy."
Morgan was asked by Hannity about his dramatic exit and the allegations of racism levelled at him since.
He said: "It is a farcical situation and of course, as with all these situations at the moment, the cancel culture Twitter mob comes for you and says if you don't believe Meghan Markle, you are a racist, to which I say I've never said a racist thing about Meghan Markle or anybody else."
Morgan's comments triggered a record number of complaints with 57,000 people writing to British TV regulator Ofcom.
A spokesperson for Harry and Meghan last week told Newsweek: "The Duke spoke with his family in advance of the announcement, in fact his grandmother was the first family member he called.
"During that conversation, he shared their hope of naming their daughter Lilibet in her honor. Had she not been supportive, they would not have used the name."