Piers Morgan in New Dispute Over 'Vindictive Obsession' With Meghan Markle
Piers Morgan has denied a guest on his "uncensored" show was asked not to get "too personal" about his history with Meghan Markle.
The Talk TV presenter went for drinks in a pub with the Duchess of Sussex shortly before she first met Prince Harry in 2016.
However, he later told RTÉ's The Late Late Show that Meghan had "ghosted" him, prompting some to speculate that his repeatedly hostile comments about her are a product of bitterness.
Comedian Kate Smurthwaite said she planned to present this narrative after she was invited onto Piers Morgan Uncensored, but that producers tried to talk her out of it.
Writing in the Daily Mirror, she said: "They didn't want me to get 'too personal' with Morgan. They didn't want me criticising or seeking to explain his 'vindictive obsession' with her.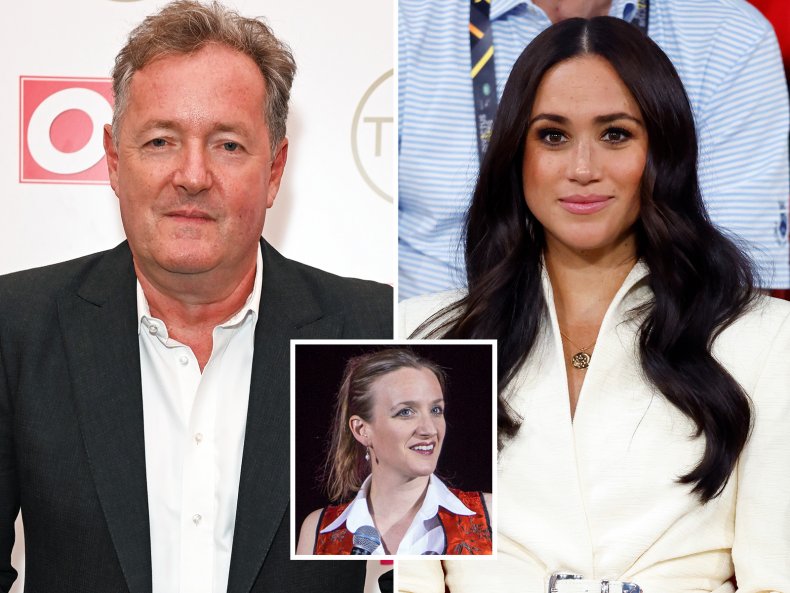 "The main thing they didn't want me to say was: 'You know that no matter how many hours you spend sl*****g her off, she's still not going to s**g you?' True. Funny. Insightful. What's not to love?"
However, Piers Morgan wrote on Twitter: "I just checked and nobody tried to censor you—we don't censor guests, that's the point of the show."
Smurthwaite described how a producer rang her to confirm which topics would be discussed on the show and get her views on them.
She wrote: "After their morning meeting, I had a confirmation call too. They were looking forward to having me on.
"The only thing was...they'd like me not to mention a couple of the things I had said in our earlier conversation. A remarkable request for a show that is literally called 'uncensored'.
"You're probably wondering what they didn't want me to say. The topic under discussion was Meghan Markle. That's what most of his shows are about in case, like 99.9% of the British public, you weren't watching."
Smurthwaite's appearance on the show went ahead and she posted on Twitter about meeting Joan Collins in the green room.
She added: "If, as he has subsequently claimed on Twitter, there was no effort to censor me, his producers would not have warned me beforehand to not get 'too personal' with Piers when discussing the topic of Meghan.
"I'd like to discuss his childish obsession with Markle. And then whilst I'm about it his nasty attitude towards some other celebrities and the way that the right wing media will cry censorship when it suits them and participate in the exact same thing when it doesn't."
She isn't the first person to reference Morgan's brief encounter with the royal he spends so much time criticizing.
In fact, he walked off set during Good Morning Britain after presenter Alex Beresford made reference to the saga.
The TV weatherman said: "And I understand you've got a personal relationship with Meghan Markle or had one and she cut you off.
"She's entitled to cut you off if she wants to. Has she said anything about you since she cut you off? I don't think she has but yet you continue to trash her..."
Morgan replied: "OK, I'm done with this." He then got up from his desk as host and walked out.
For more royal news and commentary check out Newsweek's The Royal Report podcast: