Piers Morgan and Right Wing TV Station Used Meghan, Harry as Battle Ground
Piers Morgan's new TV show is competing for audience with another anti-"woke" U.K. channel—with Prince Harry and Meghan Markle a key battle ground.
The former Good Morning Britain presenter is the star talent on Rupert Murdoch-owned Talk TV, which launched in a blaze of publicity around the host's interview with Donald Trump on Monday, April 25.
Piers Morgan Uncensored made headlines including with the former U.S. President's call for the Duke and Duchess of Sussex to be stripped of their titles by Queen Elizabeth II.
But even as first broadcast approached a rival journalist and fierce Sussex critic, Dan Wootton, announced his own exclusive interview to run on launch night, albeit a couple of hours later at 9pm U.K. time.
The former journalist at The Sun—who broke news the couple planned to move to North America in January 2020—had an interview with Thomas Markle, also bashing Meghan and Harry.
And it did not take long for Wootton, who counts Megyn Kelly as a contributor, to connect the dots between his own show on GB News and the rivalry with Talk TV.
On Tuesday, April 26, he wrote on Twitter: "Competition is a good thing and I never like talking about TV ratings because the system is so flawed. But other people will today, so here goes...
"I'm delighted to say my show on GB News last night comfortably beat our much hyped new competitor Talk TV at 9pm and 10pm."
GB News' editorial charter says it does "not shy away from controversial issues" and Wootton's own profile on its website says his show has "No Censorship."
Morgan, of course, took a slightly different view of the rivalry quoting a Daily Telegraph review: "🔥REVIEWS ARE IN!🔥 'An impressive start.. as launch nights go, it was a purring Rolls-Royce to GB News' sputtering Robin Reliant.' - Daily Telegraph."
Piers Morgan Uncensored went head-to-head with former UKIP leader Nigel Farage's GB News show at 7pm U.K. time, after the pair had argued in the days before about Trump.
Morgan wrote on Twitter: "So, @Nigel_Farage tried to sabotage my interview with President Trump in a despicable act of two-faced weasel treachery.... Last night, my show @PiersUncensored got five times the ratings of his show. FIVE TIMES!!! Karma's a b*tch, Nige 😎."
On Wootton's show, Markle Sr. questioned Meghan's ability as a mother after she left her children in America to attend the Invictus Games alongside Prince Harry.
He said: "To fly all the way over and not bring the children. That's ridiculous. Most mothers don't leave a 9-month-old child behind.
"They usually hold on to that child until the child gets a little older. That's one thing that really bothers me."
And he said he would fly to Britain for the queen's Platinum Jubilee, even though it would make Harry and Meghan less likely to attend.
Markle Sr. said: "I'm getting the feeling that if they know I'm coming they won't be coming. But if they do come I would love to reach out and speak with them and try to figure out what went wrong and how we can repair it. I don't see that happening but I certainly would like to try."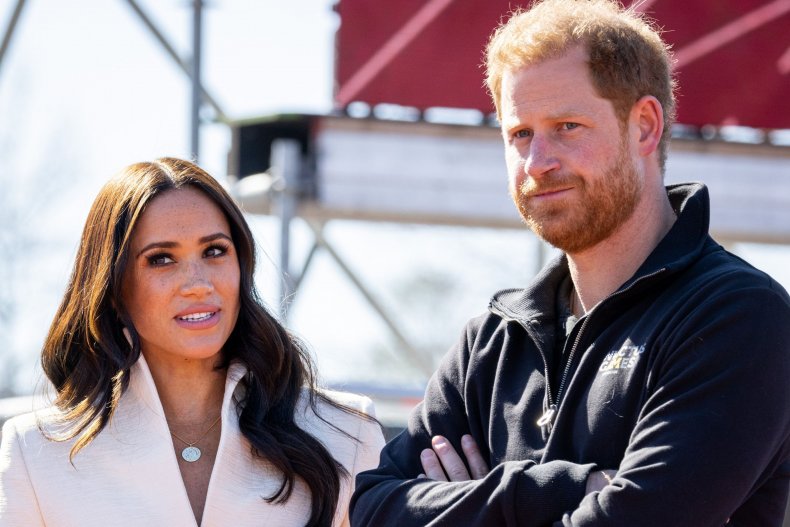 Trump told Morgan: "The only thing I disagree with the Queen on, probably one of the only things ever, is that I think she should have said, 'If that's your choice, fine, but you no longer have titles.
"[The queen's] loyalty is to the country. And I think that he has been so disrespectful to the country, and it's a great country. I own a lot of things there."
On Meghan and Harry's relationship, he added: "It'll end and it'll end bad. And I wonder if Harry's gonna go back on his hands and knees back into the beautiful city of London and say, 'please.' You know, I think Harry has been led down a path."
For more royal news and commentary check out Newsweek's The Royal Report podcast: