Piers Morgan Interview Reignites War Between Donald Trump, Rupert Murdoch
Donald Trump's outburst that Piers Morgan has been behaving like the "fake news media" has reignited the ongoing war between the former president and media mogul Rupert Murdoch.
The former Good Morning Britain host shared the trailer for his upcoming interview with Donald Trump on Twitter on Wednesday.
The trailer appeared to show a lively debate between Trump and Morgan. The former president later released a statement condemning the trailer and accused it of being "deceptively" edited.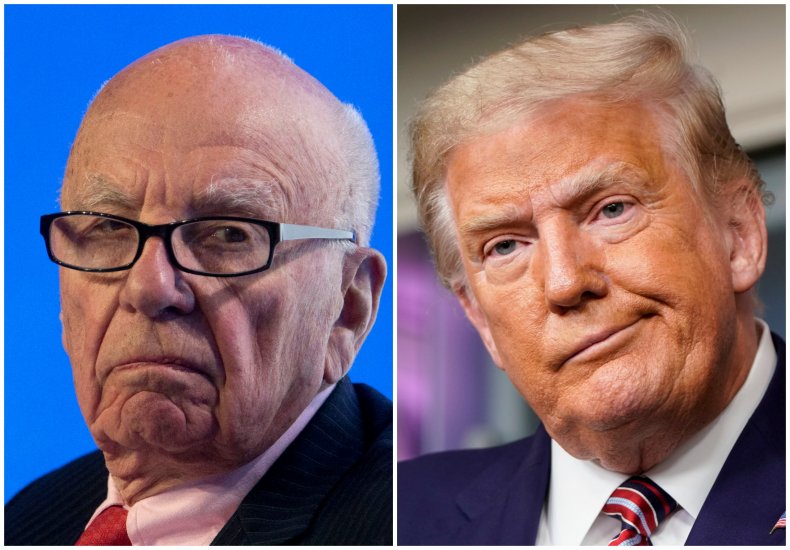 The interview is set to debut on his new show, Piers Morgan Uncensored, that launches next week on TalkTV, a subsidiary of Rupert Murdoch's News Corporation.
Following the backlash, Morgan went on ITV's Lorraine show and said he and Trump engaged in a heated argument when the topic moved on to the 2020 election.
Murdoch has been critical of Trump focusing on the past rather than pushing forward with conservative issues as recently as November 2021.
At an annual meeting of stockholders for the Fox News Corporation, Murdoch said it is crucial for conservatives to play an "active, forceful role" in public debates surrounding education, welfare and economic activity.
"But that will not happen if President Trump stays focused on the past," Murdoch said, seemingly in reference to Trump's complaints about the 2020 election. "The past is the past, and the country is now in a contest to define the future."
Despite cooperating with Fox News during the 2016 presidential election and during his presidency, Trump has also criticized the network through his now-canceled Twitter account. On one occasion he said they were being fed "Democrat talking points."
Trump also said that the public wanted an alternative to Fox News.
"[Fox News] just doesn't get what's happening! They are being fed Democrat talking points, and they play them without hesitation or research," he tweeted.
"They forget that Fake News @CNN and [MSNBC] wouldn't let Fox News participate, even a little bit, in the poor ratings Democrat Debates. The people who are watching Fox News, in record numbers (thank you, President Trump), are angry. They want an alternative now. So do I."
Following the release of Morgan's trailer of the upcoming interview between him and Trump, the statement released by Trump appeared to criticize Murdoch's upcoming TV channel, TalkTV, as well as Morgan.
"Piers Morgan, like the rest of the Fake News Media, attempted to unlawfully and deceptively edit his long and tedious interview with me," Trump said in the statement.
"He wanted to make it look like I walked out on the interview when my time limit of 20 minutes went over by an hour.
"The good news is that the interview was taped by us as a means of keeping him honest. The interview was actually very strong on the 2020 Election Fraud, with me calling him 'a fool' if he truly believed those results.
"The evidence is massive and irrefutable (check out Truth the Vote and the Dinesh D'Souza documentary, which will all be coming out soon). For those who want to make Piers look bad, compare his video promo and how it was doctored to the real thing.
"Hopefully they will now be doing some big changes to their final product. It just shows, however, what I have to deal with in the Fake News Media. He went out of his way to deceptively edit an interview and got caught. That is a big story, isn't it?"
Newsweek has contacted Fox News and Donald Trump for comment.