Piers Morgan has said he is glad that Simone Biles has "taken his advice" after the gymnast was confirmed to be competing in the beam final on Tuesday at the Tokyo Olympics.
The former Good Morning Britain host has been highly vocal in criticizing the 24-year-old gold medallist's decision to withdraw from the Games over the past week for mental health reasons.
"Are 'mental health issues' now the go-to excuse for any poor performance in elite sport? What a joke." Morgan tweeted last week. "Just admit you did badly, made mistakes, and will strive to do better next time. Kids need strong role models not this nonsense."
Morgan also wrote his column about Simone Biles and went on to tweet Biles directly urging her to compete in the remaining gymnastics events.
"You can either listen to snowflake Twitter, @Simone_Biles - or listen to me. You're a great champion, & great champions get back on their feet when they get knocked down. So, re-engage in these Games, win Gold, & inspire with the power of resilience not resignation. Go for it," he tweeted on July 28.
USA Gymnastics has now confirmed as of Monday morning that Biles will indeed be competing on the beam this week.
The announcement has prompted the controversial host to claim that Biles took his advice.
"UPDATE: Simone has taken my advice and will compete in tomorrow's Beam final. Good luck, Champ @Simone_Biles," Morgan tweeted on Monday morning.
Biles has not once mentioned Morgan or his views amid her withdrawal from the Games.
The gymnast hit back at critics who attacked her for prioritizing her mental health last week when she took to Instagram to address fans directly.
"For anyone saying I quit, I didn't quit," Biles wrote. "My mind and body are simply not in sync."
She continued: "I don't think you realize how dangerous this is on hard/competition surface, nor do I have to explain why I put health first.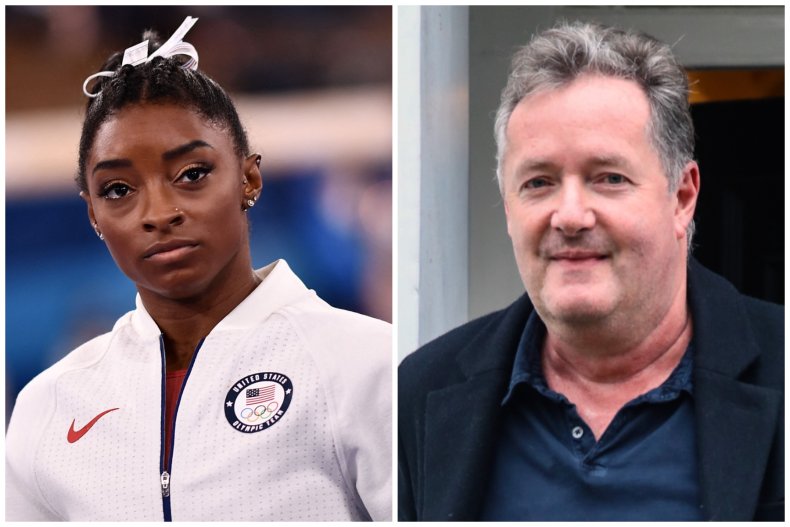 "Physical health is mental health."
Biles also spoke about her debilitating experience with the twisties, which has affected her ability to compete.
"It's honestly petrifying trying to do a skill but not having your mind and body in sync. 10/10 do not recommend," Biles said on Instagram.
"Literally cannot tell up from down," she wrote. "It's the craziest feeling ever. Not having an inch of control over your own body.
Biles' coach Cecile Landi has since responded to Morgan, telling him not to take credit for the gymnast's choice to compete in the beam final.
"Don't you dare take any credit for this you," Landi tweeted along with three angry face emoji.
This article was updated to include the response from Cecile Landi.