Piers Morgan has criticized Naomi Osaka's unveiling as a cover star for Sports Illustrated's new 2021 swimsuit issue, after pulling out of the Wimbledon and French Open tennis tournaments.
Grand Slam champion Osaka, 23, made headlines in late May, when it was announced that she was withdrawing from the French Open, stating that her struggles with mental health made post-game press conferences difficult.
But after the new Sports Illustrated covers were publicly unveiled on Monday—also debuting Megan Thee Stallion as the publication's first rapper cover star and Leyna Bloom, the first transgender model to grace the front page—criticism soon arose.
In response to a report announcing Osaka's new cover, Morgan, 56, wrote on Twitter: "ANOTHER magazine cover for brave inspiring Naomi! No wonder she had no time for beastly media press conferences!"
The British TV personality's comments saw him join a chorus of critics who also spoke out about Osaka's cover on the micro-blogging platform.
"Since saying she's too introverted to talk to the media after tennis matches, Naomi Osaka has launched a reality show, a Barbie, and now is on the cover of the SI swimsuit issue," Outkick founder Clay Travis wrote on Twitter.
Responding to his tweet, broadcaster Megyn Kelly wrote: "Let's not forget the cover of (& interview in) Vogue Japan and Time Mag!"
Osaka fired back at Kelly, writing in a since-deleted tweet: "Seeing as you're a journalist I would've assumed you would take the time to research what the lead times are for magazines, if you did that you would've found out I shot all of my covers last year. Instead your first reaction is to hop on here and spew negativity, do better Megyn."
However, Kelly pressed on in her criticism, as she shared a screenshot of a notification that Osaka had blocked her.
"Poor @naomiosakablocked me while taking a shot at me (guess she's only tough on the courts)," tweeted Kelly. "She is apparently arguing that she shot her many covers b/4 publicly claiming she was too socially anxious to deal w/press. Truth is she just doesn't like Qs she can't control. Admit it."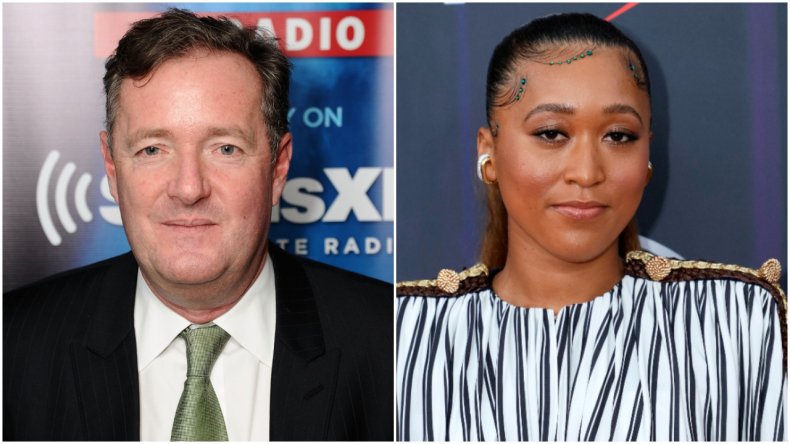 Chiming in, Morgan said to Kelly: "Yep, and she just blocked me too. The only media Ms Osaka wants to tolerate are sycophantic magazine editors telling her how perfect she is."
When one Twitter user accused Morgan of targeting Black women, he said: "Hillary Clinton, Madonna, Meryl Streep, Victoria Beckham, Emma Watson, Theresa May, Kate Winslet, JK Rowling & Jennifer Aniston might be surprised to hear that."
This isn't the first time Morgan has publicly criticized Osaka. In June, he mocked the sportswoman after she shared her Vogue Japan cover on Twitter.
In response, Morgan wrote: "Great to see Naomi courageously using the beastly media to promote herself again. Inspiring!"
Earlier in June, he responded to a Vanity Fair headline, which read: "Naomi Osaka has received an outpouring of support from celebrities and professional athletes alike after deciding not to compete in the French Open."
"Quite right too," Morgan wrote on Twitter. "Nothing is more courageous, admirable or inspiring than an athlete earning $55m-a-year, much of it thanks to positive media attention, who refuses to compete because they don't want to answer possibly negative questions at a press conference."
In his column for the Daily Mail, Morgan branded Osaka an "arrogant spoiled brat whose fame and fortune appears to have inflated her ego to gigantic proportions," shortly after it was revealed that she was backing out of press conferences at the French Open.
Morgan went on to accuse Osaka of "weaponizing mental health" in a bid to "justify her boycott," writing: "What Osaka really means is that she doesn't want to face the media if she hasn't played well, because the beastly journalists might actually dare to criticize her performance, and she's not going to 'subject' herself to 'people that doubt me.'"
In an op-ed published in Time magazine earlier in July, Osaka insisted that her decision to pull out of the tournaments was "never about the press."
"I'll say it again for those at the back: I love the press; I do not love all press conferences," wrote Osaka, who also argued that athletes should be allowed to take breaks from press obligations without fear of being penalized or fined.
"We're often sat there and asked questions that we've been asked multiple times before or asked questions that bring doubt into our minds and I'm just not going to subject myself to people that doubt me," Osaka said in a May statement announcing her decision to not participate in press conferences at the French Open.
She continued: "I've watched many clips of athletes breaking down after a loss in the press room and I know you have as well. I believe that whole situation is kicking a person while they're down and I don't understand the reasoning behind it."
Osaka was threatened with expulsion and fined $15,000 by the French Open for refusing to do press interviews, and subsequently withdrew from the tournament, before announcing that she also would not be competing at Wimbledon.
The tennis ace, who has also received an outpouring of support since stepping back to protect her mental health, is expected to represent her home country of Japan at the Tokyo Olympics, scheduled to begin later this week.
Newsweek has contacted a representative for Naomi Osaka for comment.