Politician Complaining About Pigeon Poop Gets Pooped On by Pigeon
Illinois state representative Jaime Andrade was speaking to the press about the bird problem at Chicago's Irving Park Blue Line station when a pigeon proved his point by going to the bathroom on his head.
Reporter Lauren Victory of Chicago's WBBM was interviewing Andrade about his plans to clean up the station, which has long been plagued by bird droppings. Midway through the conversation, he noticed a wet spot on his head and realized that one had hit him. Victory shared the entire event on Twitter before Monday morning's newscast.
In the interview, Andrade took it pretty well, commenting "That's what happens to my constituents, they get sh*t on all the time." He's attempting to explore whether the Chicago Transit Authority can use construction funding for pigeon abatement.
"I'm hoping to see that it's a benefit for them, and also for the community," he said.
In August, CBS Chicago reported on the unsanitary situation outside the train station. The stop is located beneath the Kennedy Expressway, and pigeons roost on the underpass in massive numbers, dropping waste, eggs and feathers on unsuspecting commuters.
Reporters talked to Derek Barthel, a regular user of the station, who complained about the unsanitary conditions. "You'll see feathers, you'll see bones, you'll see pigeon bodies, you'll see cracked eggs. It stinks to high heaven around here."
Getting rid of the birds is no simple matter. The property they roost on belongs in part to the Chicago Transit Authority and part to the Illinois Department of Transportation. In addition, cleaning the sidewalks below is the responsibility of the Chicago Department of Streets and Sanitation.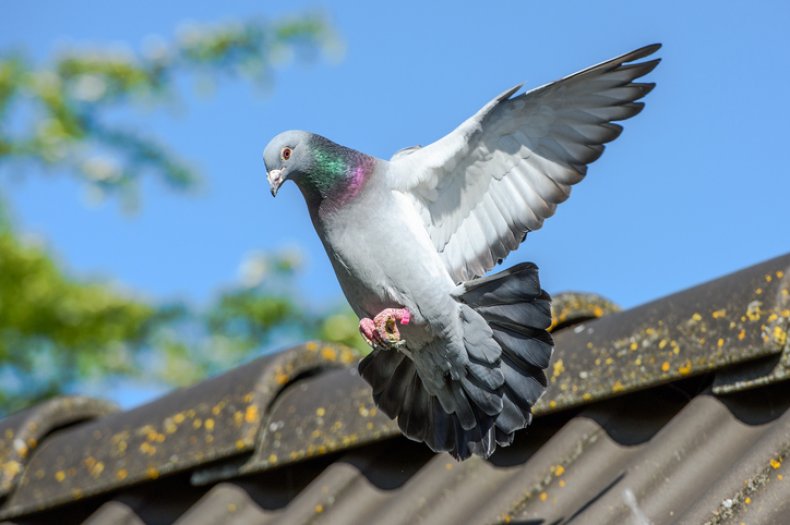 According to the DOT, installing bird barriers to prevent pigeons from roosting outside the station is not a possibility because it would interfere with bridge safety inspections. Spike strips have been installed in some places, but they are falling off.
In addition, the underpass is split between two political districts - the south side in the 45th Ward and the north side in the 39th. Neither ward leadership would accept full responsibility for rousting the birds.
Andrade has served in the Illinois state legislature since August of 2013, when he was appointed to succeed Deb Mell in the 40th district. He won re-election in 2014 and 2016. He has suggested that the CTA install a high-pressure hose line to allow for more frequent power washing when they add escalators to the station in an upcoming renovation, as well as creating a viaduct cleaning jobs program for ex-convicts.