Homeless Man Can Sue Los Angeles for Euthanizing His Pet Pigeons, Federal Judges Rule
A homeless man in Los Angeles has the constitutional right to sue the city after animal control officers euthanized 18 of his pet pigeons, federal judges ruled Tuesday.
A three-judge panel from the U.S. Ninth Circuit Court of Appeals said Martino Recchia can file a lawsuit against the Los Angeles Department of Animal Services under his Fourth Amendment rights, which bar unreasonable search and seizure. Animal control and law enforcement officers seized Recchia's 18 pigeons, one crow and one seagull in November 2011 without a warrant after he was questioned by police and allowed them to search his streetside cardboard cages and boxes, according to court documents the Sacramento Bee obtained.
After discovering several of the animals were unhealthy, police were ultimately asked to seize them for a veterinarian euthanization.
A lower district court ruled in the city's favor during Recchia's previous lawsuit, but the three federal judges in California are still questioning whether or not his Fourth Amendment rights were violated. Los Angeles Police first confronted Recchia on the street on November 3, 2011, according to court records, where they discovered the 20 pet birds in his possession. The animals were covered in blankets and towels and all had access to food and water. Authorities said the birds were covered in feces, unable to fly freely and the newspaper lining of their makeshift cages were soaked.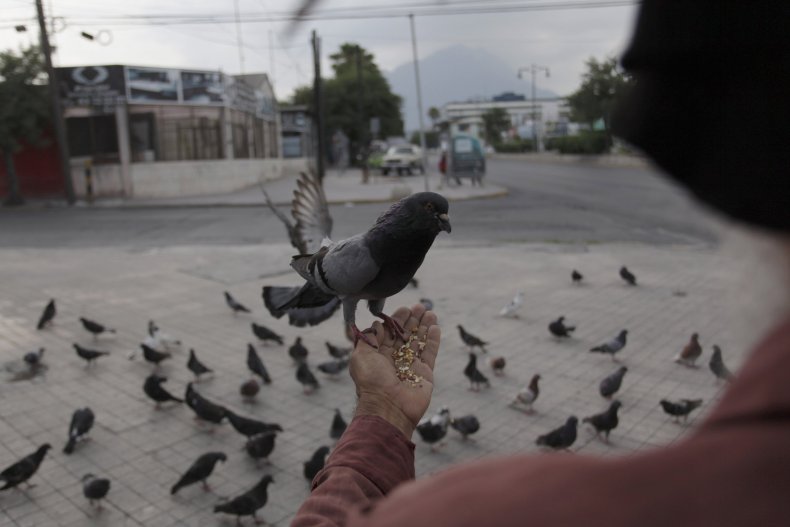 Judge Ronald M. Gould wrote in the court panel's opinion that several of the animals were "in dire physical condition" but eight of the pigeons appeared healthy. Court records noted that one pigeon had a "baseball-sized tumor" on its midsection, another was "shaking and walked in circles" and a third had a shriveled eyeball. Several were also described as "deformed, distressed or diseased" with missing feathers.
In response, Recchia told police he had previously rescued the dying birds and they were in "the same or better condition than that in which he had found them." Recchia told police he would deliver the unhealthy set of birds to a friend in the Silverlake neighborhood, but after he was unable to provide the person's contact information authorities decided to seize all the birds.
Recchia was told he had 10 days to comply, but a veterinarian interceded before that time period was up and said all of the birds needed to be euthanized due to potential pathogens or diseases they may be carrying.
The crow and the seagull were given to wildlife rescue groups, court records stated.
The federal appellate court conceded that the lower court properly ruled against Recchia's Fourteenth Amendment violation. Recchia had claimed that police violated his due process rights by denying him a hearing before taking the healthy birds. However, the Ninth Circuit court ruled that Recchia's Fourth Amendment search and seizure claims alone have merit.