Pigeons Wearing MAGA Hats and Trump Wigs Have Been Let Loose in Vegas
Downtown Las Vegas was struck by an unusual sight Tuesday evening: a flock of pigeons wearing tiny Make America Great Again (MAGA) hats and a Donald Trump wig.
The pigeon's release was allegedly performed as an "aerial protest piece" ahead of the 2020 Democratic debate, scheduled to take place in the city Wednesday night. The activity had also been coordinated to coincide with the arrival of Trump, who touched down in the City of Lights Tuesday night ahead of a graduation ceremony event, for Hope for Prisoners, and a campaign rally on Friday.
The self-proclaimed "underground radical group" responsible for the stunt agreed to speak with the Las Vegas Review-Journal on the provision that members would not be identified, telling the paper the group's name P.U.T.I.N stood for "Pigeons, United to Interfere Now."
The group claims their satirist activities had been inspired by Operation Tacana: a CIA-led mission involving pigeons hooked up to miniature cameras. In the 1970s, the secret service had hoped the birds would sneak into Soviet Union territory covertly and take photographs of key locations to help the U.S. during the Cold War.
Members told the Review-Journal the release had taken months to prepare. A pigeon coop had been specially built to care for the birds—many of whom had been found with "stringfoot" and covered in oil, they added. Stringfoot is what can happen when pigeon's feet become entangled with string, plastic, hair and other debris. It can cause infections and lost limbs.
But Mariah Hillman from Lofty Hopes, a Las Vegas-based charity set up to protect pigeons, disputes claims that this is a form of rescue. "It is cruel," she told Newsweek. "It is absurd to be claiming to be a rescue and then gluing things to animals heads and setting them free."
The group says the pigeon-sized hats and wig were fastened onto their heads with eyelash glue, commonly used to apply eyelash extensions. They claim the hats can be removed when the pigeons return to the coop and naturally fall off after a couple of days.
"I don't see the difference between this or people dressing up their dogs or cats," one member who goes by the alias Coo Hand Luke told the Review-Journal.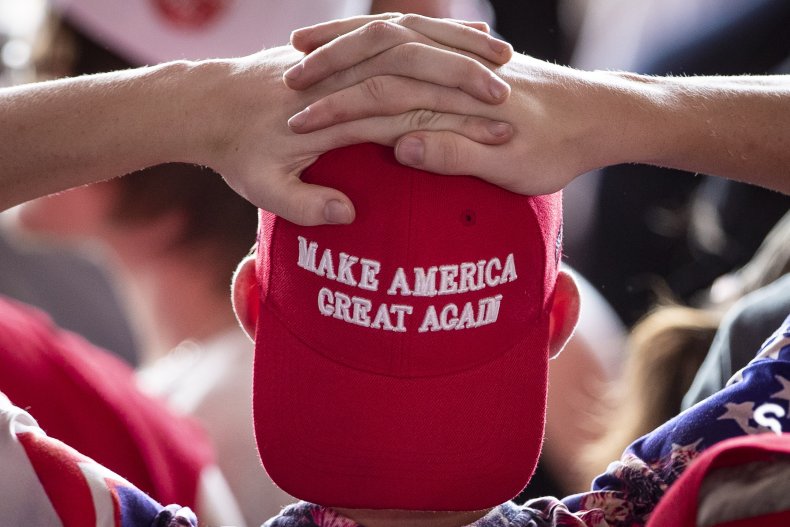 Hillman previously told Newsweek gluing hats—or anything else—to birds can be hugely damaging. Earlier this year, a cowboy-wearing pigeon nicknamed Billie the Pidge, taken in by Lofty Hopes, died from an undetected illness. It is thought that fumes from the glue may have poisoned her. However, there was no autopsy to prove cause of death one way or another. Hats can also cause infection by trapping insects and other small objects.
Hillman told Newsweek eyelash glue might be better than superglue—"but it is still not OK to glue anything to a wild animal."
P.U.T.I.N claimed they wanted their stunt to boost the reputation of pigeons, saying: "Pigeons are commonly known as rats with wings, but they're smart animals with the ability to find their loft from thousands of miles away, and (they) are fast. They often out maneuver prey birds like hawks."
The performance appears to have been inspired by a prank last year involving several pigeons wearing cowboy hats, also in Las Vegas, which triggered copycats in Reno, Nevada, where pigeons were found roaming the streets in sombreros.
According to Hillman, there are thought to be between 30 and 40 sombrero-wearing pigeons on the loose in Reno. Over in El Paso, Texas, animal rescuers recently found a baby pigeons that had a Native American headdress fastened to its head and beads attached to its neck, unable to fly or eat on its own.
"I think it's all copycats," she said. "We are working with a lot of animal rights organizations to see what can be done about getting people to press charges."
Coolamity Jane, one of the three cowboy-hat wearing pigeons, remains on the loose.