'Piggyback Bandit' Arrested—Once Again—for Rubbing Teenage Boy's Back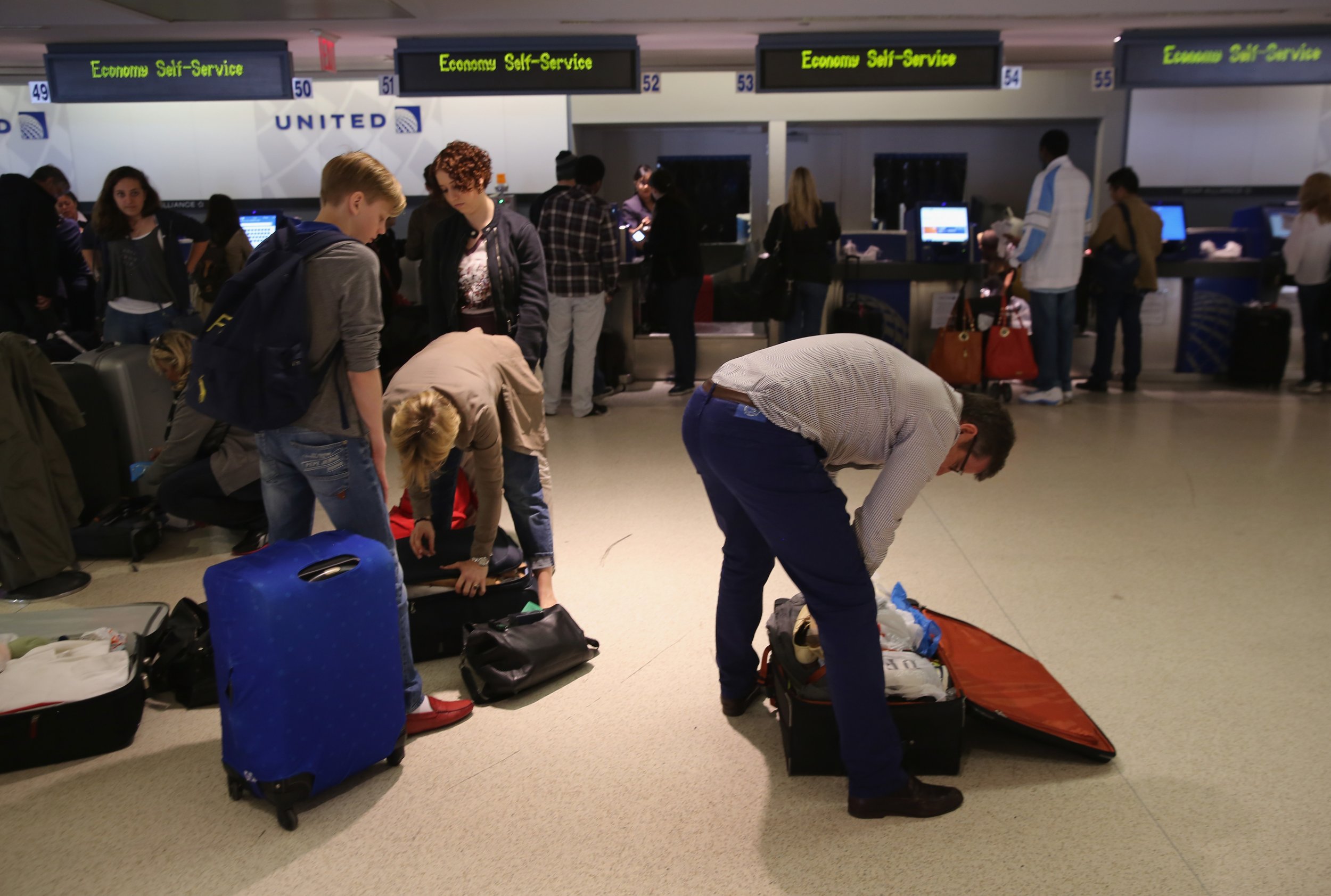 The infamous "piggyback bandit" was arrested again, this time accused of assaulting a teenage boy at Newark Liberty International Airport on Friday.
Sherwin Shayegan, 34, walked up to a 14-year-old boy standing at the airport's luggage carousel and rubbed his shoulder and back before handing him an envelope containing a $10 bill and a note.
Police quoted the note as saying "This is money for letting me give you a massage. Thank you," adding that it also contained "alarming material," without providing further details, the Associated Press reported.
The authorities tracked down Shayegan to a hotel near the airport, finding similar envelopes with the names of various U.S. airports scribbled on them in his room. They all contained $10 banknotes and "disturbing notes."
The man is now facing child endangerment charges, the latest addition to his criminal record. Shayegan became known as the "piggyback bandit" because of his habit of showing up at high school sporting events around the country in search for student athletes — he was spotted at basketball, hockey, soccer and football games — who'd give him a piggyback ride, by whichever mean necessary.
Shayegan would either ask for piggybacks, attempt to pay for piggybacks, or simply heaving his 5-foot-8, 240-pound frame on the back of an unsuspecting teenager, the Associated Press reported in 2012, after ingratiating himself to the team.
Shayegan's mother told a Grantland reporter who investigated the man's personal history and possible motives he suffered from Asperger's syndrome, a disorder on the autism spectrum. One of his high school classmates told the reporter he was heavily involved in high school sports, managing soccer and football teams.
Detective Randy Ranalli told Grantland that is when Shayegan's fascination with piggyback rides started. "When he was the manager of the football team was when he started receiving piggybacks. He told us that's when it all started," the detective said.
His behavior earned him a ban from high school sporting events in five states, including his native Washington as well as Oregon, Montana, North Dakota and Minnesota. "When someone that weighs 240 pounds and jumps on the back of a high school student, the potential is there for significant damage," David Stead, executive director of the Minnesota State High School League, told the Daily Beast in 2012.
Stead told the publication he even received a call from Shayegan politely asking about whether he was banned from the state's games. "He said he didn't mean to cause any problems. He just liked to do piggyback rides," Stead recalled.
The ban did not stop Shayegan from making other appearances elsewhere in the country. In 2014, he was charged with assault and battery after entering a hockey high school game in Virginia and grabbing a minor by the arm, attempting to drag him into a locker room, as The Washington Post reported at the time.
Earlier this month Shayegan appeared at a basketball high school tournament in Spokane, Washington, where he was filmed appearing to massage a student's shoulders, local media reported. Local public school officials were quoted as saying they had no reason to believe he posed a danger to the general public.