'Piketon Family Murders' Update: Where Is Sophia Wagner Now? Child In the Middle of Custody Battle, Allegedly Leading to Eight Execution-Style Murders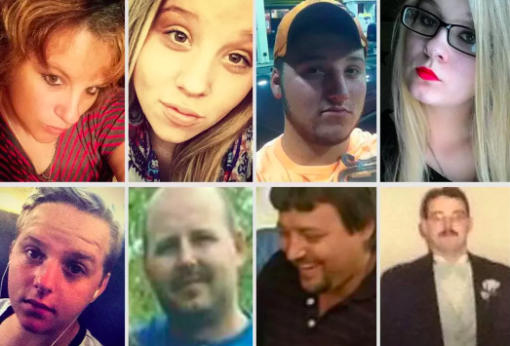 It was the crime that rocked a small town in Ohio to its core. Eight murders, within the same family, on the same night. Labeled as the Rhoden Family Massacre, Oxygen revisits the chilling, ongoing investigation Sunday in its series Piketon Family Murders.
At four separate locations, eight people were shot "execution-style" in April 2016. Christopher Rhoden, Sr., 40, his former wife Dana Rhoden, and their three children: Clarence Rhoden, 20, Hanna Rhoden, 19, and Christopher Rhoden, Jr.
Among the victims were also Christopher's older brother, Kenneth Rhoden, 44, their cousin Gary Rhoden, 38, and Frankie Rhoden's fiancee Hannah Gilley.
Ohio state police were on the hunt for the person or persons responsible for the heinous crime. After two years of investigation, police identified and arrested four suspects in November 2018.
George "Billy" Wagner III; Angela Wagner, George Wagner IV and Edward "Jake" Wagner were all charged with planning and executing the murders of several members of the Rhoden family. All four suspects pleaded not guilty to all charges.
While the case remains open, a popular theory for the motive behind the murders was a heated custody battle between Jake and Hanna's daughter Sophia. The theory has not been proven, but prior to the killings, Hanna was given full custody of the 4-year-old.
Forged custody documents were also allegedly found, according to Ohio Governor Mike DeWine, who was the state's attorney general at the time of the massacre. It isn't clear what the documents consisted of, but they later led to the arrest of Angela's mother Rita Newcomb on perjury charges.
Where is Sophia in all of this? With her mother dead and father facing possible sentencing, the 4-year-old is "safe in neighboring Scioto County," according to a Cinncinati report.
In November 2018, DeWine and Pike County Sheriff Charles Reader said Sophia was in the custody of child services. It's unclear exactly when they took custody of her. Prior to the Wagner family arrests, Sophia was in the care of her father.
Find out more about this chilling case in the investigative series Piketon Family Murders, premiering on Oxygen Sunday at 7 p.m. ET.