The new Pikmin mobile title won't be a rehash of Niantic's Pokémon Go, according to one of its directors.
A new Pikmin mobile game using Niantic's Augmented Reality (AR) technology was announced Monday, and it's slated to release later this year. But while details are scarce, Tatsuo Nomura, Head of Niantic Tokyo Studio/Director of Product Management, took to Twitter to let fans know what they can expect, broadly speaking.
"I'm excited to finally able to announce this project that Niantic & Nintendo have been working with for the past few years," Nomura wrote. "It's going to be an app that make walking more fun with Pikmin. It's going to be very different from Pokémon GO."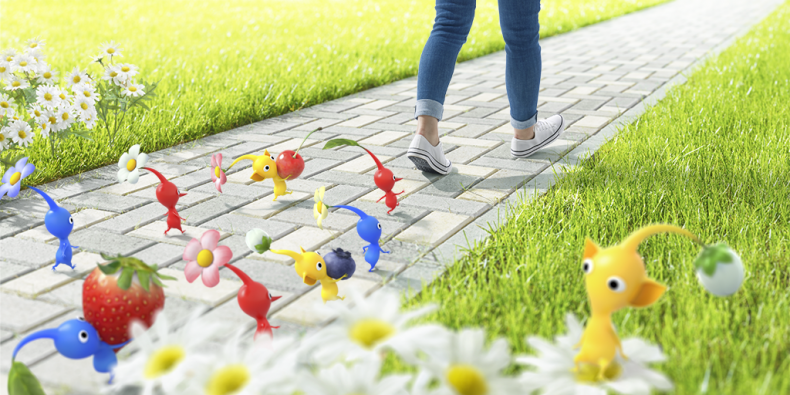 Nomura's tweet does give us some idea of what the upcoming Pikmin mobile game will be like. If this isn't in fact Pikmin Go, then the point of the game isn't to collect all of the Pikmin.
Personally, we also don't see users having to use their Pikmin to "battle" other players. You may, though, have to use your Pikmin to take down other creatures, which players have had to do in the main Pikmin games.
In what has become a staple of Niantic titles like Pokémon Go and Harry Potter: Wizards Unite, this Pikmin game's main objective seems to be to get players to go outside, explore and walk in their neighborhoods.
We'd like to think that players will have to go around and collect Pikmin from its version of PokeStops. It'll be interesting to see how Niantic implements the puzzle-solving elements of Pikmin games into the mobile title.
The new Pikmin mobile game announcement accompanied a joint press release from Niantic and Nintendo, which confirmed that other mobile titles from Nintendo properties will also be in the works.
"As we continue to expand our games portfolio, it was a natural next step to team up with Nintendo," said John Hanke, CEO of Niantic, in a press release. "We're looking forward to shaping the future of AR together, bringing Nintendo's beloved game characters to life for mobile game players around the world."
Shigeru Miyamoto, Representative Director, Fellow at Nintendo—who is credited with the creation of the Mario and Legend of Zelda series—also made a statement in the same release, and offered a bit more context as to how the Pikmin mobile title will work.
"Niantic's AR technology has made it possible for us to experience the world as if Pikmin are secretly living all around us," said Miyamoto. "Based on the theme of making walking fun, our mission is to provide people a new experience that's different from traditional games. We hope that the Pikmin and this app will become a partner in your life."
Are you excited about the upcoming Pikmin mobile game? What type of gameplay do you expect from the new title? Let us know in the comments section.