A Delta Airlines pilot asked strong males to help subdue a "problem passenger" who turned out to be an off-duty flight attendant during a chaotic flight from Los Angeles to Atlanta on Friday.
A Delta spokesperson reportedly said the unnamed off-duty flight attendant hijacked the plane's public address system to speak to passengers about their oxygen masks during Flight 1730, which prompted a dramatic tussle with passengers.
"This is the captain speaking. We'd like all strong males to come to the front of the aircraft to handle a problem passenger," the pilot told passengers mid-air, according to NBC Los Angeles.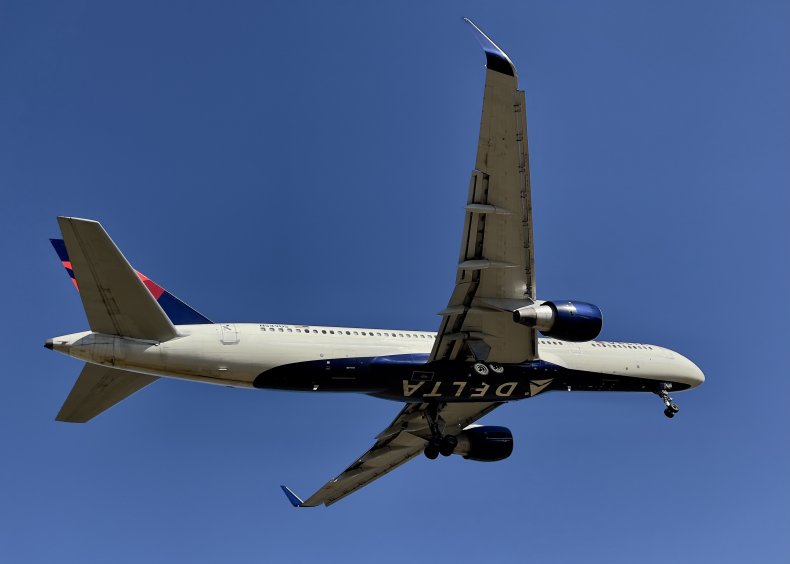 A 38-second video shared to Twitter shows several male passengers wrestling with the man at the front of the plane. "Help, help," one person can be heard yelling in the clip. "Keep him down, keep him down," another person can be heard saying. The video has been viewed more than 2.3 million times since it was shared online on Friday evening.
The incident forced airline authorities to divert the plane to Oklahoma City, where it landed at around 10:30 p.m. local time. According to flight information on the Delta website, Flight 1730 left Oklahoma City at 2 a.m. the next morning and arrived safely in Atlanta roughly three hours later.
In a statement, Delta spokesperson Eric Zeugschmidt said "the aircraft landed without incident and the passenger was removed by law enforcement. We apologize to our customers for the delay and any additional inconvenience this caused."
After local police in Oklahoma City confirmed that the unruly passenger had been hospitalized and released to the FBI, Megan Lauro, a spokesperson for the federal law enforcement agency on Saturday revealed that they were probing the incident, according to the New York Times. Lauro also noted that FBI agents were interviewing the man in jail.
Brannon Nazarian, a passenger on the flight, told local news "there were people rushing up to the front, and he started shoving people, and there was this outrageous flight. He was fighting them back extremely hard. His feet were flying in the air. The flight attendant looked like he had a concussion."
In early May, the Federal Aviation Administration warned air travelers about a "significant" rise in dangerous behavior aboard flights in 2021. There are usually 100-150 official instances of unruly passenger behavior in a typical year, but that figure leaped to more than 1,300 in the first four months of this year, according to the agency.
Newsweek reached out to Delta Airlines for further information. This story will be updated with any response.