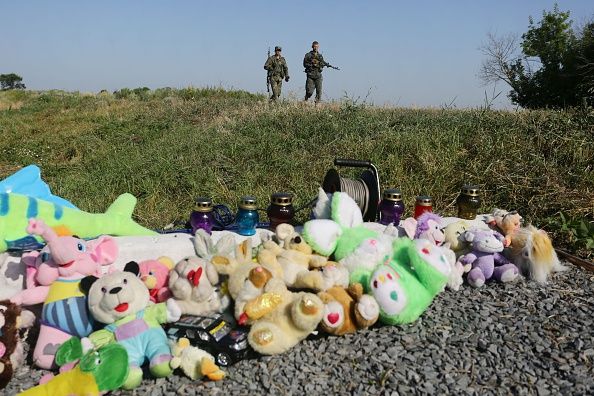 Updated | A Ukrainian military pilot who Russia blamed for shooting down the Malaysia Airlines passenger flight MH17 in 2014 has reportedly killed himself.
The Boeing 777 plane had been headed from Amsterdam to Malaysia when it was shot down while flying over Ukraine in July 2014, just as the conflict between pro-Russian separatists and Ukrainian troops was in full force. The crash killed all 298 people on board, many of whom were Dutch citizens. Eighty of the victims were children.
A Dutch investigative team concluded that the plane had been shot down by a Buk missile brought from Russia and handed over to pro-Russian separatists. Investigators said that Russian forces or pro-Russian separatists had likely shot at the plane believing that it was a military aircraft.
Russia, however, denied its involvement and blamed the Ukrainian pilot Captain Vladyslav Voloshyn, a well-known navigator who had flown combat missions against Russian-backed separatists. Russian media pointed to the fact that Voloshyn had been given an award days after the crash as evidence of his involvement.
Voloshyn consistently said that Russia had lied about his role in the events, and the Ukranian government, which strongly condemned the attack on a passenger plane, called him a war hero.
Local reports said that Voloshyn killed himself at his home on Sunday. He was 29.
Family members were quoted in the local media claiming that he had been depressed prior to his death, likely because of problems at work.
He had left the army prior to his death and was managing an airport in the Black sea town of Mykolaiv. Local investigative reporting demonstrated that he may have been implicated in a local corruption scandal. A report published in late January revealed that Voloshyn was pressured by local government officials into signing illegal documents regarding procurement tenders at the airport where he worked.
In text messages with a friend that were later published by local media, the pilot had said that he felt suicidal over having broken the law.
Nevertheless, police have opened a criminal investigation into his death.
This article has been updated to state that Vladyslav Voloshyn has reportedly killed himself.