Pilot Caught Hilariously Drawing Middle Finger in Sky With Flight Path
A pilot's strong message has gone viral online after they created a middle finger using their flight path.
Thanks to sites like Flight Radar 24, flight paths of almost every plane can be tracked by just about anyone who wants to watch. It's also given way to a growing trend over the years that sees pilots using some creative flair while flying.
One pilot in Bellingham, Canada, decided to use their flight path to hilariously create a middle finger in the sky, and it didn't go unnoticed.
Internet users have been celebrating the hilarious sky doodle after noticing the Monday flight on Flight Radar.
Taking off over from Bellingham, the flight, which took just under seven hours, spanned over Richmond and went in lines over the Langley area, likely for surveying purposes, before coming to Abbotsford for the big show. Flying over Deming, Peaceful Valley, Kendall and Maple Falls, the flight path created a massive middle finger, with fingernails even drawn on, past the U.S.-Canadian border.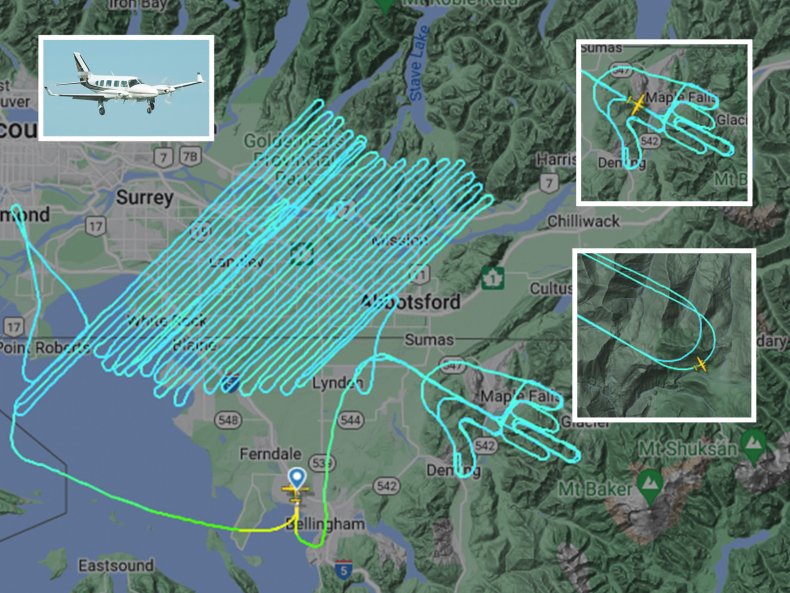 The plane was a fixed wing multi-engine eight-seater, according to Flight Aware, which also reported that it's owned by Marc Inc. in Bolton, Mississippi. Marc Inc. is North America's largest provider of contract aircraft and flight crews for airborne GIS, survey and surveillance projects. Newsweek was unable to confirm if Marc Inc. owns this specific plane.
It wouldn't be the first time a pilot has used a flight path to create "radar art" and it also wouldn't be the first non-PG radar art ever created either. Flight Radar 24 even handily shares the somewhat impressive work made by pilots in the sky, posting them to Twitter on occasions.
In 2012, the live air traffic provider shared an image of a penis drawing created by a Norwegian aircraft flying to Stockholm from Copenhagen. In 2015, a pilot in Florida used a two-seater plane to create a 20-mile penis above Disney World.
Two Russian pilots were investigated after being caught using a commercial plane flight to draw a penis in the sky over Russia in an apparent display of support for a shamed football captain who was suspended from the international team. The flight was with budget airline Pobeda Airlines.
Internet users were left impressed by this latest creation however, praising the attention to detail in the piece.
"Wow...that is commitment," commented one Reddit user.
"Bet he's an expert with Etch-a-Sketch," added another.
One user noted: "I'm not even mad....that's amazing..."