Gas Station Says Allegations It Won't Fly American Flag to Avoid Offending Foreigners Are 'Absolutely False'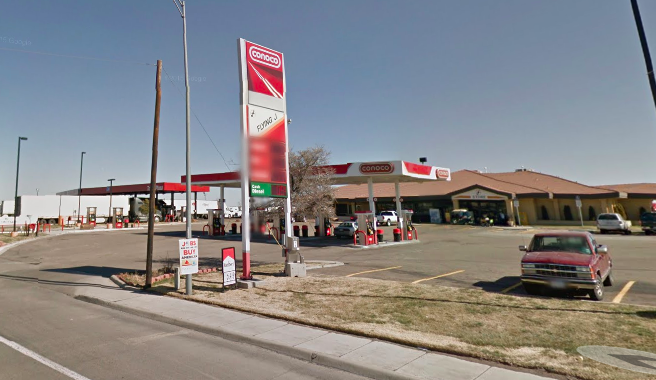 A national gas station chain is pushing back against accusations that it was not flying the American flag at a Texas location to avoid offending foreigners.
It all began with a video from a self-proclaimed trucker named Dave Moore who claimed he would no longer support the national chain because its Amarillo, Texas, location was not flying the U.S. flag.
Moore posted the video to Facebook, where he claimed he was told by an employee that there was no flag because "foreigners come in here complaining, and they didn't want to lose the foreigners business." According to The State, the video went viral, grabbing the attention of more than a million viewers before it was removed from Moore's Facebook page.
In his video, Moore said he would no longer support a company that does not support America. He said he would only patronize the chain in the rare "fuel emergency or I got the scoots or something."
Pilot Flying J, which was founded by a Korean War veteran Jim Haslam II, responded to Moore's video on social media. In a statement posted on Facebook Saturday, the company called the allegation that it does not fly the American flag "absolutely false."
"There have been a number of inaccurate stories making the rounds on social media that say we don't flight the American flag. That information is absolutely false. We are proudly American—started by a Korean War veteran 60 years ago," Pilot Flying J wrote.
The company discussed its ties to the military and said it was working to make sure existing flag poles at Pilot Flying J locations are repaired. The chain has 787 locations across the country according to The State.
Pilot Flying J also released a corporate statement to CDL Life News, which covers trucking-related issues.
"Pilot Flying J shows that pride in all of our locations, whether that's a flag outside, promoting military products in our stores, or through our philanthropic efforts with Wreaths Across America and Fisher House Foundation," spokeswoman Denise Hodge said. "We are in the process of repairing the damaged pole at the Amarillo, Texas, location and we regret out team member was misinformed."
The company noted that there are rules and protocols to properly flying the American flag. "We are working to put those protocols in place to ensure we show the flag the respect it deserves at locations that fly the red, white and blue," Pilot Flying J continued.
Pilot Flying J spokeswoman Stephanie Meyers told Newsweek that the company had not reached out to Moore because it believes everyone "is entitled to their own opinions." She said that the company had reached out to staff at the Amarillo location and that they were "unaware" of the alleged interaction with Moore.
Meyers also emphasized that the company would not fly the American flag unless proper military protocols could be followed and said that it was working on repairing the flagpole at the Amarillo location.
Pilot Flying J has faced flag-related issues in the past. According to WSAZ, the company faced outrage in 2017 after managers at a Kentucky location told a group they had to remove flags placed along the gas station grounds.
The request prompted a group of veterans and others to protest the chain. "We are asking for the Flying J to install a flag pole to fly an American flag and a P.O.W flag and submit a public apology to the veterans," Adam Conn told WSAZ.
At the time, the company replied that it did not have an issue with the flags but rather where they were placed.
This story has been updated to include comments from Pilot Flying J spokeswoman Stephanie Meyers.