Pilot Rescued After Plane Gets Stuck in Georgia Power Lines for Hours
The pilot of a small plane narrowly escaped a crash in Georgia on Thursday after he got caught in power lines and was left hanging for about two hours before he could be safely rescued.
The pilot was left dangling about 25 feet above the ground after his plane got stuck, according to WJXT, a Georgia television news station.
Local authorities responded to the report of a plane crash just after 10 a.m., according to the Ware County Sheriff's Office. The sheriff's office said the incident occurred "about a mile south of the Waycross-Ware County Airport."
The sheriff's office said the pilot was rescued from the plane and was "responsive." In a Facebook post, the sheriff's office explained the reason for the length of time it took to free the pilot. "Emergency crews have now been able to extricate him from the plane and fully render aid due to first needing to secure the power before rescue efforts can ensue," the sheriff's office said.
WJXT reports that the plane was coming from Ormond Beach, Florida, and was heading to the nearby Waycross airport.
Video posted by WJXT showed crews from Georgia Power using a bucket truck to rescue the pilot, lowering him to the ground in a harness while using excavators to stabilize the aircraft.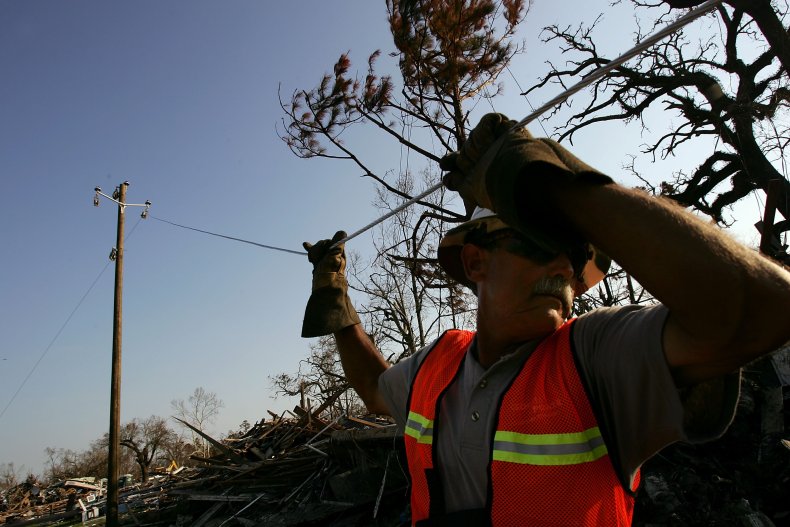 "You could see him trying to hold his body up because he's been there a couple hours I know," Sharon Oglesby, who recorded the rescue, told WJXT. "You can tell he was tired and exhausted and I just kept praying 'God give him the strength to make it out of there'."
WJXT reported the pilot was taken to the hospital, and had a cut on his forehead, but was alert following the incident.
"He knew where he was at, where he was from," Jonathan Daniell, Ware County Emergency Management Agency director, told WJXT. "He's just in a place where he couldn't get down."
Video of the rescue shows the small plane, which is white with a checkered black and red pattern on its wings, facing down nose-first as it dangles above the ground in the power lines.
In a statement to Newsweek, the Federal Aviation Administration said the plane was a "single-engine Marquart 5."
"The plane became caught in the lines. Only the pilot was on board," the FAA said.
"The FAA will release the tail number of the aircraft after investigators verify it at the accident site. The FAA and National Transportation Safety Board will investigate," it added, noting that neither agency identifies people involved in aircraft accidents.
Newsweek has also reached to the National Transportation Safety Board for additional information about the incident.