Pilot of Boeing That Crashed Killing 50 People Had No 'Skills and Experience' and Used Fake Documents to Get Job
A plane that crashed in Russia killing 50 people was flown by a pilot who lied to get his license and had no basic aviation skills, knowledge or experience, an investigation has found.
Two pilots at the controls of the Tatarstan Airways Boeing 737-500 from Moscow tried to abort the landing as the plane approached Kazan airport. It nosedived onto the tarmac, bursting into flames.
The tragedy on November 17, 2013, killed all 44 passengers and six crew members onboard, including the son of Tatarstan's president and the regional head of the FSB. Kazan is the capital of the Muslim majority Tatarstan region and is located around 500 miles east of Moscow.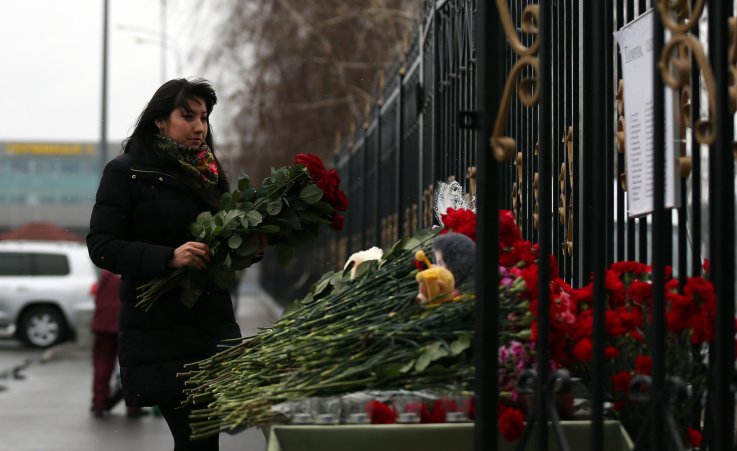 Russia's Investigative Committee said pilot error was to blame and that the aircraft's commander, Rustem Salikhov, had used falsified documents to get his pilot's license and had made a series of mistakes, as did his co-pilot, Viktor Gutsul, state news agency Tass reported.
The deputy general director of the airline, Valery Portnov, had submitted Salikhov's certificate to the federal air transport agency Rosaviatsiya and has been charged with violating safety rules.
"Salikhov, having no basic knowledge, skills and experience as a pilot, began to carry out passenger air flights as a pilot," said the investigative committee, according to Reuters.
The former chief of Tatarstan's regional board of Rosaviatsiya, Shavkat Umarov, was also charged with negligence for failing to check the authenticity of Salikhov's license. Tatarstan Airways is now defunct after having its license revoked.
Earlier this month, Russian investigators launched a probe after a woman boasted on social media how she was handed the controls of a plane by a pilot and flew across Siberia.
The woman had apparently taken control of an Antonov-24 on the irAero flight from Yakutsk to the remote Sakkyryr airport in northern Yakutia.
IrAero is an airline based in Yakutsk and flies routes around Siberia as well as to Moscow and Saint Petersburg.
The woman, who was identified by Russian media as Anna, was filmed following the captain's instructions which included, "back, to the right, now to the left and turn it back," according to The Siberian Times.
She is then heard asking the pilot "why can't I get there?" according to the publication, with his response was, "Well, I've no idea why you can't get there."
She posted pictures and video on Instagram after the flight which are now not publicly available. Russian investigators said "there were passengers on board" the plane which can carry up to 52 people.
The airline said in a statement it was investigating the incident, adding: "There are doubts that these materials have anything to do with our airline's activities in providing passengers transportation."
Pilot of Boeing That Crashed Killing 50 People Had No 'Skills and Experience' and Used Fake Documents to Get Job | World