One month after Colorado's Pine Gulch Fire initially broke out near the state's western border, emergency management teams contained a majority of the record-breaking blaze. While an upcoming cold weather spell is expected to move through the affected region on Monday night, forecasters warned area residents of potentially increased fire dangers earlier in the day.
"Dry and windy conditions Monday will create areas of elevated fire danger," wrote a local branch of National Weather Service on Twitter Sunday night. The NWS confirmed red flag warnings were issued in light of the anticipated weather, which could "bring the possibility of rapid fire growth on Monday," it said. The warnings were effective from 1 p.m. through 9 p.m. local time, for areas across eastern Utah and northwestern Colorado, the service said.
The Pine Gulch Fire became the largest in Colorado's recorded history late last week. A public information officer assigned to the state's Southern Area Red Team confirmed the fire spanned 139,007 acres in comments to Newsweek on Monday morning. Personnel had contained 79 percent of the fire, the officer added.
The fire grew to roughly 139,006 acres on Thursday, according to an update from the Rocky Mountain Incident Management Team. At the time, the update noted, 77 percent of the blaze was contained. More than 900 personnel worked to extinguish the Pine Gulch Fire's flames, which initially sparked one month ago, on July 31, due to lightning. Personnel contained more than 30 percent of the fire over the past six days.
The Rocky Mountain Incident Team led Colorado's response to the Pine Gulch Fire until Sunday, when it transferred command to the Southern Area Red Team's personnel. In a subsequent update detailing the latest developments, the latter team's incident commander, Mike Dueitt, confirmed 646 personnel were assigned to manage the fire. On Sunday morning, containment remained at 77 percent.
The Red Team's incident personnel began conducting suppression repairs across regions within and surrounding the Pine Gulch Fire on Sunday. Those efforts involved "assessing and repairing ties that were damaged from continuing the fire," according to the team's morning update. Repairs aim to restore affected land to "pre-fire conditions" through several initiatives, including retardant chemical cleanup and trail reconstruction.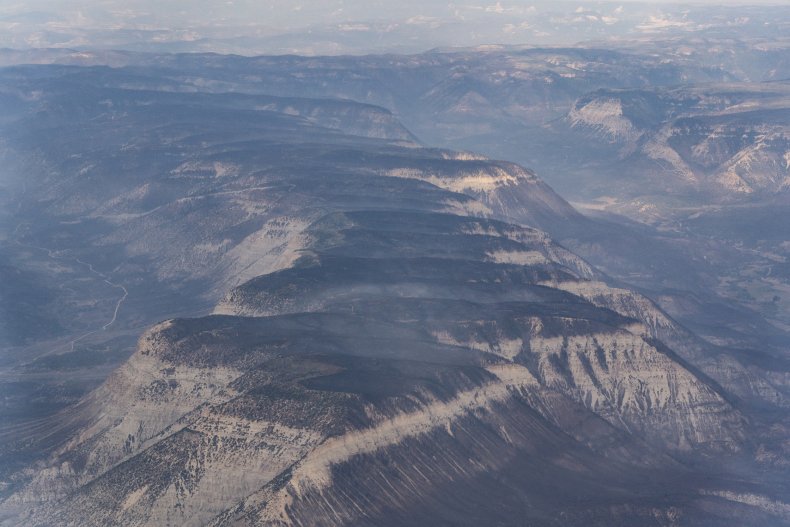 Authorities estimated a low incidence of oncoming activity from the Pine Gulch Fire on Sunday morning, citing lower temperatures and high humidity. Still, a combination of strong winds and dry vegetation posed some threats, as "fire can spread quickly" under those conditions. Firefighting personnel expect that flames "will continue to smolder and creep" along the fire's western flank. Limited overall activity is anticipated throughout the remainder of the fire, although "isolated smoldering and hotspots" will persist.