Pink's Husband Carey Hart Criticized for Exposing Son's Hand, Foot and Mouth Disease to Others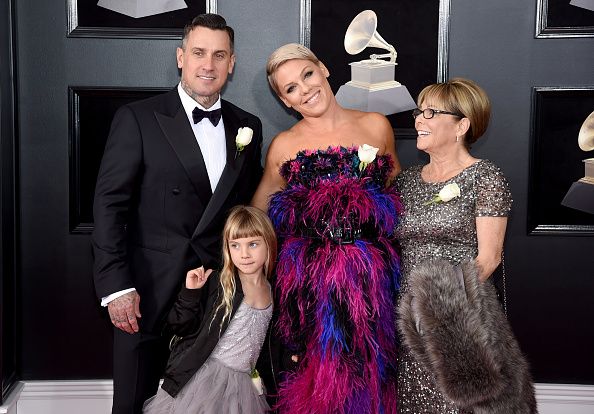 Carey Hart came under fire after sharing a photo of his son covered in a rash caused by hand, foot and mouth disease. Hart snapped the photo of 20-month-old Jameson out at breakfast, which some fans took as the father-of-two outright exposing others to the contagious virus.
Hart is currently on the road with his wife Pink for her Beautiful Trauma tour and the couple brought their two children along for the ride.
"Wanna know how glamorous tour can be? Jameson has hand, foot, and mouth and Willow has a 102 temp. Both kids laid up and mama @pink still has to push through and do shows," Hart wrote alongside a pair of snapshots.
The 43-year-old dad posted both photos, one of Jameson wearing nothing but a diaper and covered in a rash and the other of Willow sitting in a bathtub, on Instagram on Tuesday.
In regards to the photo of his son, Hart wrote, "I had Jameson at breakfast yesterday and this vile woman at the table next to us kept staring at him with a s****y look on her face."
He added: "I told her it was bed bugs. #NoRestForTheWicked #LifeInHotels."
The more than 7,000 comments in response to Hart's photo of his son weren't all that pleasant, and many of his followers criticized him for taking his toddler out while suffering from the virus.
Although the virus commonly affects young children, it is easily spread by those suffering from hand, foot and mouth disease, according to Mayo Clinic. It's the most contagious within the first week of infection, but the virus can remain in the body for weeks after symptoms and rashes have disappeared, meaning others can still be infected.
Hart kept his cool in light of the backlash, responding to one fan pointing out the contagiousness of the virus by writing: "What's your point? You think I let my kids eat off other people's plates?"