Woman Gives Birth During Pink Concert in Liverpool
"I'm still massively in shock, just a bit gutted I missed the concert," said Denise Jones. "But I couldn't be any happier right now!"
Pink is known for her electrifying live performances, but the Grammy winner's concert at Liverpool's Anfield Stadium Tuesday night was so exciting, one fan went into labor during the show.
With the aid of two paramedics, Denise Jones of Huyton gave birth at the stadium shortly after Pink began her first song—appropriately enough, "Get The Party Started."
Given the serendipitous circumstances Jones, 32, named her newborn girl Dolly Pink. "The plan was to call her Dolly Louise," she said, "but since she was born in the concert we've changed it to Dolly Pink."
Both she and Dolly, who arrived weighing 6lb 4.5oz, are reportedly both doing well.
This is the first baby born in the stands at the Anfield Stadium, ITV reports.
The medics called it an "amazing" experience. "Mum did all the hard work," one tweeted, "we just had to catch!"
Jones, who was 37 weeks pregnant, had gone the concert with her niece, Chloe, and several friends. "I'm still massively in shock, just a bit gutted I missed the concert," she said from her bed at Liverpool Women's Hospital. "But I couldn't be any happier right now!"
The whole thing went by quickly, she admitted, "but the paramedics were amazing and were so happy themselves that both of them were healthy."
Dolly Pink joins Jones' three other children, 5-year-old Christopher, 3-year-old Bobby, and 1-year-old Myah.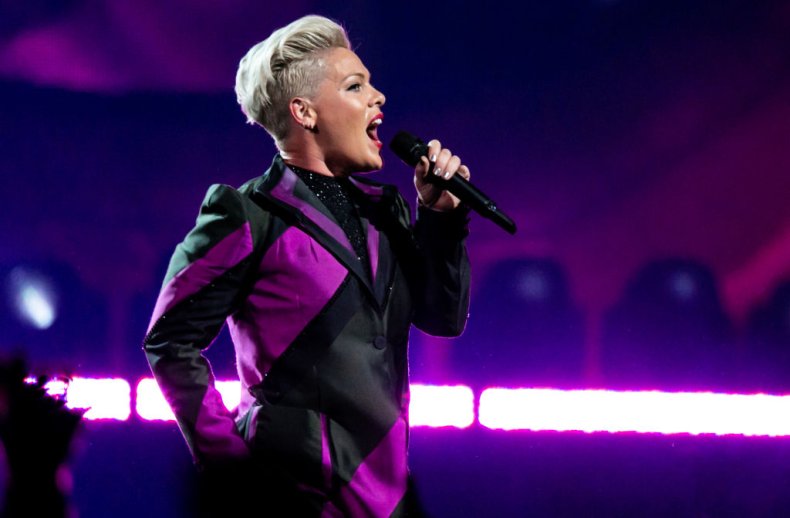 Pink has been known to aid her fans in meeting major life milestones before: In 2013, she helped a fan proposeto her girlfriend during a concert stop in Sydney, Australia. That same night another woman apparently went into labor, as well.
"Let's see... Tonight I proposed for someone in the audience and she said yes," Pink later tweeted. "And then I sent a women into labor! Great night! Sydney."
The "True Love" singer and motocross race Carey Hart welcomed their own bundle of joy, Willow Sage, in June 2011. Their second child, Jameson Moon, was born in December 2016.
Pink's latest album, Hurts 2B Human, was released on April 26, following the release of the first single, "Walk Me Home," on February 20.
On February 5, the 39-year-old singer received a star on the Hollywood Walk of Fame.
Woman Gives Birth During Pink Concert in Liverpool | Culture